Reviews and Observations on

Silent Westerns

by Boyd Magers
For specific stars or titles, use your "Find on this page" feature on your computer.
The
Ratings

Well above the norm and definitely worth a look

Above Average

Average

Very little of Interest




Not Worth
your time!
Posted 2/15/08

GOLDEN RULE KATE (1917 Triangle) 13 minutes
There's not enough of the complicated plot about the struggle between good and evil left in this one reel edit of the full feature to be worthwhile. It simply leaves you scratching your head at all the conflicts and plotlines. Louise Glaum is the owner of a saloon/dance hall in a Nevada frontier town with William Conklin as a reformist preacher, Jack Richardson as a gambler and a pre-major-stardom John Gilbert as a young hellion.


EVERY INCH A MAN (1915 Mutual/Broncho) 10 minutes
One reel edit of William S. Hart's TOOLS OF PROVIDENCE two-reeler. Hart defends the honor of his girl, the parson's daughter Rhea Mitchell, when gambler Frank Borzage makes insulting remarks abosut her. But Bill is misunderstood by Mitchell to whom he has promised to restrain his temper. Hart redeems himself with Mitchell's affection when Borzage tries to have his way with the girl and Hart rescues her.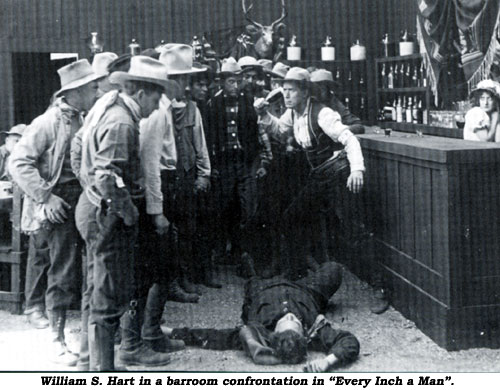 AN ANGELIC ATTITUDE (1916 Selig) 11 minutes
Tom Mix was a big star for Selig, one of the biggest independents in the business from 1910-1917, churning out hundreds of one reelers, many as lead player, others in support. Unfortunately, most of these were in a light comedy vein and were artless and dull. It wasn't until he joined Fox in 1917 that Mix achieved his greatest success, overtaking William S. Hart by 1920. In this one reel comedy, Tom falls for female sketch artist Victoria Forde who has come west to capture the breathtaking scenery on canvas. Tom and his father vie for Victoria's affections. In real life, Mix divorced his current wife, Olive Stokes-Mix, in 1917 and married Forde in 1918. They later divorced in late 1931. Their daughter is Thomasina.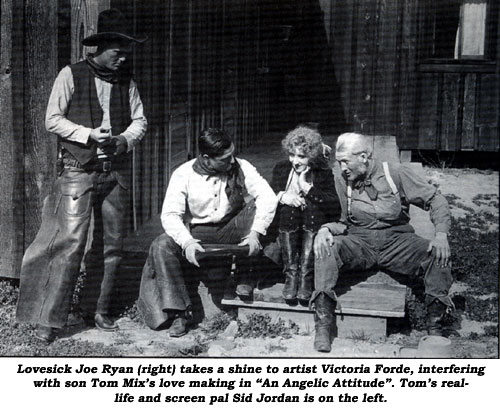 ROUNDING UP THE BANDITS (1924 Sunset) 10 minutes
Greatly abbreviated edit of the feature THE COVERED TRAIL. All that's left is J. B. Warner capturing some Wells Fargo bandits aided by some slapstick comedy from rotund Robert McKenzie. (Looks like the full feature might have been pretty good.)

A MAN'S SIZE PET (1926 Universal) 10 minutes
From 1917 to 1953 Ben Corbett (1901-1961) played hundreds of roles—sidekicks, outlaw, ranch cook, posse rider, prison guard, tramp, townsman—and starred in his own series of two-reel western comedies with pal Pee Wee Holmes (circa 1894-1936). Benny joined the Cavalry at 17 and was mustered out three years later as a top sergeant. He began his film work by doubling many big stars. In 1925-'27 Ben and Pee Wee co-starred in a batch of comic misadventure two-reelers for Universal. Here, along with Robert and Ella McKenzie (real life father and daughter), the boys get mixed up with Dorothy Kitchen's pet bear. (The 10 minute version that survives today is an edit of the original two-reeler.)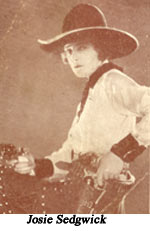 JIM HOOD'S GHOST (1926 Universal) 10 minutes
Josie Sedgwick, older sister of Eileen Sedgwick, entered films from vaudeville (where the family was billed as The Five Sedgwicks) circa 1916. She appeared in a number of one and two reel western shorts, features and serials before winding up her career with some 14 popular Universal Mustang two-reelers in 1925-'26. She returned only once to film in the sound era in SON OF OKLAHOMA with Bob Steele in '32. JIM HOOD'S GHOST is the last of her Universal two-reelers in which she returns home after a long absence to find her brother Jim Hood supposedly kicked to death by a horse. Helped by Jim's best friend, Edward Hearn, she discovers her brother was murdered. Now you have to suspend belief here—dressed in her brother's clothes the badmen believe she is Jim's ghost! Written by William Berke (1903-1958) who had a long career as a director and associate producer beginning in the mid '30s.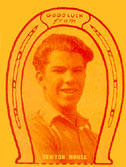 WINGED HOOFS (1928 Universal) 17 minutes
With literally non-stop action, WINGED HOOFS is far above the norm in direction, photography and editing, making this an exciting dramatic two-reeler. Partners Ed Cobb and Gus Seville, and his son Newton House, discover gold but are plagued by claim jumpers led by Frank Baker. House, billed by Universal as the Champion Kid Rider, was born in Colorado in 1911, the son of a professional cowboy who moved to California where he set up a horse stable and became a bit player/stuntman. By age 15 Newton had won several trophies for trick and fancy riding. His father, minor actor and stuntman Jack House, persuaded Universal to feature him in films with Hoot Gibson and others. In 1927-'28 Newton starred in a series of fast-action two reelers—many co-featuring Ed Cobb for adult support. A serial, A FINAL RECKONING, followed in '29. Thereafter, he appeared sporadically in movies through 1936. From '36-'47 he was a makeup artist in the film industry. In 1947 he founded House Grain Corporation. In '56 he moved to Colton, CA, where he operated a horse race ranch until his retirement in '82. He died in Colton at 74 in 1987. Credit for the slick production of WINGED HOOFS goes to director Lewis Collins (1899-1954) who began directing silent westerns in 1922. He easily moved into sound features, at first with westerns (including John Wayne's DESERT TRAIL under the pseudonym Cullen Lewis), then a score of B-mysteries at Columbia, 14 serials at Universal, all four Jim Bannon Red Ryders, then winding up his career at Monogram/Allied Artists helming westerns with Whip Wilson, Johnny Mack Brown, Bill Elliott and Wayne Morris.

ACE OF CLUBS (1926 Rayart) 37 minutes
Peggy Montgomery comes west to live with her uncle Andrew Waldron who, with his uglier-than-sin son, Jules Cowles, are rustlers stealing cattle from old lady Minna Redman, whose husband was murdered by Cowles, leaving his "calling card", an Ace of Spades. Minna's son, Al Hoxie, lets Cowles play out his string before he corrals him. Sloppily put-together and simply doesn't hold your interest with some wildly over the top histrionics under the direction of J. P. McGowan.

Perhaps we can chalk up its badness to the fact this is scripter G. A. (George Arthur) Durlam's first film. However, in all honesty, he never improved much working on the sound westerns of Bob Custer, Tom Tyler, Bill Cody, Tim McCoy and others. Perhaps his best work was Bill Elliott's GREAT ADVENTURES OF WILD BILL HICKOK serial ('38) and his final screenplay, The Range Busters' BOOT HILL BANDITS ('42) which is a send-up of B-western clichés. Incidentally, this Peggy Montgomery (from Rock Island, IL) is not the actress known as Baby Peggy Montgomery (known today as Diana Serra Carey), the daughter of western stuntman/actor Jack Montgomery. The two are not related. This Peggy Montgomery worked in two dozen westerns with Ken Maynard, Pete Morrison, Al and Jack Hoxie, Wally Wales, Tom Tyler, Leo Maloney, Bob Custer, Art Acord and others from 1924-1929.


TWO-GUN OF THE TUMBLEWEED (1927 Pathé) 12 minutes
Fast action edit of a full length feature as badman Joe Rickson tries to hold Leo Maloney hostage in order to collect ransom money from his girl Peggy Montgomery. (See ACE OF CLUBS.)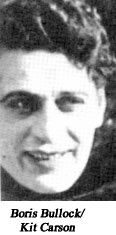 RIDIN' WILD (1925 Aywon) 48 minutes
Born in 1899, after serving as a Cossack in the Russian Czar's army, Elia Bulakh escaped from the Russian Revolution into China and a year later in 1920 to California where he became involved in the film industry with his earliest credited role as Elias Bullock in the Arrow serial DAYS OF '49 in 1924. Quickly changing his moniker to Boris Bullock he was in RANGE TERROR ('25) with Bob Custer. Bottom of the barrel producer Robert J. Horner liked what he saw in Bullock, changed his name to the more western Kit Carson and starred him in a short series of westerns of which RIDIN' WILD is one. In the film, thinking he has consumption and seeking to regain his health, wimpy, sickly tenderfoot Carson travels west to Arizona. He accidentally hooks up with rustler Jack Richardson where he learns—very quickly—the ways of the west. Meeting kindly Pauline Curley, Kit discovers he only has a bronchial infection, then learns of Richardson's evil ways and defends her honor against Richardson's lustful desires on the young maiden. With high stakes in the upcoming big rodeo, Richardson kidnaps Kit to prevent him from competing. Naturally, Kit escapes and, against all odds (and common sense for a newly transplanted easterner) wins every event. Too much time early in the film is spent on Carson's supposed illness and tenderfootedness to make his speedy recovery and instantaneous all-around rodeo abilities believable. Following the brief Horner series, Bullock assumed the moniker of William Barrymore, obviously capitalizing on that famous showbiz name, although he would still revert from time-to-time to the Boris Bullock billing. Under any name, the actor left films in '36 and was in the Navy in the '40s and worked for the L.A. Sheriff's Department as a jailer until he retired in '53 when he and his family moved to El Camino where he formed an acting group. He died in 1979 of respiratory failure in San Diego.

BLAZING THE TRAIL (1912 Bison) 11 minutes
Clashes between wagon train settlers and hostile Indians. Francis Ford (brother of famous director John Ford) is one of the settlers. Blandly filmed all in medium shots with no close-ups badly dates this one-reeler which is edited from its original two reels.

BASHFUL WHIRLWIND (1925 Universal) 22½ minutes
Born in Albuquerque, New Mexico, in 1892, Edmund Cobb's grandfather, a one-term senator in the U.S. Congress and eventually Governor of New Mexico Territory in 1885, was prepping Ed for a life in politics but Ed had aspirations elsewhere and by 18 was working for the St. Louis Motion Picture Company when they came to Albuquerque to make a film. He soon moved to Hollywood and stayed in the business through 1966, a total of 56 years and over 600 movies and TV shows. He died at 82 in 1974. In this light comic western, the only action comes in the form of shy ranch foreman Ed Cobb's frivolous daydreams in which he sees himself as the hero of the romantic novels he constantly reads. He eventually gets to live out his dreams when he saves ranch owner Mary Beth Milford from the clutches of diamond smuggler Roy Hughes who is masquerading as a dude visitor at the ranch. Incidentally, Hughes was a promising cowboy star himself but he died at only 34 on January 12, 1928

FOUR GUN BANDIT (1919 Universal) 23 minutes
Pete Morrison (1890-1973), born in Denver, Colorado, eased into the picture business by appearing as an extra as early as 1908 for films made in Colorado. For several years (1911-1913) Morrison worked under director Allan Dwan as a stuntman and supporting player at American Film Manufacturing Company before joining Universal (for the first time) in 1919 as the star of a series of two reelers. From 1920-1922 he made films for Dominant, Sanford and others but was back at Universal in '23-'24. In '25 he made westerns for Steiner and Lariat, then was again back at Universal for features in '26. In 1927 his plan to produce Tom Mix pictures in Brazil went down when the ship carrying all the equipment sank. Nearly broke at the advent of sound, Pete took what work he could find, usually supporting roles in early talkies with Hoot Gibson, Jack Perrin, Buffalo Bill Jr., Tom Mix, Jack Hoxie, even a role in Raoul Walsh's THE BIG TRAIL ('31). By the mid-'30s, Pete retired to his native Colorado where he owned a dairy business until his death at 82. Unfortunately, FOUR GUN BANDIT is far from representative of Morrison's best work. In this bland "situation western" there are no outlaws or crooks to capture, hence, no action. Sheriff Pete Morrison's girl Magda Lane's father needs an expensive operation in San Francisco. Desperate to obtain money for the operation, she robs a pompous wealthy industrialist but is caught by Morrison who must put things right.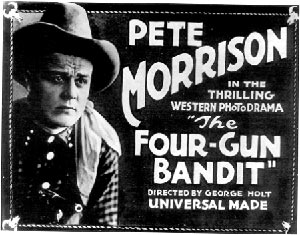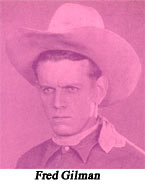 ORE RAIDERS (1927 Universal) 32 minutes
Between 1925-1927 Universal made and released some 135 two-reel westerns under their Mustang logo, a true dmark of distinction at that time. Of the 33 two-reelers documented that Wyoming born Fred Gilman starred in, 18 were Mustangs as is ORE RAIDERS. The other 15, though also Universal westerns, were released after the studio had dropped the Mustang tag. Plot here has Texas Ranger Gilman on the trial of border smuggler Bud Osborne and his gang who are stashing their loot in the ranch house of J. P. Lockney and his daughter, Barbara Starr, who has no idea her father has blundered into crime. Routine plot is propped up by some excellently staged scenes, way above average photography, swift editing and fights that exemplify much better choreography than most two-reel silents of the era. And it's no wonder, as ORE RAIDERS was an early directorial effort of acclaimed William Wyler. Wyler (1902-1988) was considered by his peers

as second only to John Ford as a master craftsman. His directorial career spanned 45 years beginning in 1925 with Jack Mower's CROOK BUSTER. Nominated a record 12 times for an Academy Award, he won three—MRS. MINIVER, BEST YEARS OF OUR LIVES and BEN HUR. To Gilman's benefit even at this early stage, Wyler's exemplary talent shines through on ORE RAIDERS. In all, Wyler helmed 12 of Gilman's two-reelers. * * Frederick Horace Gillman (he changed it to one L for screen work) was born November 24, 1902, in Weston, West Virginia and came to westerns in 1926. After his starring roles ended in 1928, appeared in small parts for 13 early sound westerns of good friend Hoot Gibson. Gilman then apparently became head wrangler at MGM, even appearing uncredited in small roles for some of MGM's major films in the late '40s such as SEA OF GRASS, THE PIRATE, BIG JACK, KISSING BANDIT, ANNIE GET YOUR GUN and ACROSS THE WIDE MISSOURI. He called it quits in 1951 after several bit roles. Married in 1921, his wife, Totsie, died in '78. In his later life Gilman was crippled with arthritis. He contracted cancer in '88 and died at 85 in a Capistrano Beach hospital on March 30, 1988.


BLUE BLAZES RAWDEN (1918 Artcraft/Paramount) 51 minutes
William S. Hart's wildly over-the-top histrionics as hard-drinking, rowdy Canadian lumberjack-leader "Blue Blazes" Rawden sharply contrasts with his usual portrayals of quiet and reserved good-badmen. Directed by Hart himself, his roughhewn Rawden gets in an argument with greedy hotel/saloon owner Robert McKim over the affections of Maude George. In a game of chance, Hart wins the hotel/saloon, a gunfight follows in which McKim is killed by Hart. Shortly thereafter, McKim's aged mother (Gertrude Claire) and other son (Robert Gordon) arrive to visit McKim. Ripe with guilt, in order to ease the mother's heartaches, Hart tells her McKim was loved by all the town of Timber Cove and that he died a natural death. Distraught with his deception, Hart sells the hotel/saloon which angers Maude George, knowing she is losing the man she loves. Out of spite she tells Robert Gordon the truth who then attempts to murder Hart. Failing to do so, Gordon is then saved from a Timber Cove lynch mob by the remorseful but badly wounded Hart who leaves to take "the lone trail" alone. Not yet a star in his own right, Hart Hoxie (later Jack Hoxie) has an extended role as McKim's strong arm man beaten in a brawl with Hart.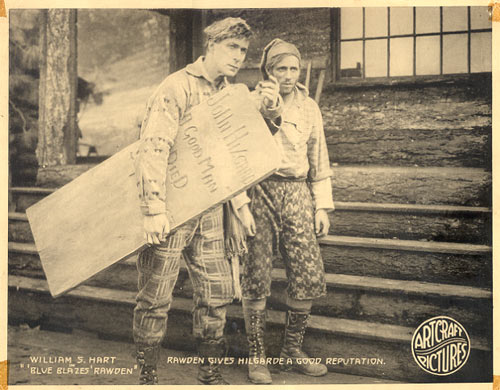 Posted 2/8/08




WHITE OUTLAW (1929 Exhibitors Film Corp.) 44 minutes
Known as the White Outlaw for the kerchief he wears, Art Acord, trying to redeem himself, goes to work as a hand on Howard Davies' ranch, giving his kerchief to his foreman/friend Bill Patton. Meanwhile, slick saloon owner Dick Nores threatens to foreclose on Davies' homestead unless the rancher ponies up and pays off his gambling debts. However, Nores will let the debts slide if Davies' daughter, Vivian May, marries him. She agrees to save her father from disgrace and ruin, but Patton—using the white neckerchief—sticks up the stage to rob money from Nores. When Patton's arrested and believed to be the White Outlaw, Acord decides the real White Outlaw must ride to clear Patton and save Vivian's honor. Written by Robert "Bob" McKenzie and directed by Robert J. Horner, WHITE OUTLAW is action packed, moving at a lightning pace. Also with Al Hoxie as a sheriff and Lew Meehan as a renegade outlaw.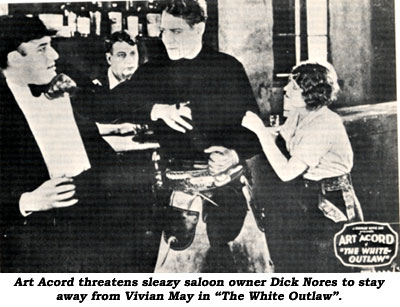 WHEN PALS FALL OUT (1918 Canyon Pictures) 12 minutes
A little girl prevents two friends (Franklyn Farnum and Buck Jones) from gunning each other over the affections of a girl (Lola Maxim). Bud Osborne is the sheriff

UNKNOWN RANGER (1920 Aywon) 42 minutes
Supposed New York author Ben Hill arrives out west claiming he's in search of local color when he's actually secretly in league with Mexican opium smugglers. Ranch hand Rex Ray exposes Hill but, curiously, in the end, lets him go. Slow build-up for the first half, somewhat redeemed by an exciting running gunfight in the mountains. Nothing is known about Ray, a sort of wimpy, juvenile-sidekick looking fellow. Apparently Ray didn't strike a chord with theatergoers as he disappeared after one more western (DANGEROUS TRAILS, '20) which was filmed with the same cast. (Thanx to Amy Borgens whose great grandfather was Ben Hill.)


IN THE DAYS OF THE THUNDERING HERD (1914 Selig) 34 minutes
Tom Mix came to Selig in 1910 with his earliest films being one-reelers. He starred in some, in others he supported William Duncan and Kathlyn Williams. By 1913 Mix began to appear in two-reelers, then in the fall of 1914 came this, his first starring five-reel feature. Its success assured Tom of major stardom. IN THE DAYS OF THE THUNDERING HERD was edited to three reels after WWI and reissued as THE WAGON TRAIL. It is this three-reel version that exists today. Pony rider Mix escorts his girl, Bessie Eyton, on a wagon train west to the California gold fields. Their party wiped out, Tom and Bessie are captured by Swift Wind's Indian tribe. Plenty of action.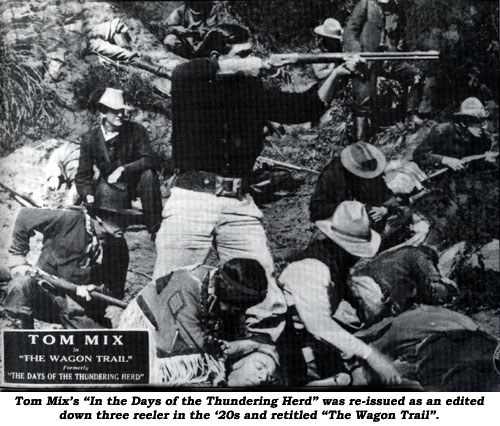 GREY VULTURE, THE (1926 Davis) 58 minutes
What ho! What manner of western tis this that begins in jolly Ol' England with Ken Maynard as a brave knight riding valiantly to the rescue of fair maiden? Alas! Tis but Ken daydreaming again. Fired from his job for shirking his duties, our 'Knight of the Plains' stumbles across a would-be stagecoach robbery and rescues damsel in distress Hazel Deane, taking she and her girlfriends to her father's ranch where it just so happens foreman Sailor Sharkey is plotting to rustle the boss' herd with the aid of lawyer Boris Bullock. Needless to say, Ken—our Knight of the Grey Vulture—thwarts the knave's plot and wins fair maiden's hand, just as in tall tale times of old. An interesting and unique idea, but in trying to be humorous GREY VULTURE at times borders on downright silly and becomes tedious. It's an idea that would have better suited Hoot Gibson. Davis was a low budget independent. Ken was signed at $1,000 a week for eight westerns but Davis folded after only five. Segments of all five, including GREY VULTURE, were pasted-up into a serial released by Davis, THE RANGE FIGHTER ('26).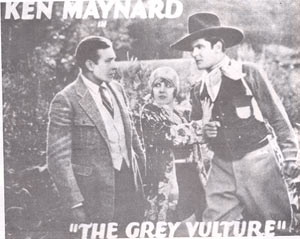 BORDER PATROL (1928 Pathé) 58½ Minutes
One of screen great Harry Carey's final silent westerns in which the taciturn cowboy is a Texas Ranger tracking down counterfeiters posing as financiers along the Mexican border (Richard Tucker, James Neill), which he does with the aid of socialite Kathleen Collins (with whom he falls in love) and her too rich father Phillips Smalley. Well made but actionless until the final thrilling conclusion. Writer Buck Rainey described Carey's popularity best: "Although William S. Hart is credited with creating the 'realistic' western, Carey's characterization actually pre-dated Hart's, considering Carey made westerns before Hart entered the movies. The moral rectitude of Carey's films was less than that of Hart's. Yet Carey continued as a popular star and made films in the so-called 'Hart mold' (such as this one) long after the public had tired of Hart's screen characterizations. The difference seemed to lie in the personalities of the two stars. Often likened to Will Rogers, Carey could empathize with his audiences better than Hart. His personal charm struck a responsive chord in his audience, and people warmed to him. That wrinkled, leathery face, those kindly eyes, and the boyish innocent smile got to people. Also his characters were always a little more human and flexible than those of Hart. And by no means least, Carey was a better actor than Hart. He sort of grew on you and became a part of you without you consciously realizing it."
Posted 2/1/08



FLASHING STEEDS (1925 Chesterfield) 49 minutes
Bill Patton (born 1894 in Amarillo, TX) came to Hollywood circa 1917 via the Wild West show circuit. After performing stunts and extra roles he was cast in several westerns with William Desmond, William S. Hart and J. B. Warner. By 1921 he was starring in silents for Pioneer, Playgoers, Anchor and Madoc Pictures. Some of his best work came in '25-'26 for newly formed Chesterfield. His westerns usually had an element of comedy in them to accent his laid back, easy going Hoot Gibson style, and FLASHING STEEDS is no exception. Two hi-toned supposedly English characters, Merrill McCormick and ladyfriend Ethel Childers, arrive to visit at the ranch of Dick La Reno where Patton is a hand. Turns out Patton is a government agent out to capture McCormick and Childers who are international swindlers out to steal La Reno's two ebony black pearls. All the action arrives in the final 10-12 minutes, then it's plentiful including a humorous bit in which McCormick has a run-in with an automobile. Cowboy Cancer alert: Patton lights up a cigarette. Patton's last starrer was in 1926 but he continued to play supporting roles, going on to work in talkies, usually as a heavy in small roles until 1943. He did manage to star in one ultra low-budget sound film, ARIZONA TRAILS ('35 Superior) for producer Victor Adamson. Patton was only 57 when he died 12/12/51. Veteran heavy McCormick (1892-1953) played outlaws of all types from 1916 until his death. FLASHING STEEDS was directed by Horace Carpenter (1875-1945) who entered films in 1914 as a member of the Famous Players-Lasky Company. Mild-mannered in appearance, his acting career spanned 30 years and nearly 400 films including leading roles in many of Cecil B. De Mille's early titles. From 1925-1929 he directed some 15 westerns.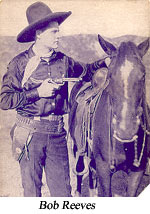 FIGHTING LUCK (1926 Anchor) 46 minutes
Pretty routine stuff made a bit more interesting by the inclusion of a black-cloaked mystery gang-leader with a four-finger maimed hand. Rancher William Ryno, his daughter Ione Reed and the local sheriff send for tough-as-nails Bob Reeves to rout out Four Finger. Unfortunately, it doesn't take a genius to figure out nasty Lew Meehan is actually Four Finger. Cowboy Cancer alert: Bob rolls his own. Directed by J. P. McGowan (1880-1952) who came to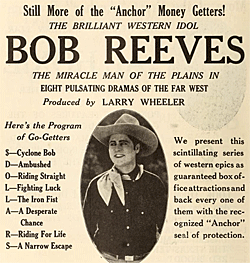 Hollywood in 1909, eventually directing over 125 features and serials, including two with his serial queen wife Helen Holmes. As an actor he appeared in over 100 films (including a bit role here). He made the transition into sound and worked (as actor and director) through 1939 then retired to serve as executive secretary of the Screen Director's Guild from '39-'50. The 6' 2" Reeves' career spanned nearly 40 years, coming to Universal in 1919 starring in THE GREAT RADIUM MYSTERY 18 chapter serial. By 1920 Reeves (1892-1960) was starring in two-reelers with his horse Searchlight. Hooking up with producer Morris Schlank and director McGowan in '26, the film company traveled to Arkansas for location shooting on seven films, of which FIGHTING LUCK is one. (An Al Hoxie series was made there concurrently for Anchor.) From there on, through 1957, Reeves appeared in dozens of westerns, serials and crime dramas (often as a policeman).


RUSTLIN' KID (1925 Universal) 20 minutes
According to his uncle's last will and testament, Fred Humes must marry a spinster girl in order to inherit his uncle's ranch. Assuming her to be ugly, when Fred actually meets the beautiful gal he believes her to be the spinster's best friend and—Oops—says a few of the wrong things. Fred eventually sorts it all out, saving her from an outlaw gang. Humes came to Hollywood via the wild west show/rodeo circuit around 1919, playing bit parts and doing stunt work. Universal saw something in Humes and starred him in 13 two-reel Mustang westerns in '25-'26 then moved him up to features in '27-'28. There's some well-orchestrated action here and although Humes (1898-1971) was not as handsome as some of Universal's other cowboy heroes, he rode well and had a natural acting ability, however Universal's decision to close down production of westerns in '29 with the advent of sound left Humes, like others, high and dry. He managed a few sporadic roles in the '30s but by 1935 had left Hollywood, later to be employed by Standard Oil in Alaska.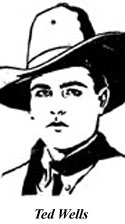 MADE-TO-ORDER HERO (1928 Universal) 40 minutes
As with many westerns of the silent era, much of this is played for humor. Aunty says niece Margery Bonner must marry a society man—or a hero, so cowboy Ted Wells has his pals (Dick L'Strange, Pee Wee Holmes, Ben Corbett, Scotty Maltraw) pretend to be outlaws as he rides to Margery's fake rescue—as a hero! But Ted's plans go awry when a real outlaw (Jack Pratt) shows up. Wells (1899-1947) was handsome, a superb horseman and even exhibited decent acting skills here, but was stymied when Universal shut down production of westerns in late '29 during the transition to sound. Ted continued to work sporadically as a stuntman, double (for Hopalong Cassidy) and extra in westerns and serials through 1947, but primarily found employment as a ranch manager in Colorado and co-owned a concrete block manufacturing business. He did manage to star in two bottom of the barrel Robert J. Horner westerns (DEFYING THE LAW and PHANTOM COWBOY, both '35) in the sound era that did absolutely noting to enhance his status in the film business.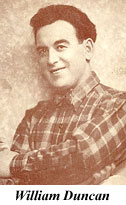 BUCK'S ROMANCE (1912 Selig) 14 minutes
Scottish born William Duncan (1879-1961) migrated to the U.S. in 1890 and came to the fledgling film industry in 1911 where he directed and starred in dozens of one-reelers for Selig through 1915. Many of these were made around Canon City, Colorado, where Tom Mix often worked with Duncan. Myrtle Stedman was his leading lady in at least 82 of the one-reelers. The athletic Duncan became a serial superstar in 1917 with Vitagraph's 15 Chapter THE FIGHTING TRAIL. He went on to star in nine more silent serials. In the sound era he's best remembered as Hopalong Cassidy's boss, Buck Peters, in three films ('37-'38). BUCK'S ROMANCE is a silly comic western in which Duncan wins an Indian maiden in a horse race, but he already has a wife. Lester Cuneo (1888-1925) plays an Indian here. Cuneo supported Duncan (and Tom Mix) in one-reelers for three years, eventually starring in his own westerns by 1920.

A MATRIMONIAL DELUGE (1913 Selig) 12 minutes
Advertising for a wife, William Duncan winds up with more women than he can handle. Filmed in Canon City, Colorado. Co-stars Myrtle Stedman, Lester Cuneo.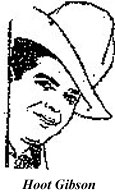 HARMONY RANCH (1920 Universal) 15 minutes
After Hoot Gibson and his effeminate eastern dude brother (Stanhope Wheatcroft) inherit their late father's ranch, a jovial plot to scare Wheatcroft and his friends back to the east goes all wrong, winding up with Hoot's gal (Josephine Hill) being kidnapped by a bandit. Directed by Phil Rosen who later in the sound era helmed B-westerns with Ken Maynard, Hoot Gibson and Bob Steele in the '30s before moving on to dramas and crime thrillers.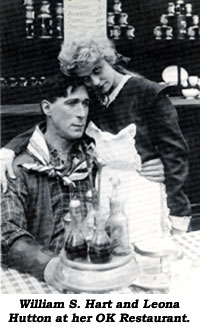 A KNIGHT OF THE TRAILS (1915 NY Motion Picture Co./Mutual Kay-Bee) 19 minutes
William S. Hart was nearly 50 when he came to the movies after a successful stage career. From 1914 til the mid-'20s he starred in a series of two-reel and feature westerns under the supervision of Thomas H. Ince. Here, road agent Hart is engaged to restaurant owner Leona Hutton until she discovers he is a wanted bandit. Although Hart reforms, she agrees to marry slicker Frank Borzage. But when she entrusts her money to him on the day of their wedding, the cad beats it out of town on the stage. Hart, learning of this, rides in pursuit, catching up with the scoundrel, guns him, returns Hutton's money to her and all is forgiven. Bit melodramatic, especially in the acting of Hutton. Cowboy cancer alert: Hart lights up a stogie. Frank Borzage (1893-1962) arrived in Hollywood in 1912 working in films for Ince. He continued to act through 1924, but began directing as early as 1913, becoming Hollywood's great romanticist. He won Academy Awards for SEVENTH HEAVEN ('27) and BAD GIRL ('31).



SHERIFF OF STONE GULCH (1913 Kalem) 12 minutes
Although destined to become the second greatest silent screen serial queen (after Pearl White), Ruth Roland's career began modestly in 1911 at Kalem's Santa Monica studio. In about four years with Kalem she made over 200 one and two-reelers, the best of which were made with the Marshall Neilan unit. Neilan wrote, directed and acted in many of these films, setting the foundation for his career as a feature director of such hits as REBECCA OF SUNNYBROOK FARM, IN OLD KENTUCKY, PENROD, HELL'S ANGELS and A STAR IS BORN ('37). SHERIFF OF STONE GULCH is an excellent example of the one-reel western, something Kalem specialized in from 1911-'14. Here, Ruth helps capture a bank robber who tries to lay blame on her sweetheart (Neilan). Good continuity, fast action and superb camerawork.



VALLEY OF THE MISSING (1922 Irving M. Lesser) 25 minutes
A pioneer of the silent screen, Irving Cummings began his career as an actor on the Broadway stage. He entered films in 1909 as an actor, then began directing for which he became quite well known in the sound era at 20th Century Fox, specializing in splashy Technicolor musicals. Here he directs and stars in a beautifully photographed tale of a Mountie Corporal sent after murderer Frank Whitson who is hiding in the Valley of the Missing. Cummings doesn't realize his girl, Norris Johnson, is the daughter of the man he's been assigned to bring to justice. Further complicating matters, Whitson's partner, William Quinn, lusts after Johnson, threatening to turn Whitson into the Mounties if she doesn't marry him.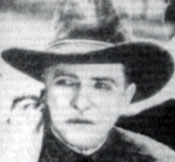 LASH OF THE LAW (1926 Goodwill) 55 minutes
Bill Bailey—later William Norton Bailey—was born in Omaha, Nebraska, in 1886 and enjoyed a 48 year career in Hollywood from 1911-1959, starting as a director of one and two-reelers for Cosmopolitan. Most of his silent westerns were supporting roles opposite Harry Carey, Jack Hoxie, Hoot Gibson, Louis Bennison, Fred Humes, Ed Cobb and Ben Wilson, with his only starring series a brief one for short-lived Goodwill. LASH OF THE LAW offers a much stronger adult-appeal story (penned by small time outlaw Al Jennings) than the routine B-westerns being churned out by so many silent range riders. Bailey is asked by the sheriff to sort out a feud between rancher Dick La Reno (the stepfather of abused Alma Rayford and her brother Marcel Perez, who has been crippled by a gunshot fired by La Reno's foreman, Bud Osborne) and neighboring rancher Roy Watson. Earlier, La Reno and Osborne murdered the father of Rayford and Perez to gain control of his ranch. Bailey becomes involved in the plight of Rayford and Perez, eventually bringing the blackards to justice. Rayford (1903-1987) was a leading lady in dozens of silents from 1921-1928. The director here is Paul Hurst (1888-1953) who broke into films in 1912 as an actor (over 300 films)/director (nearly 50 films and even screenwriter for several silents. Toward the end of his 40 year career he was Monte Hale's sidekick at Republic. After 100 silent films the stocky (you'd almost say chubby) Bill Bailey gravitated to character roles in talkies as William Norton Bailey on through 1959. He died in 1962.


GET YOUR MAN (1920 Cosmos) 22 minutes
Deputy Neal Hart is assigned to clean up Treasure Gulch and rescue a captive girl. Basic and simplistic with a strong presence from Hart. The Richmond, NY, born Hart (1879-1949) enlisted in the Navy at 18 and served in the Spanish American War on the U.S.S. Panther. Upon discharge he reportedly attended Bucknell University in Pennsylvania where he earned a degree in Civil Engineering, then worked for several railroads. He headed west around 1902 working on ranches in Wyoming. From 1907-1913 he was town marshal of Manville, WY. He lost a bid to become Sheriff of Niobrara, WY. He joined the famed Miller Brothers 101 Ranch Show in 1914. Landing in L.A., his friend Harry Carey introduced him to filmwork as a rider and extra. Universal signed Neal to a series of Mustang two-reelers in 1917. Dropped by Universal after 30 or so in 1918, Hart formed his own production unit releasing through Capital, Pinnacle, Arrow, Steiner and Cosmos. His popularity rose to where he was being billed as "America's Pal". Leaving films in 1928, he purchased a guest ranch in British Columbia, but economic conditions caused the ranch to flounder and he returned to Hollywood in 1930 where he played bit roles in westerns until his death five days shy of his 70th birthday.

UNSUSPECTING STRANGER (1923 Pathé) 24 minutes
Coming to films in 1912 from ranch work around San Jose, CA, Leo Maloney (1888-1929) began as a stuntman and bit player, eventually coming to prominence with Helen Holmes in 1914's HAZARDS OF HELEN one-reel episodes. By 1915-'17 he was supporting Holmes in features and serials as well as being featured in Tom Mix shorts and features. In 1920 Leo starred in at least six two-reelers for Universal, then hit his stride from '22-'29 by organizing his own production unit and making two-reelers and features for Pathé, Steiner and Clarion. Many of these, such as UNSUSPECTING STRANGER, were written and directed in association with Ford Beebe. In this Range Rider two-reeler, villainous Tom London tries to cheat Maloney by selling him a ranch with no water.



BATTLING TRAVERS (1921 Star Ranch Prod.) 26 minutes
Classic stuntman Yakima Canutt once wrote, "There were only three things Dick Hatton was afraid of—horses, guns and the outdoors," yet Hatton (1891-1931, traffic accident) managed to star in some 50 silent western shorts and features for a variety of companies. Never even beginning to approach the popularity of Hart, Mix, Maynard, Gibson, Carey, Jones et. al., Hatton's westerns were primarily relegated to small town theaters and cheap back street big city movie houses. BATTLING TRAVERS is one of Hatton's earliest. Dirty, evil Bill Patton (who soon began starring in his own films) tries to involve leading lady Alma Bennett's brother Joe Dixon in the payroll robbery of his own father and uncle. Scrappy little Hatton overhears the plans, captures Patton, changes clothes with him, grabs the money for safekeeping, but finds himself suspect when the sheriff catches him with the loot. Fast moving two-reeler.


BRONCHO BILLY AND THE GREASER (1914 Essanay) 10 minutes
Broncho Billy has a run-in with a halfbreed (Lee Willard). G. M. Anderson (1884-1971) co-founded Essanay in 1907 and made the first Broncho Billy title (BRONCHO BILLY'S REDEMPTION) in El Paso in December of 1909. It was released in July 1910. The character proved so popular that through 1915 Anderson wrote/directed/and starred in some 350 Broncho Billy adventures.

TROOPERS THREE (1930 Tiffany) 22 minutes
On a lark, devil-may-care Rex Lease and his two buddies, Slim Summerville and Roscoe Karns, join the U.S. Cavalry. Lease eventually takes the service seriously and becomes a "real trooper" when he saves his girl Dorothy Gulliver's father (his drill sergeant) from a blazing inferno. This edited silent version of an early full length feature sound film was produced to accommodate theaters not yet converted to sound. It features historic footage of the actual 11th U. S. Cavalry.


CACTUS TRAILS (1925 Aywon) 45 minutes
After rescuing senorita Alma Rayford from a runaway wagon, Jack Perrin is made welcome at her father's rancho. Their affection for one another obvious, her other suitor, Barney Furey, is jilted by Alma and to get revenge he hooks up with two hombres (Wilbur McGaugh, Floyd Ames) with an obvious dislike for Perrin who kidnap Rayford. Directed by prolific poverty row exec Harry S. Webb (1892-1959), who between 1924-1940 produced and/or directed hundreds of low budget B-westerns.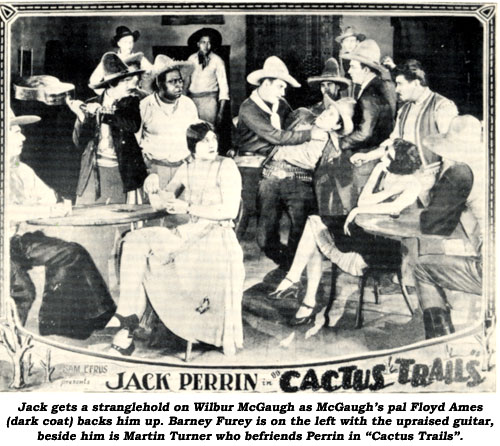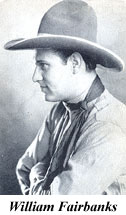 MAN FROM GOD'S COUNTRY (aka BORDERLAND RANGERS) (1924 Goldstone) 41 minutes
William Fairbanks rescues senorita Dorothy Revier from an overly amorous Lew Meehan then falls for the Spanish maiden and she for him. However, Revier's father prefers she marry Carl Silvera, head of the Providential Police. Revier rejects her father, choosing Fairbanks. Tragedy strikes when the treacherous Meehan accidentally shoots Revier through a window while aiming at Fairbanks, causing Revier's father to believe Fairbanks shot his daughter. Together, Fairbanks and Silvera set things right. Slow moving and directed by Alvin Neitz (aka Alan James) (1890-1952) in mostly medium and medium long shots with nary a close-up. Neitz/James wrote and/or directed hundreds of B-westerns from 1916-1952.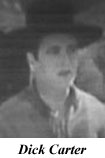 PIONEERS OF THE WEST (1927 Sanford) 49 minutes
Renegade Bud Osborne poisons the Paiute Indians, led by Chief Olin Francis, against the Pony Express riders. Dorothy Earle is a white girl who has been reared by the Paiutes after being abducted as a child in a wagon train massacre. She is desired by Osborne as well as the Indian Chief but returns neither of their affections after she encounters pony rider Dick Carter who saves the day for all. Story and direction by Marcel Perez. Virtually nothing is known about Carter (real name William Mix) who starred in seven independently produced westerns from 1924-1927 then pretty much disappeared after minor roles in a Tim McCoy western in '35 and a Johnny Mack Brown in '40. This film includes an early use of the famous Beale's Cut, a few miles north of L.A. The "cut" or pass was first chiseled out through the Santa Susanna Mountains in 1854 to carry supplies from L.A. to Fort Tejon. The pass was eventually enlarged to 90 ft. deep. Beale's Cut can be seen in John Ford's STAGECOACH ('39), STRAIGHT SHOOTING ('17) w/Harry Carey, THREE JUMPS AHEAD ('23) w/Tom Mix, DEVIL HORSE serial ('32) w/Frankie Darro, Ford's IRON HORSE ('24), THE PHANTOM serial ('43), among others.

BROKEN LAW (1926 Ermine Prod.) 65 minutes
For whatever reason, Jack Mower became Jack Meehan in a short series of Ermine Productions Westerns. In this one, an aged Indian holds the secret to hidden gold. Searching for the treasure, two outlaws supposedly kill the Indian, steal his map and try to frame Jack Meehan for the crime. Jack winds up working on Alma Rayford's ranch where one of the thieves is her foreman. Eventually, the old Indian turns up alive with his own conception of justice. Slow moving with not enough story to sustain its length.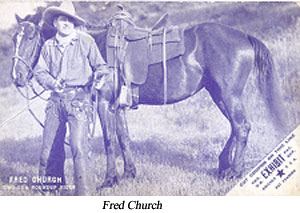 STACKED CARDS (1926 Circle) 45 minutes
Dying ranch owner John Watson asks tophand Fred Church to locate his lost niece (Kathryn McGuire) as Watson wants her to inherit his ranch. However, crooked foreman Robert Thurston and his underling, Artie Ortega, have other ideas. Conventional but well done with an action packed finish. Born November 19, 1888, in Ontario, Iowa (some confused researchers mistakenly have him born in Canada), Fred was in Vaudeville as a boy then hooked up with the Selig Co. in Chicago in 1907. In 1908 Church joined Essanay, eventually appearing in dozens of Broncho Billy shorts through 1914. Stints with the St. Louis Motion Picture Co. and Universal followed. For whatever reason, Church was off the screen from mid 1919 to late 1922. His film appearances were scant until he signed with independent producer Fred J. Balshofer of Circle Productions for a starring series, of which STACKED CARDS is one. In '28-'29 producer Robert J. Horner made a series with Fred, changing his handle to Montana Bill. His roles in the sound era were all in supporting parts. Church left Hollywood in 1936 and reportedly worked in real estate until his death at 94 on January 7, 1983, in Quartzite, AZ.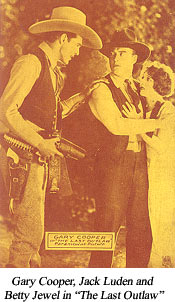 LAST OUTLAW, THE (1927 Paramount) 62 minutes
On a train with his horse, happy-go-lucky cowboy Gary Cooper meets up with a runaway kid, Billy Butts. Meanwhile, Jack Luden (later star of a brief Columbia series in the '30s) and his sister Betty Jewel are being plagued by rustlers bossed by respected city attorney Herbert Prior and his gang led by Jim Corey. Arriving innocently enough in town, Cooper becomes sheriff in a serio-comic Destry-like episode. Smitten by Luden's sister, Cooper nevertheless is assigned to bring in Luden for a shooting. On the way back to town, deputies loyal to Prior shoot and kill Luden in a fake escape. Jewel blames Cooper as she and her night riders strike back at the crooked Prior's rustlers.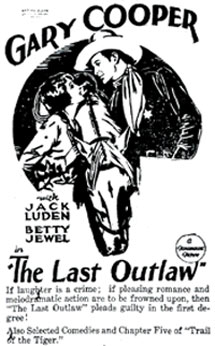 When little Billy Butts is accidentally shot from ambush by Corey, Cooper realizes he's backing the play of the wrong side and joins Jewel to corral the gang—right down to the last outlaw. In one of his earliest films, Cooper displays the screen charisma and natural talent that soon made him a huge star. His acting looks natural, he shows a definite sense of humor and is totally believable as the hero. London, England, born director Arthur Rosson (1886-1960) began his screen career as a scriptwriter in 1912, graduating to director by 1917, helming many silent westerns with Edmund Cobb, William Desmond, Tom Mix, Hoot Gibson and Art Acord. In the early sound era he wrote a few scripts for and directed westerns with Hoot Gibson, Tom Mix and Ken Maynard before turning to 2nd unit director work on A-films from '36-'60. During this period he worked on THE PLAINSMAN, UNION PACIFIC, THE OUTLAW, MAN FROM COLORADO, RED RIVER, CARIBOO TRAIL and others. Cecil B. De Mille would hardly make a picture without Rosson.