TOM MIX COMICS
Ralston-Purina's TOM MIX COMICS could not be found on newsstands but were mailed out free by Tom's radio sponsor, the Ralston Purina Company, to any young Straight Shooter reader who sent in two boxtops from Ralston Cereal.
The first issue in September 1940 involved Tom and his horse Tony in the mystery of "Ghost Canyon". In his exciting exploits Tom was assisted by The Straight Shooters…Wrangler, Jane, Pecos and Wash, a holdover idea from the Monday through Friday 15 minute radio series.
A month after the release of the first issue Mix was killed in a car crash in Arizona, but the comic books never even hinted at his death, by that time Tom had entered the field of mythology.
Written by Stan Schendel and Ray Bouvet with exciting, detailed art by Fred Meagher (1912-1976) (who later drew the adventures of STRAIGHT ARROW for ME Comics), Tom's adventures grew more and more fantastic as time went on. Eventually, with #10 in September 1942, influenced by the war in Europe, the comics were retitled TOM MIX COMMANDOS COMICS as Tom joined the pulp war effort by forming the Cowboy Commandos to help Uncle Sam win freedom on the printed page much like Captain America and others. But seeing Tom in a helmet and khakis lost its western appeal and it became just another war comic. This version of the comic only lasted three issues, ending with #12 in November '42 along with the cancellation of the radio show in March of '42.
The radio program was reinstated in June of '44 and ran until 1951 but the Ralston comics were never reborn. In Fine condition, TOM MIX COMICS Book 1 commands $696; #2—$159 with #3-9 priced about $120. With #10-12 the price drops to $111 each.
41 years later in 1983 to commemorate a 50 year association with Tom Mix (the radio show began in '33) Ralston Purina inserted a 16 page TOM MIX AND THE TAKING OF GRIZZLY GREBB miniature (5¼x2¾") comic into specially marked packages of Ralston cereal. Art was by Alex Toth.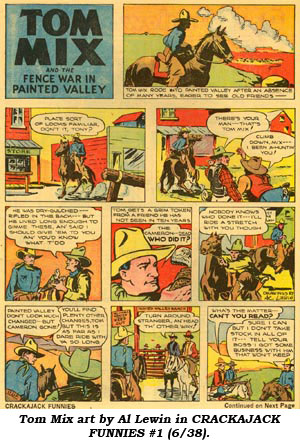 Pre-dating the Ralston comics in '42, Tom had been seen alongside Dick Tracy, Don Winslow, Moon Mullins and other comic strip reprints in #1-11 of Dell's POPULAR COMICS from February '36 to December '36. Dell began THE COMICS in March '37, reprinting Wash Tubbs, Dan Dunn and other strips, and moved Tom's adventures there beginning with #1 in March '37 and running through #5 in September '37. Tom next popped up alongside Dick Tracy, Dan Dunn, Red Ryder, Freckles, etc. in Dell's CRACKAJACK FUNNIES #1-18 from June '38 to December '39. The slapdash art from Tom's four page stories in CRACKAJACK was by the unknown Al Lewin. The Mix issues of POPULAR in Fine bring anywhere from $250 for #11 to $2,300 for #1. Tom's THE COMICS issues go for $200 (#5) up to $560 (#1). The CRACKAJACK issues price out at $81 for #18 to $543 for #1.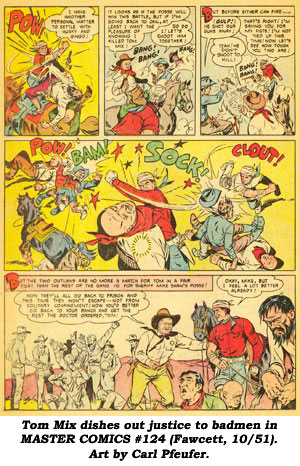 Although Tom Mix adventures were heard on Mutual from June '44 on; Tom didn't reappear in comic book form until Fawcett licensed his name and image and published TOM MIX WESTERN #1 in January of '48. Seeing an immediate sales winner, Fawcett spun their top cowboy hero off into MASTER COMICS and REAL WESTERN HERO. Tom took over for Hopalong Cassidy in Fawcett's MASTER COMICS #95 (Sept. '48) and was in every issue alongside Capt. Marvel Jr. and Nyoka until the end of the monthly then bi-monthly run with #133 in April '53. Although Cap Jr. commanded the cover on every issue, Tom always got 'featured billing' with a picture circle on the top left hand corner of the covers. For #124-#127 Tom briefly shared the cover art with Capt. Marvel Jr. and Nyoka. Fine copies of MASTER with Mix sell for $55-$60.
Tom joined Monte Hale, Hoppy, Gabby Hayes and Tex Ritter in Fawcett's REAL WESTERN HERO (formerly WOW #1-69) in September '48 with #70 (actually #1 under its new title). The title was shortened to simply WESTERN HERO as of #76 (3/49) til the end of the run in March '52 with #112. Alternating with the other cowboy stars there were drawn Mix covers on #77, 79, 81, 83 and photo covers on #85, 87, 90, 92, 94, 97. In Fine, copies of REAL WESTERN HERO/WESTERN HERO bring from $27-$65.
Art in MASTER and WESTERN HERO was nearly always by Carl Pfeufer (1910-1980) and inker John Jordan.
Fawcett's other compound cowboy comic was SIX GUN HEROS (#1-23) but Tom was never featured there…that is until Fawcett went out of business (due to lawsuits from DC over Superman and Capt. Marvel) and Charlton took over unprinted Fawcett backlog and reprinted much material. Tom Mix reprint stories turned up in Charlton's SIX GUN HEROES #27 (June/July '54) through #35 (August '55). Copies of these issues can be found for about $25.
Bill Black's AC Comics reprinted some Pfeufer Mix stories in TOM MIX WESTERN #1-2 in '88-'89. These can easily be found quite cheaply in Mint. #2 is still available online for $5 at <www.accomics.com>
More on Fawcett's TOM MIX WESTERN next month.
TOM MIX COMICS
COVER GALLERY