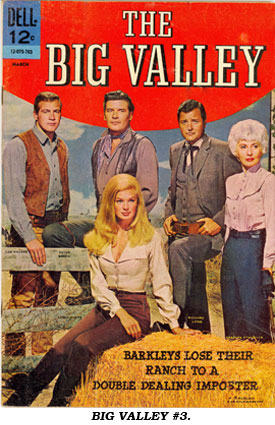 "THE BIG VALLEY"
"The Big Valley" began on ABC in September '65. Dell issued THE BIG VALLEY #1 in June '66. The first issue was a well written (by Paul S. Newman), well illustrated (by Frank Bolle, best known for his work on TIM Holt at ME) book length adventure that well paralleled the TV series, with a special spotlight on Heath. From there Dell's series went downhill both in their erratic issuance of publishing and artwork.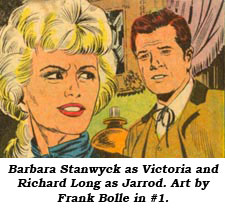 #2 came out three months later in September '66 with rushed-looking mediocre art at best by Frank Springer ('29-'69) who worked a lot at Dell in the '60s, then moved on to DC and Marvel. #3 didn't arrive until six months later in March '67 with, unbelievably, even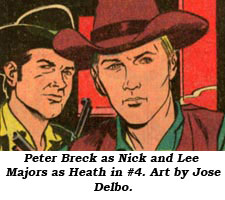 worse art. Springer even had the cojones to sign this child-like scribbling! Argentine artist Jose Delbo ('33- ) was a welcome change in #4 only a month later in April '67. Sadly, Springer's rag-tag art was back when BIG VALLEY #5 hit newsstands six months later in October '67.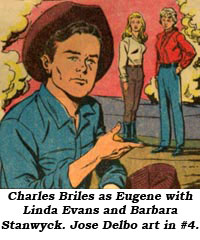 "Big Valley" left the air in May '69 but for whatever reason Dell re-issued #1 as #6 in October '69. Kinda like the TV series, being moved around on the schedule, the Dell comic with often lousy art and sporadic publishing, never really had a fair chance to succeed. All six issues featured photo covers with Barbara Stanwyck, Richard Long, Peter Breck and Lee Majors on #1 (repeated on #6). Linda Evans joined the foursome on #2, 3, 4. Only Majors and Evans were cover featured on #5.
While Charles Briles as Eugene Barkley was only on season one of the TV series, he nevertheless plays a major role in every issue of Dell's comic adventures.
#1 (the best issue by far) prices out at $15 in Fine with #2-6 about $12.
BIG VALLEY Cover Gallery