GUNSMOKE
"Gunsmoke" was certainly the most successful TV Western of all time, and the comic's 27 issue, five and a half year run, February '56-July '61 (plus a one year reboot in '69-'70 by Gold Key), was Dell's second most successful TV Western comic, surpassed only by BONANZA which ran for 37 issues ('60-'70).
However, even though all 27 issues sported specially posed photo covers of James Arness as Marshal Matt Dillon the interior art suffered badly for the first 14 issues. Dell began GUNSMOKE with their usual "test sales marketing" as Four Color #679 in February '59. To be honest, it was a loser! Minor former Ace comics artist Jim McLaughlin's art was—to be generous—bland and unexciting. His

rendering of Matt doesn't resemble Arness at all and the only other "Gunsmoke" cast member included is Chester—whom McLaughlin draws as an old man with a mustache! ?!? If you're a collector, stay away from this overvalued issue ($45 in Fine according to OVERSTREET PRICE GUIDE). Even talented and prolific comic book writer Paul S. Newman couldn't save this lame beginning.
Dell tried again in August '56 with Four Color #720, but McLaughlin's bland, no Matt Dillon resemblance persisted. At least a proper representation of Chester is attempted and Miss Kitty is included in Newman's two stories.

McLaughlin (with a different inker) was back for Dell's third try, FC 769 in February '57, with little improvement. Chester and Kitty are included. The series remained status quo through FC 797 (5/57) and 844 (8/57) with regular numbering beginning as of #6 (Nov/Jan '58) when the comic began to be published quarterly, even increasing to bi-monthly with #7. However, McLaughlin's static art just didn't bring to the printed page our version of TV's Matt Dillon. Chester and Kitty were in all issues, with Doc included in #9 and 10.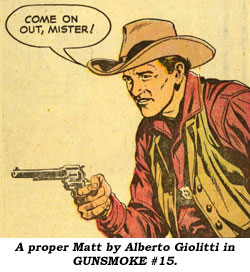 Finally—after 14 issues, talented Italian artist Alberto Giolitti ('23-'93) took over the artwork in #15 (June-July '59) with decent representations of Matt, Chester, Kitty and Doc. Giolitti captured the look and feel of Jim Arness, even Matt's vest and hat were more properly drawn. Also, Dell finally got the coloring in the art correct; Matt's purplish shirt now matched the cover photos (instead of the improper red shirt in the first 14 issues). If you're collecting Western comic books, start your GUNSMOKE collection with #15 and continue through #21; all contain Giolitti art and Paul S. Newman stories with Chester, Doc and Kitty included. ($21 each in Fine.) [Incidentally, Giolitti also worked on issues of THE CISCO KID, HAVE GUN WILL TRAVEL, LAREDO, TALES OF WELLS FARGO, SERGEANT PRESTON and TONTO. He returned to Italy in 1960.]
Italian artist Giovanni Ticci ('40- ), who had been assisting Giolitti, assumed the art chores as of GUNSMOKE #22 (Aug./Sept. '60) and maintained a decent look on the comic, much akin to Giolitti. Ticci continued through #26 when, for whatever reason, Dell assigned the art to Mike Sekowsky with inks by Frank Giacoia. I've personally never been a fan of Sekowsky's artwork and therefore was almost glad to see the GUNSMOKE comics end with #27 (June/July '61). (For the record, former EC artist Al Williamson contributed four page filler stories in GUNSMOKE #7-12.)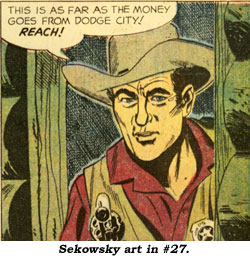 GUNSMOKE in comic book form lay dormant for seven and a half years (!) until Gold Key revived the series with #1 (Feb. '69) through #6 (Feb. '70). Wisely, GK rehired Alberto Giolitti for artwork and even though his style had changed somewhat it still captured the essence of Matt, Doc, Kitty and, by now, Ken Curtis as Festus. Leo Dorfman wrote the stories. All have photo covers, with even Kitty, Doc and Festus photos alongside Matt on #1, 2, 3. These six issues sell for $9-$15 in Fine.
"Gunsmoke" continued on TV until 1975 and we can only lament Gold Key had ridden along with the TV series. (Thanx to Steiner Adland for some art identification.)
GUNSMOKE COVER GALLERY