JOEL McCREA
Joel McCrea never had a comic book series named in his honor, but he was featured in quite a few issues.
Two of Joel's Westerns were adapted to the printed page, the first being the excellent "Four Faces West" in COWBOY WESTERN COMICS #24 (September '49) (left). Unfortunately, six pages of abysmal "art" did Joel and the film no favors. Joel was cover featured with an inside front cover photo of leading lady (and real life wife) Frances Dee and an inside back cover photo of Charles Bickford as Sheriff Pat Garrett. Issue lists at $27 for Fine in OVERSTREET COMIC BOOK GUIDE. If you must have the issue, settle for a Very Good copy and don't pay more than $10.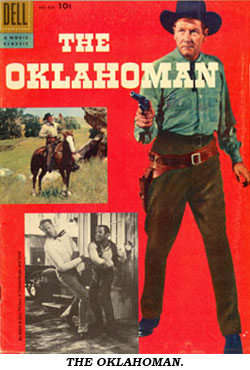 Dell's Four Color Series #820 (June '57) adapted "The Oklahoman" into comic form with art by Bob Jenny. Prolific comic writer Paul S. Newman adapted Daniel Ullman's screenplay. Issue had a striking photo cover and seven inside front cover photos from the Allied Artists picture. Fine copies are readily available for around $24. Incidentally, an Australian reprint in '58 reduced the page count from 32 to 23 pages.
Joel starred on radio as Ranger Jace Pearson in "Tales of the Texas Rangers" from July 8, '50 to September 14, '52. Dell featured Joel on the cover of Four Color #396 (#1 in May '52) (left). It sold well so Dell continued the series on a quarterly basis with #2 dated May/July '52. Now retitled JACE PEARSON OF THE TEXAS RANGERS the comic ran through #9 (Feb./Apr. '55) plus FC #648 (#10) in May/July '55, all with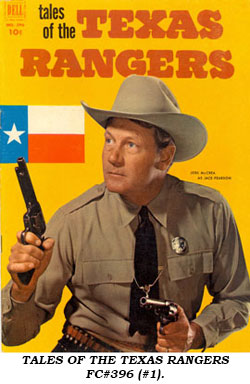 Joel McCrea photo covers. Artwork in FC #396 was by Tom Cooke. John Ushler, Cooke, Nat Edson, Mel Keefer, Hi Mankin and Tony Sgroi all contributed artwork in #2-10. None of these artists managed to bring Joel McCrea's likeness to the comic page. FC #396 usually sells for $30 in Fine with #2 through 10 bringing $18 each.
JOEL McCREA Cover Gallery