"ZORRO"
Zorro, Spanish for fox, is the secret identity of Don Diego de la Vega, the fictional character created in 1919 by NY pulp writer Johnston McCulley who wrote more than 60 Zorro stories. The character has undergone changes through the years, but the typical image of him is a dashing back-clad masked outlaw who defends the commoners and indigenous peoples of the land against tyrannical officials and other villains. Not only is he too cunning and foxlike for the bumbling authorities to catch, but he also delights in publicly humiliating them.
The first film was "The Mark of Zorro" in 1920 starring Douglas Fairbanks. Several more films and serials were made utilizing the character.
When Disney took on the character for TV in 1957 Diego became a passionate and compassionate crusader for justice and simply masqueraded as the most inept swordsman in all of California. In this show, everyone knows Diego would love to do what Zorro does, but thinks he does not have the skill. Johnston McCulley died in 1958 just as Disney's "Zorro" was becoming extremely popular.
Dell began publishing ZORRO comics based on McCulley stories with Four Color #228 (#1, 1949). Dell continued with FC #425 ('52), 497 ('53), 538 ('54), 574 ('54), 617 ('55), and 732 ('57). Excellent Everett Raymond Kinstler (1926- ) art is in #497, 538 and 574 with Bob Fujitani, Bob Correa and Alberto Giolitti working on the other issues.
With the popularity of the TV series starring Guy Williams, Dell began using all the TV characters as of FC #882 (Feb. '58). Photo covers of Guy Williams were featured on FC #920 (6/58), 933 (8/58),

960 (12/58), 976 (3/59), 1003 (6/59), 1037 (9/59), #8 (12/59), 9 (3/60), 10 (6/60), 11 (9/60), 12 (12/60), 13 (3/61), 14 (6/61), 15 (9/61). Zorro's horse Tornado along with Sgt. Garcia, Bernardo, Capt. Montastario, Don Alejandro and The Eagle were all featured in the Dell comics.
Art from FC #882 to FC #1003 was all superbly delineated by Alex Toth (1928-'06). However, Toth was unhappy having to work from adaptations of TV show scripts which he felt had too much dialogue and not enough action. In order to tighten up the storytelling he deleted unnecessary dialogue and cut redundant captions wherever possible. This did not go over well with Dell's editor and Toth was replaced by Warren Tufts for FC 1037, 8, 9. Mel Keefer (1926- ) drew #10, 11. Toth returned for #12, Tufts drew #13 and John Ushler finished off the series with #14, 15 (Sept./Nov. '61).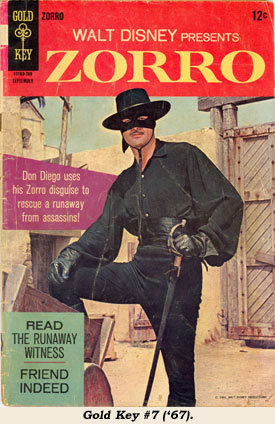 The Disney TV series wrapped in April '61. Zorro was absent from comic books until Gold Key reprinted nine Dell issues beginning in January 1966. The reprints continued quarterly until #9 (March '68).
Looking at current prices for just the Disney/Guy Williams photo cover issues, FC #882 commands $39 in Fine. FC #920 through #1003 are $30 in Fine. FC #1037 which has Annette alongside Williams brings $36 (left). #8-12 can all be found for about $21 each. Gold Key #1 lists for $21 with #2-9 at $12.
In 1990 Marvel issued #1-12 based on a later "Zorro" TV show. In 1993-1994 Topps had 11 Zorro issues not related to TV. Dynamite Ent. currently holds the rights to the character.

On the commercial release of the '57 Disney TV Zorro theme on record, the lead vocal was by Henry Calvin who played Sergeant Garcia. The song was written by former Three Mesquiteer Jimmie Dodd. The Chordettes sang the single version of the song, complete with the "Sounds of the Z" and the clip-clopping of Zorro's horse. The song hit Number 17 in '58 on BILLBOARD.