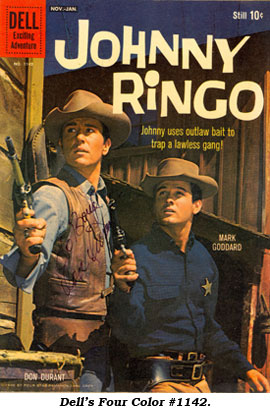 JOHNNY RINGO
An excellent Western artist, Dan Spiegle (1920- ) drew the artwork for Dell's one-shot issue of JOHNNY RINGO (FC #1142) in November/January 1960. Spiegle must have had excellent photo-reference material as his renderings of Don Durant as Ringo and Mark Goddard as deputy Cully are spot-on.
At Dell Spiegle also worked on ANNIE OAKLEY, REX ALLEN, DALE EVANS, SPIN AND MARTY, COLT .45, MAVERICK, RIFLEMAN, RAWHIDE, LAWMAN and the aforementioned SHOTGUN SLADE.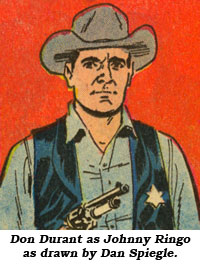 The stories in the issue are very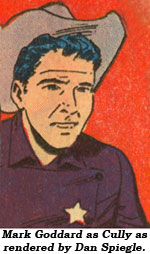 reminiscent of the Four Star series. Dell only came out with one issue as CBS' "Johnny Ringo" ended in June '60 after 38 episodes, therefore the comic was six months late to cash in on the series popularity. Photo cover with small inside front cover pic of Durant.
Fine copies are available for about $18.