ROY ROGERS
(Pt. 2)

In addition to ROY ROGERS COMICS surveyed previously, Dell published ROY ROGERS' TRIGGER beginning with Four Color #329 (#1) in May '51 and continued for 17 issues until June/August 1955. All 17 painted covers were by exemplary artist Sam Savitt (1917-?) who did paintings and illustrations for hundreds of hard cover books and magazines. He also painted covers for other Dell Western comic books.
Initially, Trigger's stories were written by the prolific Gaylord Du Bois but several later issues were penned by the team of Eric Friewald and Robert Schafer who also wrote dozens of TV Westerns.
The art in the first issue is signed R. S. but who that artist is, is unknown. It seems Sam Savitt's brother Al Savitt drew some issues as did noted Western illustrator Till Goodan (1896-1958).
Uncle Mike Hanford and nephew Davey Burke were recurring characters in many issues. Roy's dog Bullet shows up in #13, 16.
FC #329 in Fine brings $42. Prices for the rest decrease from $30 to $15 each.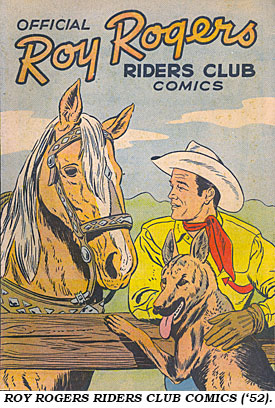 A 16 page OFFICIAL ROY ROGERS RIDERS CLUB COMICS was issued with a paper cover in 1952. Riders Club Rules and Creed were on the back cover. About $45 in Fine, but hard to find nice copies.
In 1947 Dell published a ROY ROGERS ANNUAL, 132 pages for 50¢. It contained reprints from ROY ROGERS FC #137, 153 and #2. Quite rare, in 2000 a Fn+ copy sold for $1,650.
Dell's giveaway MARCH OF COMICS began in 1946 and ran for 488 issues through April 1982. Contents varied. Roy's first issue was #17 in 1948 and his last was #250 in '63. In all there were 25 issues with Roy and Dale. MARCH OF COMICS were designed and printed for giveaway distribution by Sears Roebuck, Little Yankee Shoes, Child Life Shoes, Weather Bird Shoes and others. Early issues were full size, 32 pages and were printed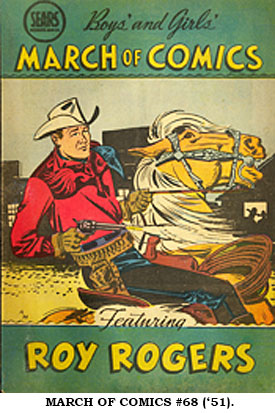 without (usually) a slick cover, depending on the advertiser's request. The binding was stapled if a slick cover was added, otherwise the pages were glued together at the spine. From '48-'51 issues were full size but reduced to 24 pages. Starting in '52 the comics were half-size and 32 pages with slick covers. After 1959 the page count went down to 16 pages. 1952-1959 issues read oblong, then in 1960 reverted to standard upright format. All contained new stories and art. The same artists who drew Roy's regular Dell issues worked on MARCH OF COMICS issues.
Dell's Giant square bound 132 page issues came out with 25 issues of WESTERN ROUNDUP between 1952 and 1959. Early issues featured Roy and other B-Western cowboys (Gene Autry, Bill Elliott, Johnny Mack Brown, Rex Allen) and gradually encompassed TV cowboys—but Roy was the only B-Western star prominent in all 25 issues. (More on WESTERN ROUNDUP next time.)