"RANGE RIDER"
"Range Rider" starring Jock Mahoney with Dick Jones as Dick West was the first series Gene Autry's Flying A Productions brought to TV after Gene's own.
"Range Rider" began airing in December 1950. Dell picked up RANGE RIDER as Four Color Comics #404, published in July/August 1952. Obviously selling well, Dell began regular numbering with #2 a year later, June-August '53, just as the TV series ended production. The comics continued on through #24 (Dec. '58-Feb. '59) as the 78 TV programs went into syndication.
All 24 issues had Jock Mahoney photo covers. There was no one steady artist for the interior art, but rather a series of pencilers. Dick West (Dick Jones) even got one story to himself with #12. The artist who most often drew RANGE RIDER was Tony Sgroi (1924-2001), but various stories were drawn by Pete Alvardo, Mike Arens, Bob Schoenke, Tom Cooke, Nat Edson, Nicolas Firfires, Jesse Marsh, Sparky Moore, Dan Spiegle, Alex Toth, Russ Manning, and some very scratchy art by Bill Ziegler in later issues.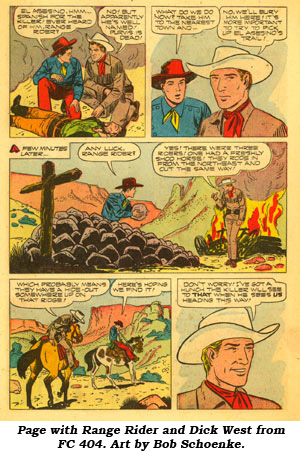 Stories were written by Robert Schaefer, Robert Ryder, Phillip Evans and Eric Friewald. Schaefer and Friewald were both screenwriters who moonlighted writing comic scripts. Together they wrote some "Range Rider" TV episodes. As a matter of fact, some later RANGE RIDER issues adapted TV scripts into comic form, such as in #19, "Dim Trails", and #23, "Sealed Justice". Kinda fun to have these open to read as you watch the TV episode and note the slight differences between the two.
In addition, Dell's Giant WESTERN ROUNDUP used Range Rider stories in their anthology comic book (which also featured Gene Autry, Roy Rogers, Johnny Mack Brown, etc.) from #11 (July-Sept. '55) til the end with #24 (Oct.-Dec. '58).
RANGE RIDER #1 sells for around $30 in Fine, while #2-24 can be found for $18-$20 in Fine. The WESTERN ROUNDUP issues in Fine book out at about $27 each.
RANGE RIDER
Cover Gallery