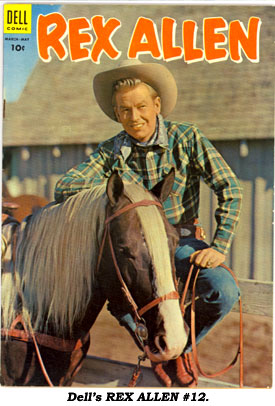 "REX ALLEN"
The Arizona Cowboy, Rex Allen, made his Republic screen debut in April 1950 and his Dell comic book debut in Four Color #316 (Feb. '51). Successful in this tryout, Dell began regular numbering with #2 (Sept./Nov. '51) and continued REX ALLEN on a quarterly basis (4 issues per year) through #31 (Dec./Feb. '58/'59) long after Rex's last Republic starrer ("Phantom Stallion" in Feb. '54) was released.
As on screen, Rex rode KoKo, but no mention was ever made of Rex being a singer. In FC #316 Rex had a bearded sidekick, his foreman Booter, who didn't reappear again until #7 and 8 and finally in #17 (in a KoKo solo story), unless you count the Booter in #3 who was suddenly a young boy (?). An old timer named Borax was Rex's sidekick in #4, otherwise Rex rode the lone trail in all his comic book adventures.
There were striking photo covers on all 31 issues, with color back cover photos on FC #316 (#1) through #12. FC #316 also had inside photo covers front and back.
Jesse Marsh (1907-1966), best known for his work on Dell's TARZAN, rendered an excellent likeness of Rex in FC #316 as did Mike Arens (1915-1976) in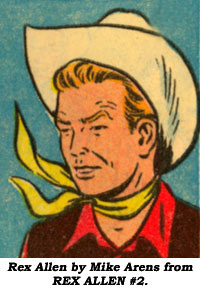 #2. From there on, Rex's artists varied from issue to issue, as did the quality of the art. In this succession of artists, some could simply not capture Rex's likeness, or perhaps didn't even try as they were doing only a single story and didn't attempt any better work. There are examples where certain artists kept Rex in distant shots, avoiding any close-ups knowing their work wasn't capturing the Arizona Cowboy. There also exists much "bullpen" type artwork at Dell where one artist did the pencils, another inked, and someone else filled in the background. #13 is a prime example with the art only bearing a passing resemblance to Rex. Besides those mentioned, some 15 other artists worked on the 31 issues of REX ALLEN: Pete Alvarado (1920-2003), Nat Edson (1909-2001), Jerry Grandenetti (1925- ), Tony Sgroi (1924-2001), Ernest Nordli (1912-1968), Al Gleicher, Dan Spiegle (1920- ), Bill Ziegler (1925-1993), Hi Mankin (1926-1978), Alex Toth (1928-2006), Russ Manning (1929-1982), Sparky Moore (1925- ), John Ushler, Tom Cooke and Nicholas Firfires (1917-1990).
Writers included Robert Schaefer (1926-2006) and Eric Freiwald (who also scripted many TV westerns) (1927-2010), Phillip Evans (1909-1989), Robert Ryder (1923- ) and Jean Klinordlinger (1914- ).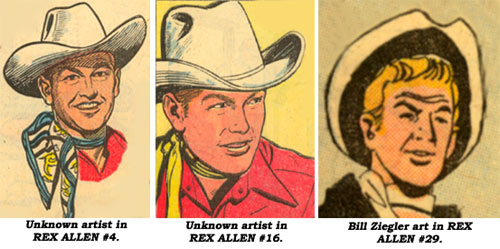 Rex's horse KoKo was featured in solo back up stories from #11-19.
Rex Allen stories were also part of Dell's all star Giant WESTERN ROUNDUP which started with #1 in June '52. Rex shared the spotlight with Roy Rogers, Gene Autry, Johnny Mack Brown and Bill Elliott. Published quarterly, Rex Allen stories continued through #21 (Jan./Mar. '58), until the contents began to more and more reflect TV westerns.
#1-18 featured small head shot photos of each cowboy on the cover. This was abandoned in favor of some very generic, bland artwork for #19-21. As with Rex's own title, the artists (most of the same ones listed above) varied from issue to issue with one of the most striking likenesses of Rex in #15.
When Rex's TV series, "Frontier Doctor", debuted in 1957, Dell issued FRONTIER DOCTOR as Four Color #877 in February of '58, adapting two of the TV episodes to comic form, "Storm Over King City" and "Apache Uprising", with artwork by Alex Toth. There was a photo cover and inside front cover photos from the TV series. No further issues were published.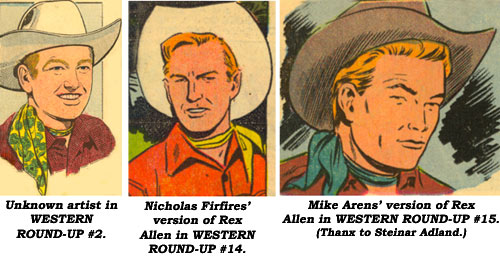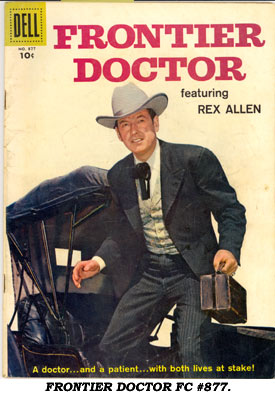 In Fine condition, REX ALLEN FC #316 goes for $48. #2-31 range from $33–$21 in Fine. The excellent Dell WESTERN ROUNDUP Giants start at $72 in Fine for #1 and work their way down to $27 for #21. In Fine, the single FRONTIER DOCTOR issue is around $30.