CLINT WALKER
In addition to Clint Walker being featured in his own CHEYENNE Dell comic (#1-25, '56-'62), Dell also adapted two of Clint's Western movies into comic book form.
YELLOWSTONE KELLY, based on the 1959 Warner Bros. film starring Walker, Edd Byrnes and John Russell was adapted by Dell as Four Color #1056 in late 1959.
Full color front cover, five b/w stills
from the film on the inside front cover
and artwork by Dan Spiegle. Writers
Eric Friewald and Robert Schaefer
who did so much work for Dell
adapted the screenplay to comic form.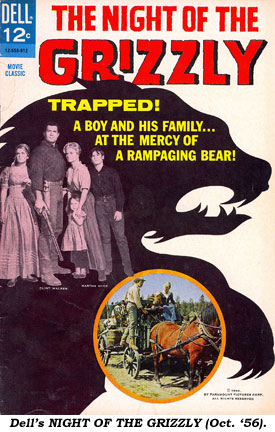 Six years later Dell's MOVIE CLASSIC series adapted Clint's favorite film "Night of
the Grizzly" ('66 Paramount) into comic form in October '66. Two film photos on the cover with interior art by Jack Sparling.