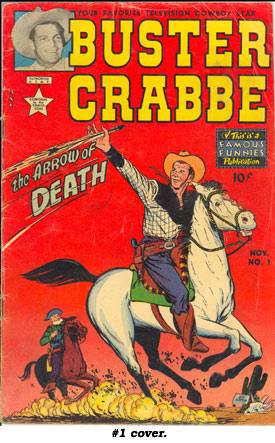 "BUSTER CRABBE"
After gaining recognition as Flash Gordon in three Universal serials, champion swimmer Buster Crabbe starred in B-westerns at PRC from 1941-1946 as Billy the Kid, then Billy Carson. As with so many other cowboy screen heroes, Buster didn't acquire a comic book until his B-western starring days were over. It was the advent of his films being released to TV that inspired Famous Funnies (aka Eastern Color Printing Co.) to release a comic of Buster's exploits.
The first issue, published in November 1951, had a western cover and three western stories. #2-#4 were in the same western vein. From #5-#12, stories alternated, with each issue containing at least one western story, but also incorporating Crabbe's adventures in the jungle and outer space. Covers from #5-#10 were space or jungle themed, then returned to a western motif. Oddly, even in these tales Buster still wore his cowboy outfit.
His horse was Vulcan in the comic books and his sidekick was Whiskers, an obvious homage to Al "Fuzzy" St. John, of whom, apparently, Famous Funnies could not—or did not—gain the rights to use his likeness and name.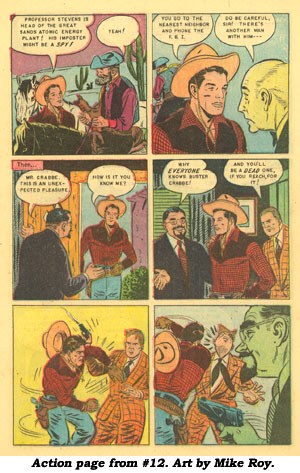 All covers were artwork with a 1½" square photo of Buster left of the title logo. Mike Roy (1921-1996) was one of the prominent artists, with Al Williamson (1931- ), Harold LeDoux (1926- ), Bill Walton, J. Altsman, Arthur Cazeneve (1919-1992), and Pierce Rice (1916-2003) all contributing work to various issues. Former EC artists George Evans, Roy Krenkel and Joe Orlando helped Williamson out on inking chores. Frank Frazetta worked on the terrific covers to #2-#5. The series ended with #12 in September '53.
In Fine condition, #1 through #4 run about $120 each. Due to the outstanding space cover by Frazetta, with interior art by Williamson/Krenkel/Orlando, #5 (Fn) can cost up to $370. #6-#9 run $50-$60 with #10-12 reasonable at $35.
Lev Gleason, who published DAREDEVIL, CRIME DOES NOT PAY and others, picked up the rights and renamed the comic THE AMAZING ADVENTURES OF BUSTER CRABBE. Gleason published four issues from December '53 through June '54. Each had "personal messages" from Buster and a page where you could order a photo. Contents for each were divided equally between a space epic, a jungle adventure and one western story. Whiskers was gone, replaced by a tubby fellow named Algy.
#1 had a photo cover, but the other three were drawn, with no western themes. Artists once again varied—Mort Leav (1916-2005), Alex Toth (1928-2006), Bob Fugitani (1920- ), Robert Martinott and Doug Wildey (1918-1994). Many of Buster's exploits at Lev Gleason were written by Hal Straubing (1918-1994).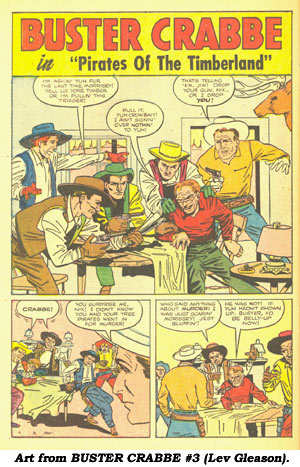 In Fine, these four issues, according to OVERSTREET COMIC BOOK PRICE GUIDE, run about $60-$65 apiece.
It's also worth noting, Buster Crabbe appeared in four issues of CAPT. GALLANT comics (based on his TV series) in '55-'56. The first published by Heinz (his sponsor) and #2-#4 from Charlton.