"WANTED DEAD OR ALIVE"
"TEXAN"
"MACKENZIE'S RAIDERS"
Dell owned the TV western market in the late '50s–early '60s. Virtually every new TV western that rode along, Dell published a comic book on it with photo covers of the star. Some, like CHEYENNE, GUNSMOKE and others, had lengthy runs. Still others, for whatever reason—even though the series were popular—didn't catch on with the comic market.
Dell usually "tested" the popularity of new titles as part of their long standing (since 1939) Four Color series, which also sported Disney and WB cartoons, movie titles, non-western TV series, MR. MAGOO, FLASH GORDON, etc. etc. This practice allowed Dell to keep sequential numbering going for years without starting at #1 for every new title they wanted to try out. Eventually ending in April 1962, Dell had published 1,354 Four Color issues.
Dell published WANTED DEAD OR ALIVE #1 as Four Color 1102 for May-July '60, basically at the end of the popular Steve McQueen CBS series' second season. The second issue, FC 1164, didn't see release til Mar.-May '61 just as the third, and final, season ended. One issue per year, plus the fact the TV series was over, didn't sustain interest for Dell and no more issues were published. Both have photo covers of McQueen with his Mare's Laig. Art was by Albert Micale (pronounced Muh-Kay-Lee) who had previously illustrated about 70 early issues of ROY ROGERS. Unfortunately, his art was quite dull and uninspired. Why Dell used him so much has always been a mystery to me. His rendering of McQueen is adequate at best, helped made recognizable by Steve's uniquely blocked hat. Back issues are usually reasonably priced in Fine at $30-$40.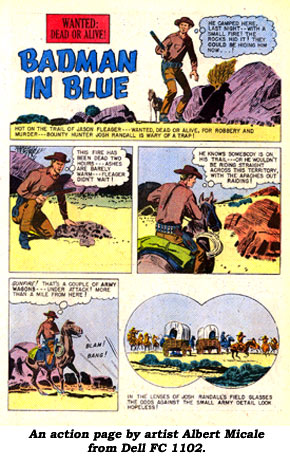 Another popular TV series was Rory Calhoun's "The Texan" which aired on CBS from Sept. '58-Sept. '60. Dell's first issue of THE TEXAN was FC #1027 (Sept.-Nov. '59) and the second was FC 1096 (May-July '60). Again, possibly because the TV series ended, no more issues were done. Terrific photo cover and inside front cover photos on both. Quite good art by Mel Keefer (1926- ) on FC #1027 and Dan Spiegle (1920- ) on FC #1096. Both really captured Calhoun's smoky-eyed good looks. In Fine condition both book out at $27 each. (Thanx in part to Steinar Adland.)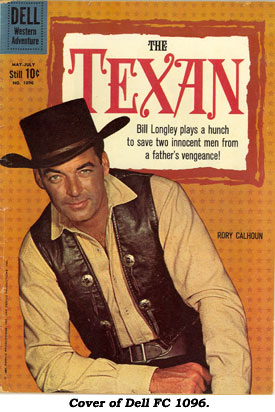 The Richard Carlson "Mackenzie's Raiders" series, syndicated by ZIV in '58, had only one issue of the comic (FC #1093, June-Aug. '60) published by Dell. Obviously, the comic came out a bit late to gather any readership from the series, although some stations were still showing the series as late as 1960. Simplistic art, with little background work, was by Jesse Marsh, one of the few black artists working the field at the time, who also had a long stint on Dell's TARZAN and was often seen illustrating REX ALLEN, JOHNNY MACK BROWN, GENE AUTRY and RANGE RIDER comics for Dell. The somewhat hard to find MACKENZIE'S RAIDERS one-shot is about $20 in Fine.