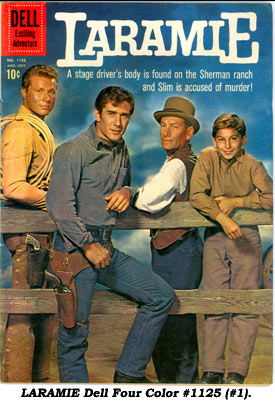 "LARAMIE"
"Laramie" began on NBC in September '59, but it was a year later before Dell published LARAMIE Four Color #1125 (#1 August/ October '60). The photo cover featured John Smith, Robert Fuller, Hoagy Carmichael and Robert Crawford with a small inside front cover photo.
The two stories, expertly rendered by Gil Kane (with inks by Russ Heath) and written by Paul S. Newman, reflected the type of stories on the TV series and featured all four principals but definitely favored John Smith's character of Slim Sherman as, oddly, did all of the future issues.
For whatever reason, it was over a year before Dell released LARAMIE FC#1223 (#2) in September/October '61 with art by Gil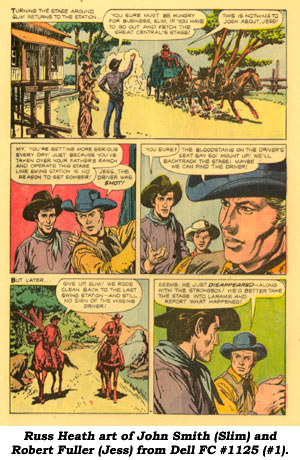 Kane. This time only Smith (Slim) and Fuller (Jess) are in the stories and on the cover photo.
FC #1284 came out in February/April '62. Excellent photo cover of Smith and Fuller with terrific western art by Russ Heath. Again, Smith seemed to take the story lead.
The final LARAMIE from Dell was numbered 01-418-207 in May/July '62 with passable artwork from Jack Sparling. In one story Smith and Fuller are joined by housekeeper Daisy Cooper (Spring Byington). Artist Sparling must not have had any photo reference to go by as his drawings do not even remotely resemble Byington.
Although LARAMIE continued on TV for another year, the comic series ended after four sporadically published issues.
Both Gil Kane (1926-2000) and Russ Heath (1926- ) primarily worked at DC. Their only western work at Dell was on LARAMIE and TALES OF WELLS FARGO. Jack Sparling (1916-1997) was not noted for his western art, but he did also work on CUSTER, MONROES and STONY BURKE.
FC #1125 brings $24 in Fine with the other three issues pricing out at $18.
Laramie Cover Gallery