"WYATT EARP"
"The Life and Legend of Wyatt Earp" starring Hugh O'Brian debuted on ABC-TV in September '55 and ran for 226 episodes through June '61. Ever cognizant to trends, and realizing Wyatt Earp was a public figure therefore needing no licensing as long as they stayed away from using Hugh O'Brian, Atlas Comics fired off WYATT EARP #1 right away in November '55. To avoid any possible conflicts, Atlas portrayed Earp with a mustache and clothing quite unlike O'Brian (left). However, later in their 29 issue run through June '60, the art came to very much resemble O'Brian (lower left). Early stories revolved around actual events in Earp's life. Art was by Joe Maneely, Norman Maurer, Doug Wildey, John Severin, Dick Ayers and others.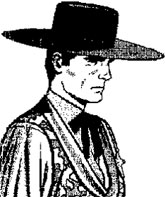 By January '56 Charlton Comics was also riding the newsstand-range with WYATT EARP, FRONTIER MARSHAL. They began numbering at #12 (picking up where defunct RANGE BUSTERS and COWBOY LOVE left off) and ran through #72 in December '67. All covers on both the

Atlas and Charlton series were drawn.
Finally, in November '57 Dell signed a licensing agreement with O'Brian and ABC and issued the fully authorized TV series edition of WYATT EARP with Four Color #860 (#1). All 13 issues bore the name and photo cover likeness of Hugh O'Brian. Additionally, FC #890 (March-May '58), FC #921 (June-Aug. '58) and regular numbering 4-9 all featured inside front cover photos of O'Brian. #5 (Dec.-Feb. '59) also came up with an autographed back cover b/w photo.
Dell's WYATT EARP maintained a steady quarterly publication through its final issue, #13 (Dec.-Feb. '61), more or less coinciding with the end of the TV series in June '61.
Hugh O'Brian as Earp was perfectly rendered by Russ Manning (1929-1982) who trickily worked his name into storefront signs throughout the issues. Manning drew #1-12 with #13 rendered by Alex Toth (1928-2006). Manning joined Dell in '53 as one of their mainstays, working on everything from TARZAN to DALE EVANS, GENE AUTRY, REX ALLEN and JOHNNY MACK BROWN. He later drew the popular STAR WARS daily and Sunday comic strips.
In Fine, Atlas' WYATT EARP #1 brings $63 with others in the $24-$42 range. WYATT EARP, FRONTIER MARSHAL from Charlton #12 (#1) prices out at $27 in Fine with others in the $6 to $18 range. Dell's much more desirable issues with O'Brian covers list for $27 (FC860), $21 (FC890, 921) and #4-13 at $18.
WYATT EARP COVER GALLERY