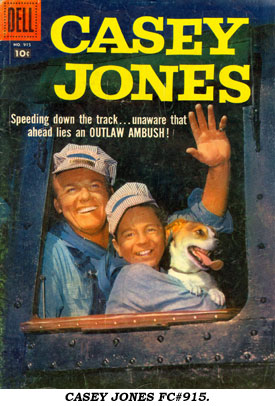 CASEY JONES
"Casey Jones" was a half hour Screen Gems syndicated TV Western in 1958 starring Alan Hale Jr. as Casey, engineer of the Cannonball Express and Bobby Clark as his son Casey Jr. with his dog Cinders. Mary Lawrence was Casey's wife. Eddy Waller as conductor Red Rock and Dub Taylor as fireman Wallie were also featured.
Dell published only one issue of CASEY JONES as Four Color #915 in July '58 with a photo cover of Alan Hale Jr., Bobby Clark and Cinders. There's an inside front cover photo of the Cannonball Express and Alan Hale at the throttle of the locomotive.
Comic writer Robert Schaefer adapted "Prison Train" from the TV series for the first story while TV's "Night Mail" (the first episode) became "The Great Mail Race"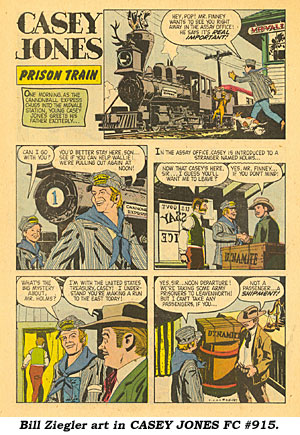 for the second comic story. All the above characters were utilized in the two comic stories.
Stylized art work was by Bill Ziegler (1925-1993) who also drew issues of REX ALLEN, DALE EVANS, RANGE RIDER, JOHNNY MACK BROWN, BILL ELLIOTT and ANDY BURNETT for Dell. Over the years he also found work at Fawcett, Hillman, Fiction House and was active at Charlton in the '50s. From April '51 to early '53 Ziegler drew the short-lived ANNIE OAKLEY daily comic strip for Mirror Enterprises.