Whip Wilson came "Crashing Thru" B-western theatre screens in early 1949 after a test guest-star role in Jimmy Wakely's "Silver Trails" (August '48).
The new Monogram star debuted in Marvel Comics WHIP WILSON #9 in April 1950. (The numbering continued from Marvel's BLAZE CARSON #1-5 and REX HART #6-8, both fictional cowboy heroes.)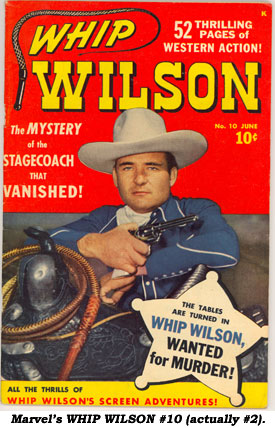 Oddly, Whip was the only movie cowboy star for which Marvel paid to attain licensing rights for use of their likeness and to publish their comics. By this time, Dell and Fawcett had locked up Roy, Hoppy, Gene, Bill, Johnny Mack, Lash, Rex, Buck, Rocky and dozens more…ME had Tim and Durango, and the rest were spread thinly among other publishers. Exactly why big-time publisher Marvel didn't avidly go after more of the B-cowboys has always puzzled me…probably boils down simply to the cost of the rights which Marvel didn't want to pay. After all, Marvel had done pretty well creating their own fictional heroes—KID COLT OUTLAW, TWO GUN KID, BLACK RIDER, etc.
It should be pointed out, at the same time Marvel signed Whip Wilson, they also published three issues of RENO BROWNE, Whip's frequent leading lady.
WHIP WILSON only lasted three issues, #9, 10, 11, before being replaced by another of those fictional heroes, GUNHAWK with #12 in Nov. '50.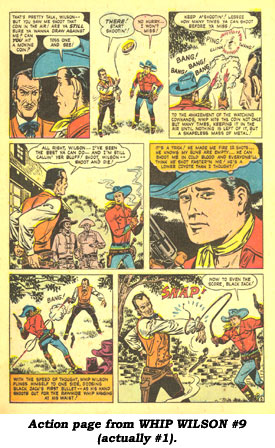 All three WHIP issues had gorgeous photo covers. As in the Monogram pics, Whip rode a white stallion, Bullet, but there were no sidekicks (Andy Clyde, Fuzzy Knight, etc.) in the comics.
Joe Maneely's art was terrific—it's always been obvious Maneely loved drawing westerns—but he never captured the look or essence of the screen Whip Wilson.
In 1964, outlaw comics publisher IW reprinted WHIP #11 with a newly drawn cover by noted artist Everett Raymond Kinstler and renumbered it #1.
Incidentally, photo covers of Whip and Reno Browne are to be found on WESTERN HEARTS #1, 9 (Standard Pub., 12/49 and 12/51), WESTERN LOVE #2 (Feature Pub. 9/49) and Marvel's own WESTERN LIFE ROMANCES #1 (12/49).
Obviously, Marvel only owned the rights to Whip and Reno's likenesses for about a year from late '49 to late '50. Whip's comics apparently didn't sell all that well, probably the reason Marvel dropped him, but it also means there aren't a lot of his issues available today, causing the price of first issue #9 to be around $160 in Fine. #10, 11 both fetch near $90 in Fine. You can pick up the IW reprint for about $9.