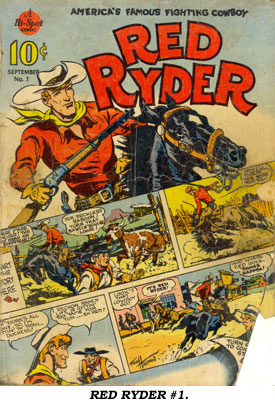 "RED RYDER"
RED RYDER by Fred Harman began with an exciting Sunday page on November 6, 1938. By the time the daily version of the feature rolled around in March '39 RED RYDER was the champion of all Western comic strips.
Red first came to comic books with Fred Harman reprint strips in Dell's CRACKAJACK FUNNIES #9 in March '39 and continued through #35 (May '41). Red gained his own comic in September 1940. The first issue of RED RYDER COMICS (above) was published by Hawley Publications. There was no #2. With #3 (August '41) the title passed to Dell where it remained until the last issue, #151 in April '51 by which time it was known (from #145 on) as RED RYDER RANCH COMICS.
RED RYDER #1-46 reprinted stories from Harman's newspaper strip but with #47 original comic book stories began. However, while consistently signed "Fred Harman" the comic book version from #47 on was written and drawn by a variety of hands including Edmond Good, John Wade Hampton and Al McKimson, all emulating Harman's art. When Dick Calkins left the BUCK ROGERS comic strip in '47, he became Red's chief writer.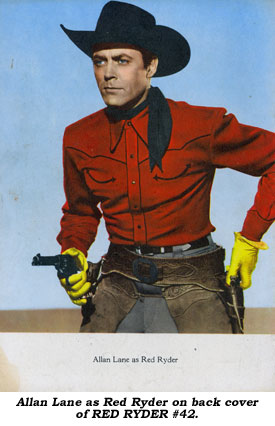 Cover art, either line drawn or painted, was by Harman on #1-98 and #107-118. Color photos of Allan Lane as Red Ryder enhanced the back covers of #41 and #42. When Jim Bannon became Red Ryder in the four Eagle Lion B-Westerns in '49 he was shown in a still from "Ride, Ryder, Ride" on the inside back cover of #71 (June '49). Bannon was cover featured on #99-106. The covers to #99, 101 and 103 show Bannon not with his screen Little Beaver, Don Kay Reynolds, but the boy who played Little Beaver in person at Harman's Pagosa Springs, CO, ranch. Painted covers—not by Harman—were on #119-151.
Over the years backup features included "King of the Royal Mounted" (#3-73), "Auntie Duchess" and "Little Beaver".
Additionally Dell published several giveaway promotional comics featuring Red Ryder: BUSTER BROWN SHOES giveaway ('41); WELLS LAMONT CORP. giveaway ('41); RED RYDER VICTORY PATROL for

Langendorf Bread in '42, '43 and '44; and SUPER BOOK OF COMICS #4 (same content as a RED RYDER VICTORY PATROL.) Dell also published LITTLE BEAVER in Four Color Comics #211 ('49), 267, 294, 332 (all '51), #3-8 ('53), FC #483 ('53), 529, 612, 660, 695, 744, 817, 870.
DC featured Jim Bannon dressed as Red Ryder by a campfire with actress Nancy Saunders on the cover of ROMANCE TRAIL #2 (Sept./Oct. '49) and again with Saunders roping Jim on the cover of ROMANCE TRAIL #4 (Jan./Feb. '50).
COVER GALLERY