Search the Western Clippings Site
Will "Sugarfoot" Hutchins
- Archives
Comic Book Cowboys
- Roy Rogers (Pt. 3)
- Roy Rogers (Pt. 2)
- Roy Rogers (Pt. 1)
- Joel McCrea
- Rocky Lane's Black Jack
- Clint Walker
- George O'Brien
- Frontier Doctor
- Casey Jones
- Wild Bill Hickok
- Randolph Scott
- Zorro
- The Deputy
- Will Rogers
- Sgt. Preston of the Yukon
- Rin Tin Tin and Rusty
- Gunsmoke
- Tex Granger
- Range Busters
- Vaughn Monroe
- Tombstone Territory
- Hawkeye
- Bob Baker
- Johnny Ringo
- Shotgun Slade
- Straight Arrow
- Colt .45
- Steve Donovan
- Bob Colt
- Early Marvel Westerns
- Reno Browne
- Red Ryder
- Sheriff of Cochise
- Wild, Wild West
- Tales of the Texas Rangers
- Fury
- Tom Mix Western
- Tom Mix Comics
- Cody of the Pony Express
- Audie Murphy
- Outlaws
- Iron Horse
- Circus Boy
- Buckskin
- Annie Oakley and Tagg
- DC's Hopalong Cassidy
- Hopalong Cassidy
- The Big Valley
- George Montgomery
- Daniel Boone
- The Rebel
- Jim Bowie
- Restless Gun
- Laramie
- Dale Evans
- Gray Ghost
- Lawman
- Buffalo Bill Jr.
- Rocky Lane Western
- Have Gun Will Travel
- Wagon Train
- Cisco Kid
- Wyatt Earp
- Oneshot Comics: The Virginian, The Travels of Jaimie McPheeters, The Legend of Jesse James, Cowboy in Africa
- Lancer
- Alan Ladd
- Tales of Wells Fargo
- Maverick
- Bonanza
- Jack Randall and Tom Keene in POPULAR COMICS
- Stoney Burke, Laredo, High Chaparral, Cimarron Strip, Custer
- Rawhide
- The Lone Ranger
- Rex Allen
- Walt Disney Presents... Andy Burnett, Texas John Slaughter, Elfego Baca and Swamp Fox
- Smiley Burnette, Andy Devine
- Gabby Hayes
- Brave Eagle, Broken Arrow, Boots and Saddles
- Gene Autry
- John Wayne
- Rod Cameron
- Bat Masterson
- Durango Kid
- Cheyenne
- Johnny Mack Brown
- Buck Jones
- Range Rider
- Tim McCoy
- Buster Crabbe
- Bob Steele
- Monte Hale
- Sugarfoot
- Ken Maynard
- Jimmy Wakely
- Hoot Gibson
- The Rifleman
- Whip Wilson
- Wanted Dead or Alive, Texan, Mackenzie's Raiders
- Lash LaRue
- Tim Holt
- Tex Ritter
- Bill Elliott
- Sunset Carson
Heavies and Characters
- Archives
The Stuntmen - Neil Summers
- Archives
Film Festival Fotos
- Archives
Silent Western Reviews
- Archives
Subscribe to Western Clippings
COLLECTIBLES FOR SALE
Daily Comic Strips
- Page 1 (1910-1949)
- Page 2 (1950-1979)
Sunday Comic Strips
- 1907-1990
ROY ROGERS
(Pt. 1)

Dell Publishing was the third comic book publisher to enter the field doing so in 1936 with POPULAR COMICS #1. THE FUNNIES, THE COMICS, CRACK-AJACK FUNNIES and others followed. Dell's Four Color series began in 1939; their Series 1 consisted of 25 issues. Four Color Series 2 began in 1942.
Roy Rogers rode onto the comic book page with Four Color #38 in February 1944. With this comic came several important firsts: the first Western title in either Four Color series and the first Western comic with a color photo cover of the star. MODERN SCREEN magazine reported this first issue sold a million copies within 24 hours—probably a bit exaggerated hype, but nevertheless Roy's first issue was a runaway seller. Dell used a color photo form on high gloss paper stock and all their comics produced by Western Printing and Lithograph really stood out against all others on the comic book racks.
These Four Color one-shots continued for 13 issues through December 1947. (#38, 2/44; #63, 1/45; #86, 10/45; #95, 2/46; #109, 6/46; #117, 9/46; #124, 11/46; #137, 2/47; #144, 4/47; #153, 6/47; #160, 8/47; #166, 10/47; #177, 12/47).
Gaylord DuBois (1899-1993), a workhorse at Dell, wrote nearly every issue of Roy's comics from FC #38 through ROY ROGERS #108 in December '56—and again from #134 (11/59) to #143 (5/61).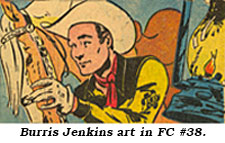 Burris Jenkins (1897-1966) rendered an excellent likeness of Roy in the first Four Color issue but didn't continue. (He went on to a lucrative fine art career.)
Albert Micale (1913-1993) took over with the second Four Color issue and became Roy's longest running consistent artist. He set the pace for the series and established how Roy should look in the comics. Micale continued on for 10 years through ROY ROGERS #23 (11/49).
Micale was joined from #24 (12/49) through #73 (1/54) by artists Al McKimson (likely a pseudonym for art director Tom McKimson (1907-1998) and Al Steffel), Peter Alvarado (1920-2003), Randy Steffen (1917-1977), Andrew Benson, Tony Sgroi (1924-1998) and other stray artists such as Irwin Myers (1888-1965), Jesse Marsh (1907-1966), Erwin Hess (1913-1999) and Harry Parks whose only full story is in FC #177. This resulted in Roy's likeness varying a bit from the established Micale image, but this "bullpen" effect was common in comics in order to step up production of Roy's and other Dell comics.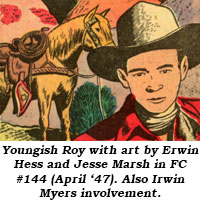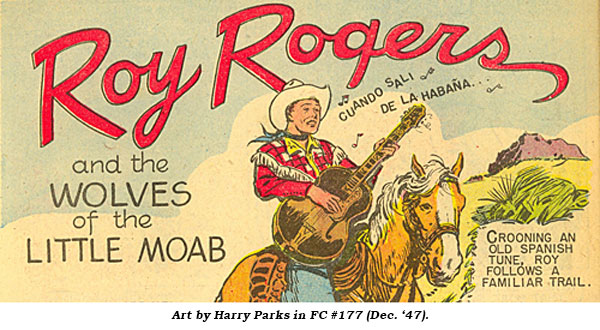 Obviously a sales success, Dell began publishing ROY ROGERS COMICS monthly with #1 coming out in January 1948. As stated, Micale's artwork along with other assistants continued through #73 at which time John Buscema (1927-2002) stepped in with #74 (2/54) and carried the heaviest amount of art, giving us a very handsome Roy.
In January 1957 with issue #109 Dell shook things up, regular writer Gaylord DuBois was off the comic (his stories returned in #134, 11/59) and Buscema was replaced by Nat Edson (1909-2001) who gave us a more realistic, squinty-eyed Roy, far removed from Buscema's polished work. Also the stories were now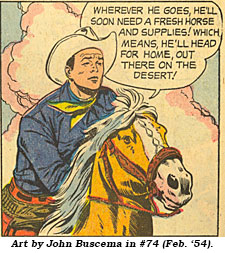 aligned with Roy's TV series; Mineral City is the setting. Edson's work was fairly consistent till the end of Roy's run—#145 in Sept./Oct. '61. (Roy's comics became bi-monthly with #125 in May/ June '58). However, a few other artists' work can be noticed from time to time during this period—John Ushler (192?-?), Russ Manning (1929-1981), Pete Alvarado, Jesse Marsh and especially Alex Toth (1928-2006) from #119-124.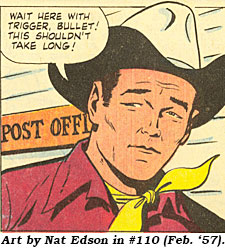 The world was changing and Roy rode his last comic book adventure with #145 in September/October 1961.
Throughout his comic adventures there were many highlights…
Full color back covers ran through #55.
A photo of Dale was seen in FC #137, FC #160, #13, #14, #35.
Dale Evans stories with art by Russ Manning were added with #132 and ran through #145.
Trigger was seen on too many covers to list.
Trigger was added to the title of the comic with #92.
The first solo Trigger story is in #20. Runs through #46 and again #100-131 (usually drawn by Harry Parks).
Roy's dog Bullet is seen on the covers of #12, 16, 22 (back cover), 25, 32, 38 (back cover), 42, 78, 79, 86, 87, 95, 103, 109, 114, 120, 129.
Bullet was used in stories beginning in the '50s.
Pat Brady first appears in #69.
There are heroin drug stories in #57, 58, 64.
There are back cover photos of Roy's daughters Cheryl and Linda in FC #86, FC #117, FC #124, FC #166, #1, 8, 15.
Roy's son Dusty is seen on inside back cover photos in #12, 14, 22, 33.
TV's Mineral City is first mentioned in #110.
#131 marks the end of the comic being a true Western in the sense it had been from the beginning. The cover photos as of #132 now included Dusty and reflected the "adventure" theme of the first story in each issue which now saw Roy and Dusty leaving Trigger at home and flying around in a plane for adventures in Africa, Alaska, South America and Mexico. The second story remained a traditional Western.
Dusty joins his Dad on the covers of #132, 134-145.
There is a photo article of Roy and Dusty in #132 and of Roy and Dale in #133.
There are Christmas covers on #37, 61, 73, 85.
In April 1967 Gold Key issued ROY ROGERS AND TRIGGER #1 reprinting the cover of #125 and stories from #121, 124 with Alex Toth art.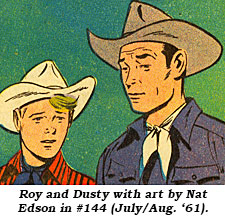 Pricewise, FC #38 ('44) commands $456 in Fine Condition. The next 13 Four Color issues range from $114 for FC #63 to $45 for FC #177. ROY ROGERS #1 ('48) brings around $183 in Fine. In Fine prices for #2 on through the final issue range from $60 for #2 down to $18 for #145. The Gold Key reprint ('67) can be bought for $10-$12.
A ROY ROGERS
COVER GALLERY