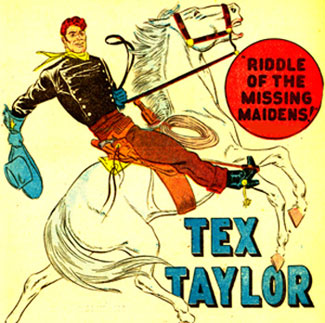 EARLY MARVEL WESTERNS
As superhero comics began to fade from favor in the late '40s, new comic genres took hold—crime, romance, teenage, horror and—westerns. Red Ryder, The Lone Ranger, Gene Autry, Roy Rogers and Hopalong Cassidy were established earlier in the '40s but it was in 1948 when comic publishers plunged into the western form full force. Fawcett and Dell licensed practically every B-western star, leaving Martin Goodman's Marvel (Atlas) out in the cold. So they invented their own, often trying to pass them off as reel screen cowboys: Tex Morgan, Tex Taylor, Rex Hart, Blaze Carson. Marvel even went so far as to hire male models, dress them in typical B-western garb and create photo covers of these faux film stars in order to fool unsuspecting readers.
TEX MORGAN began in August '48 and ran for nine issues through February 1950. #7, 8, 9 all featured these "phony" photo covers.
TEX TAYLOR began in September '48 and also ran for nine issues until March '50. Photo covers of Taylor were on #4-9.
Sheriff BLAZE CARSON began in September '48 as well but only ran for five issues through June '49 until it was replaced by…REX HART (billed as "Your Famous Western Star") with #6 in August '49. The shortest lived of these unreal screen heroes, HART ended with #8 in February '50. There were photo covers of Hart on all three issues.
There was a lot of "crossover pollination" among these cowboy heroes as well. Blaze Carson (early on just billed as The Sheriff) was seen as a backup story in TEX MORGAN #1, 5; TEX TAYLOR #1, 2, 4-6; TWO GUN KID #1-4, 8; WILD WESTERN #3, 5-7; KID COLT OUTLAW #5.
Tex Taylor stories appeared in TEX MORGAN #2, 6, 7, 9; KID COLT OUTLAW #4, 6; TWO GUN KID #6; WILD WEST aka WILD WESTERN #1-7, 9, 11—#9 even had a photo cover of Tex Taylor; BLAZE CARSON #1, 5.
Tex Morgan adventures were also in WILD WEST aka WILD WESTERN #3, 4, 6, 7., 9, 11; BLAZE CARSON #2, 3.
From the late '40s on through the '50s Marvel/Atlas published hundreds of other comic book westerns, but there was something about the word "kid" that resonated with readers making KID COLT, OUTLAW, TWO GUN KID, TEXAS KID and RAWHIDE KID their long-time best sellers. But, trading on the kid moniker they also came up with RINGO KID, KID SLADE (aka MATT SLADE), WESTERN KID, OUTLAW KID and APACHE KID. Other '50s Marvel/Atlas westerns featured THE BLACK RIDER (a Durango Kid rip-off), ARROWHEAD, GUNHAWK, BILLY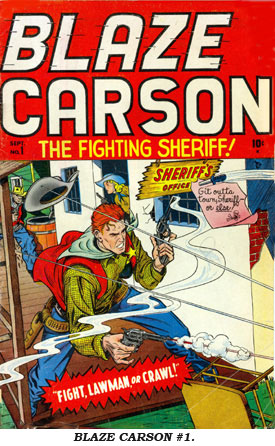 BUCKSKIN and others. Sadly, the four who started it all for Marvel—TEX MORGAN, TEX TAYLOR, BLAZE CARSON and REX HART faded into obscurity by 1950 in favor of all those "kids".
Eventually, Marvel did acquire licensing rights for Monogram's Whip Wilson and Reno Browne but both only lasted three issues each.