DC's "HOPALONG CASSIDY"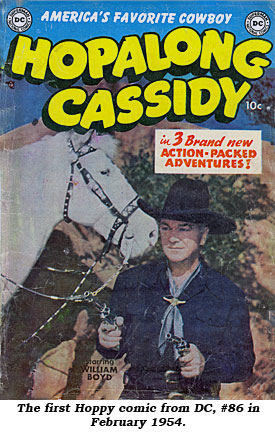 When Fawcett Comics ceased publishing comic books in 1953 due to lawsuits over Captain Marvel, the licensing for HOPALONG CASSIDY went to National Periodicals (aka DC) who picked up the numbering with #86 (Feb. '54) where Fawcett left off. DC maintained a three stories per issue format (with the odd exception of #134 which had only two stories) in a standard 36 page comic. Hoppy continued as Sheriff of Twin Rivers (corrected from Twin River in the Fawcett run) and dressed in his traditional black outfit. As mentioned in last month's column, the deputy Mesquite character was abandoned toward the end of the Fawcett issues, although various old-timer-type deputies would appear during the course of the DC run.
HOPALONG CASSIDY was published monthly through #120 (Dec. '56) but changed to bi-monthly with #121 (Jan./Feb. '57) until the end of the six year run, #135 (June/July '59).
Photo covers ran through #108 with several repeated from the Fawcett run. Fawcett's #64 cover was reused as DC #88. Fawcett #52 was blurred and reversed for DC #95 as was Fawcett #61 for DC #98. Fawcett #60 was reversed for the cover of #99. Fawcett's 50, 54, 51 were repeated on DC's #100, 105, 107 respectively. With issue #109 DC switched to drawn covers through the end of the run.
The first artist to handle the art for DC was the excellent Gene Colan (1926-2011), however various inkers finished his work, sometimes not picking up the subtle nuances of Colan's art. With #118 there was a smooth transition to Gil Kane (1926-2000) who continued until the end of the DC run. Both Colan and Kane perfectly captured Hoppy's likeness and provided overall excellent artwork

for Hoppy's horse Topper as well as the outlaws and characters involved, making it one of the best western comic books ever produced.
According to OVERSTREET COMIC BOOK PRICE GUIDE, in Fine, #8 sells for $108. #87—$60. #88-100 bring $42-$45 with #101-#135 going for $18-$21. I'd suggest obtaining representative issues between #86 and #98 as the Comics Code kicked in with #99. Also make note, issue #98 mistakenly cites #93 on the cover.
DC HOPPY Cover Gallery