"JIM BOWIE"
Charlton Published four issues of JIM BOWIE in '56-'57 when the series debuted on ABC in September '56 but they had no connection to the Scott Forbes TV series. By the time Dell got around to putting a photo cover of Forbes on JIM BOWIE Four Color #893 (#1) in March '58 the two-season run of the series was about over, ending in May '58.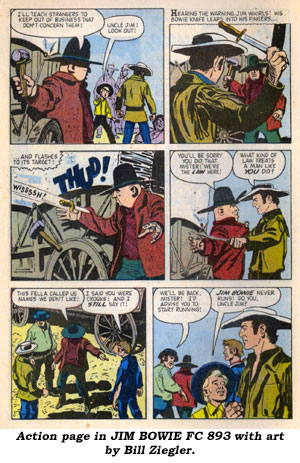 Dell published JIM BOWIE FC #993 a year later in May/July '59. Both had photo cover and inside front cover photos of Forbes. Art in FC #893 was scratchy and simplistic by Bill Ziegler (1925-1993) who was also represented at Dell on REX ALLEN, RANGE RIDER, JOHNNY MACK BROWN and BILL ELLIOTT.
Dan Spiegle (1920- ) was responsible for the art in the second issue, but is not up to his usual standard. Both Dell issues are in the $16 range in Fine.