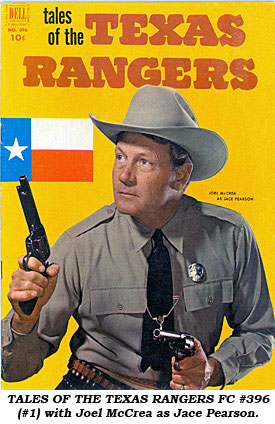 "TALES OF THE TEXAS RANGERS"
TALES OF THE TEXAS RANGERS was Dell's only western comic book to honor a radio program before it became a TV series. Produced by actor Stacy Keach Sr., "Tales of the Texas Rangers" starred Joel McCrea and ran for two years on NBC radio from July 1950 to September 1952.
When the radio series ended, Keach took the idea to Dell Comics who published Four Color #396 with a Joel McCrea cover and a copyright notice to Keach. It sold well so Dell continued the series on a quarterly basis with #2 dated May/July '52. Now retitled JACE PEARSON OF THE TEXAS RANGERS the comic ran through #9 (Feb./Apr. '55) plus FC #648 (#10) in May/July '55, all with Joel McCrea photo covers.
Artwork in FC #396 was by Tom Cooke. #2 and 3 were by John Ushler (lead story) and possibly Cooke on the second stories. The lead stories in #4 and 5 were possibly drawn by Nat Edson with a second story in #4 by Mel Keefer and in #5 by Ushler. Ushler worked on #6, 7, 9 with Nat Edson, Hi Mankin and Tony Sgroi handling #8. Keefer contributed the second story in #6. Sgroi did the second story in #9. None of these artists managed to bring Joel McCrea's likeness to the comic page.
John Ushler also drew for Dell's TEXAS JOHN SLAUGHTER, ELFEGO BACA, ZORRO, DALE EVANS, ROY ROGERS and REX ALLEN. He later became a Disney staff artist.
Tom Cooke worked on the GENE AUTRY newspaper strip in '52 as well as MARY WORTH and DRIFT MARLO. He drew some BILL ELLIOTT, BIG VALLEY, GENE AUTRY and JOHNNY MACK BROWN stories for Dell.
Nat Edson (1909-2001) also drew ZORRO, ANNIE OAKLEY, BUCK JONES, COLT .45, ROY ROGERS, GENE AUTRY and Disney movie adaptations for Dell.
Tony Sgroi (1924-2001) contributed RANGE RIDER, GENE AUTRY, REX ALLEN and CHAMPION artwork to Dell. He also drew some LASH LARUE stories at Fawcett.
Mel Keefer (1926- ) drew JOHN WAYNE for Toby Press and at Dell worked on DALE EVANS, RESTLESS GUN, TEXAN, MAVERICK, WAGON TRAIN and ZORRO. He also drew newspaper strips for DRAGNET, GENE AUTRY, PERRY MASON and RICK O'SHAY.
When the TV version of "Tales of the Texas Rangers" debuted on CBS (later ABC with season three) in August '55 starring Willard Parker as Jace Pearson and Harry Lauter as Clay Morgan, Dell revised the comic slightly and retitled it JACE PEARSON'S TALES OF THE TEXAS RANGERS as of #11 (June/August '56). This version, still quarterly, ran through #20 (June/August '58). An additional FC #961 came out later in '58 with a final FC #1021 (#22) issued in August/October '59. All 12 issues sported Willard Parker photo covers. The TV series ended after 52 episodes on December 26, 1958.
John Ushler drew #11 and made no attempt to resemble Parker with his art. Tom Massey and Mel Keefer drew #12 with a reasonable effort to resemble Parker—especially Keefer. Dell workhorse Nicholas Firfires contributed the art for most of #13-20. (Keefer drew one story in #14 and #15). At times Firfires "nailed" Parker, at other times his work was more generic. It seemed no artist ever attempted to draw a Harry Lauter likeness. With a good likeness of Parker, Dan Spiegle drew FC #961 (#21) with Tony Sgroi and John Ushler back for FC #1021 (#22) with some pretty rushed artwork.
Tom Massey was a Disney animator who also worked for Dell on RANGE RIDER and GENE AUTRY.
Nicholas Firfires (1917-1990) was one of Dell's busiest artists from '47-'58. His art is also in WAGON TRAIN, JOHNNY MACK BROWN, DALE EVANS, RANGE RIDER, GENE AUTRY, ANNIE OAKLEY, BUCK JONES and REX ALLEN, among others.
Several TV scripts were adapted into comic form. "Shorty Sees the Light" (ep. #3) was in #14; "The Shooting of Sam Bass" (ep. 8) was in #16; "Prairie Raiders" (ep. 12) was in issue #17 (this story was originally a Durango Kid western, then a TV episode); "Bandits of El Dorado" (ep. 26, also a Durango Kid film) was adapted for #19; "Trail Herd" (ep. 34) was in #20; and "Tornado" (ep. 11) became "Hurricane" for FC #1021 (#22). (Thanx for some art ID assist to Steinar Adland and Alberto Becattini.)
"TALES OF THE TEXAS RANGERS" WESTERN COVER GALLERY