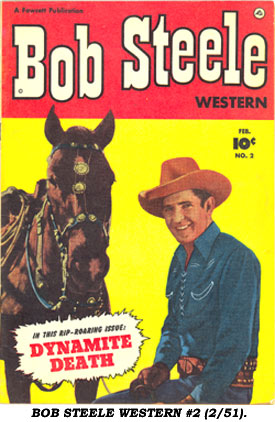 "BOB STEELE"
Battling Bob Steele didn't come to comic books until December 1950, four years after he'd made his last B-westerns for PRC in 1946. But prolific cowboy comic publisher Fawcett knew the re-showings of his dozens of B-westerns on early TV would prompt fast sales.
Steele, the son of director Robert North Bradbury, started off in silent films as a child working with his brother Bill, in his Dad's films. He soon starred in a silent series for FBO between '27-'29 and another at Syndicate in '29-'30. When sound came in Steele was never unemployed, hopscotching from series to series, some better than others, at Tiffany, Sono Art-World Wide, Monogram, Supreme, Republic, Metropolitan, PRC and Screen Guild.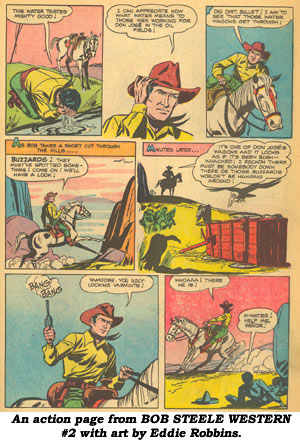 A versatile actor, Bob was also featured in A-productions such as "Of Mice and Men", "The Big Sleep", "South of St. Louis", "The Enforcer", "Island In the Sky" and others.
Fawcett released 10 bi-monthly issues of BOB STEELE WESTERN between December 1950 and June 1952. All had terrific photo covers, with #1-4 also having photo back covers. For whatever reason, Fawcett's colorist suited Bob up in a bright yellow shirt, green pants and brown hat. Sounds odd, but in print it looked good. His horse in all his action-packed adventures was named Bullet.
Artists varied, Eddie Robbins contributed work to #1, 2 with Myron Fass coming aboard with the lead stories in #4, 5. Onetime Captain Marvel artist Pete Costanza did work in several later issues along with other unknown artists.
Eddie Robbins (1919-1982) later drew the "Mike Hammer" comic strip.
Myron Fass, born in 1926 in Brooklyn, started in the Iger Studio about 1948 and later was known as the biggest, and sleaziest, multi-title newsstand magazine publisher in the country. He owned the tabloid NATIONAL MIRROR from '64-'73 and by the '70s he was churning out dozens of wrestling, UFO, war, horror, sci-fi and girlie one-shot mags, eventually earning him a fortune. Fass was last known to own a gun shop in Florida in the '80s.
Pete Costanza (1913-1984) attended Grand Central Art School in New York City and became a magazine and pulp illustrator from '33-'41, later contributing art to dozens of comic companies.
Many of the Bob Steele stories were written by prolific comics writer Paul Newman (1924-1999).
AC Comics issued a BOB STEELE #1 reprint in 1990.
According to Overstreet Comic Book Price Guide, BOB STEELE Fawcett #1, in Fine condition, sells for around $129, #2 for $66, #3-5 for $45 and #6-10 for $42.