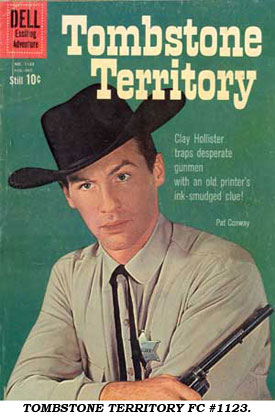 TOMBSTONE TERRITORY
Although "Tombstone Territory" starring Pat Conway began syndication in 1957, Dell didn't issue TOMBSTONE TERRITORY as Four Color #1123 until August/October 1960…a little too late to cash in on the series' popularity as the TV episodes ended in July '60. Too bad, the singular comic, written by the prolific Paul S. Newman with exemplary art by Dan Spiegle is well done and true to the TV series with Pat Conway as no-nonsense Sheriff of Tombstone Clay Hollister and Richard Eastham as TOMBSTONE EPITAPH editor Harris Claibourne. Two stories in the issue, "Printer's Justice" and "The Gunman".
Credited in the GUINNESS BOOK OF WORLD RECORDS as the most prolific comic book writer, Paul S. Newman (below) wrote more than 4,100 published stories,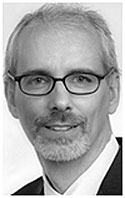 totaling some 36,000 pages. At Dell he wrote stories for issues of ROY ROGERS, FURY, BUCK JONES, BUFFALO BILL JR., CHEYENNE, CISCO KID, THE DEPUTY, GENE AUTRY, GRAY GHOST, GUNSLINGER, COWBOY IN AFRICA, GUNSMOKE, HAVE GUN WILL TRAVEL, TALES OF THE TEXAS RANGERS, LARAMIE, LAWMAN, RAWHIDE, RED RYDER, TALES OF WELLS FARGO, WAGON TRAIN, WYATT EARP, STEVE DONOVAN as well as movie adaptations. Over at Fawcett he scripted BOB STEELE, HOPALONG CASSIDY, KEN MAYNARD, LASH LARUE and MONTE HALE stories. At ME he worked on DURANGO KID, BOBBY BENSON and GHOST RIDER.
Equally as prolific—and proficient—as an artist was Dan Spiegle (now 94, born December 12, 1920 in Cosmo-polis, WA). He began his cartoonist career in 1949 drawing the HOPALONG CASSIDY comic strip which he worked on til the end in '55. At Dell he drew issues of MAVERICK (his personal favorite), JIM BOWIE, BUFFALO BILL JR., ANNIE OAKLEY, CIRCUS BOY, JOHNNY MACK BROWN, BAT MASTERSON, BRAVE EAGLE, RANGE RIDER, COLT .45, GENE AUTRY, LAWMAN, JOHNNY RINGO, DALE EVANS, REX ALLEN, RAWHIDE, RESTLESS GUN, ROY ROGERS, RIN TIN TIN AND RUSTY, SHOTGUN SLADE, SWAMP FOX, TEXAS JOHN SLAUGHTER, TALES OF WELLS FARGO, TEXAN, WAGON TRAIN and movie adaptations.
So—TOMBSTONE TERRITORY was in excellent hands—would that Dell have begun earlier so we'd have more than one issue…which, by the way, can be found in Fine condition reasonably priced at $21