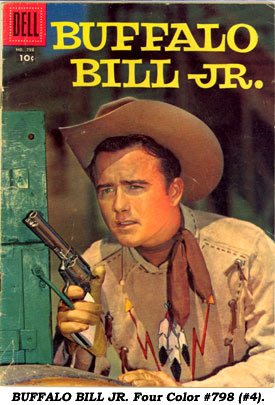 "BUFFALO BILL JR."
Dell Comics didn't waste much time in putting out BUFFALO BILL JR. comics. The Dick Jones starring series began in March '55 and by late '55 Dell published BBJ FC 673 (#1). FC 742 and 766 came out in '56, FC 798, 828 and 856 made it to newsstands in '57, by which time original TV episodes had ceased but were in rerun all over the country. Dell established a more regular quarterly publication of BBJ with #7 in Feb.-Apr. '58 and continued through #13 (Aug.-Oct. '59).
The first issue told how, after an Indian raid in which their parents were killed, Judge Ben Wiley found and adopted Bill Jr. and his baby sister (naming her Calamity). With two stories per issue, usual writer Gaylord DuBois adapted TV scripts to comic book form. 18 of the 26 stories in 13 issues were based on TV scripts, making it fun these days to read the comic along as you watch the video episode.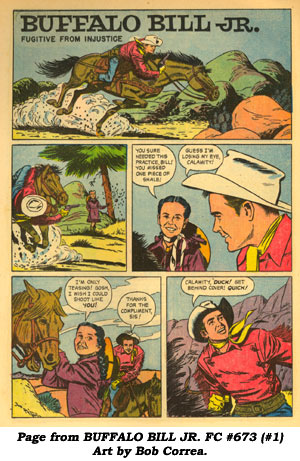 All 13 issues had Dick Jones as Buffalo Bill Jr. photo covers. Inside front cover photos were in FC 742, 766, 798, 828, #9.
There is excellent artwork with an exceptional likeness of Jones by Bob Correa in the first five Four Color issues; unfortunately, the prolific Mike Sekowsky (1928-1989) took over with FC 856. While many comic collectors like Sekowsky's work, I could never muster up much enthusiasm for his style which, here, doesn't capture the essence of Dick Jones or Nancy Gilbert (Calamity) nearly as well as Correa was able to do. Unfortunately, Sekowsky stayed with the series til it ended in '59 with #13 (except for #12 which was done by an unknown artist.) In June '65 Gold Key reprinted FC 798, cover and contents.
There were also Buffalo Bill Jr. stories included in Dell's Giant WESTERN ROUNDUP beginning with #19 (July/Sept. '57) and continuing to the end of the run, #25 (Jan./Mar. '59). Artists varied from issue to issue with some good work turned in by Nat Edson (1909-2001) and Nicholas Firfires (1917-1990) along with some awful stuff in #20 which gave Dick Jones a chubby look.
Dell's BUFFALO BILL JR. FC #673 (#1) lists at $27 in Fine in OVERSTREET COMIC BOOK PRICE GUIDE with the rest estimated at $15-$18 each. The Gold Key reprint can be found for $10 in Fine. The WESTERN ROUNDUP issues with Bill Jr. stories price out at $27 each in Fine.
"BUFFALO BILL JR."
COVER GALLERY