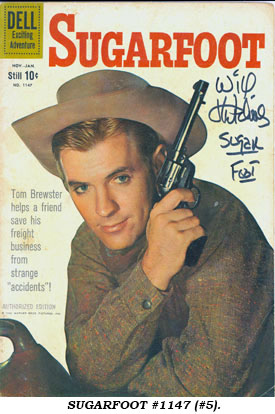 Warner Bros. brought Will Hutchins to their TV western lineup as "Sugarfoot" in September 1957.
The adventures of roving young law student Tom Brewster were chronicled in six sporadic issues of SUGARFOOT for Dell beginning with Four Color #907 (#1) in May '58. This first issue adapted the initial "Sugarfoot" episode, "Brannigan's Boots" (based on the movie "Boy From Oklahoma"), into comicbook form. The second issue, FC #992, wasn't released until a year later in May '59. It adapted "Stallion Trail", an episode that aired in December '57. FC #1059 was #3 in November '59. FC #1098 (#4) came out in May '60. FC #1147 (#5) in November '60 and FC #1209 (#6) in October '61.
Very likely all issues were written by Don Christensen, a prolific writer for Dell.
Art on #1 and 2 was by the renown Alex Toth (born 1929). Toth's other western comic art credits include ALL STAR WESTERN, DALE EVANS, JIMMY WAKELY, ALAN LADD, FRONTIER DOCTOR, LAWMAN, MAVERICK, BUSTER CRABBE, ROY ROGERS (he also ghosted the comic strip in '61), RIFLEMAN, WAGON TRAIN, ZORRO and others.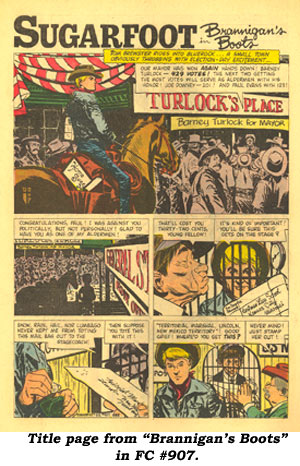 With #3 Nat Edson (born 1909) assumed art chores. Edson had ghosted the TIM TYLER'S LUCK comic strip from '35-'45 then did extensive western comic book art at Dell on ANNIE OAKLEY, BUFFALO BILL JR., BUCK JONES, COLT .45, RANGE RIDER, GENE AUTRY, JOHNNY MACK BROWN, RESTLESS GUN, REX ALLEN, RIFLEMAN, ROY ROGERS, TALES OF THE TEXAS RANGERS, WAGON TRAIN and others. He retired from comics in '72.
A couple of other unknown artists also drew some SUGARFOOT stories, which were always two per issue.
There were splendid Will Hutchins photo covers on all six issues, with inside front cover photos on all as well.
FC #992 (#2) even had a photo back cover. FC #907 (#1) in Fine brings $36 with the other five issues falling in the $25 to $30 range.