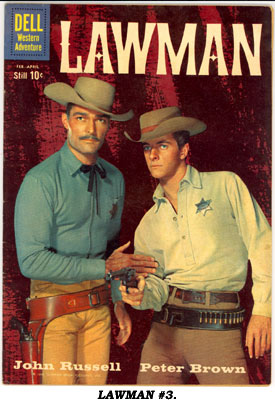 "LAWMAN"
"Lawman" starring John Russell and Peter Brown began on ABC October 5, 1958, and by late that year Dell published LAWMAN Four color #970 with the first story being an adaptation of the first TV episode, "The Deputy". No other episodes were adapted to comic form by scripters Robert Ryder, Paul S. Newman, Eric Freiwald and Robert Schaefer.
I assume Dell waited for favorable sales reports as it was a year before LAWMAN returned with FC #1035 dated Nov. '59/Jan. '60. The series continued on a quarterly basis through #11 (April-June '62), ending at the same time the TV series did. There is one abnormality—#7 is dated Feb.-April '61 and #8 is dated July-Sept. '61, meaning, somehow, Dell skipped the May-June months in their publishing sequence.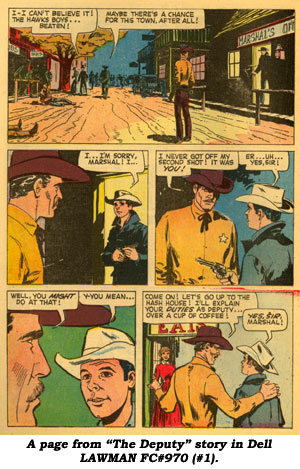 Each issue featured two "Lawman" stories with all art by Dan Spiegle (1920- ) whose work provided satisfactory likenesses of Russell and Brown. FC790 adapted the first TV episode, "The Deputy", into comic form. Most issues had short four page non-"Lawman" filler stories by various artists.
All issues had stunning front cover photos of John Russell and Peter Brown. The first issue (FC #970) also had inside covers and back cover photos. #2 (FC #1035) through #8, and again #11, had inside front cover photos.
For whatever reason, Peggie Castle's TV series character of saloon madame Lilly Merrill never appeared in the comics…perhaps Dell's clean-cut reputation kept her at bay.
According to the COMIC BOOK PRICEGUIDE, LAWMAN FC #970 (#1) will bring $36 in Fine with all the rest coming in at $18 in Fine. (Please note, there is no Alex Toth art in FC #1035 or #3 as listed in OVERSTREET, but there is a filler story by Toth in #4.) (Thanx for input from Steinar Ådland.)
"LAWMAN"
COVER GALLERY