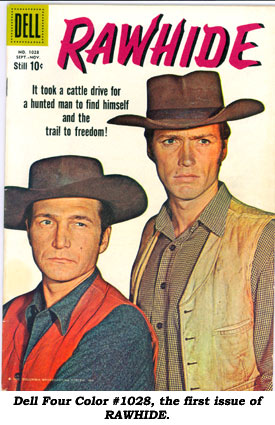 "RAWHIDE"
One of television's greatest western series found a home at Dell Comics in 1959. "Rawhide" began on CBS in January '59 and the first Dell comic based on the show came out later that year, Four Color #1028 in Sept./Nov. '59.
The stern demeanor of Eric Fleming as Mr. Favor was faithfully rendered by Warren Tufts in the first issue. Oddly in FC #1028, Mr. Favor is often called by his given name, Gil, but as viewers of the TV series know, he was never disrespectfully referred to on the show by any of the drovers as Gil. This oversight was corrected in future issues.
Russ Manning executed the art in FC #1097 (#2) six months later in May/July '60. Other artists, including Dan Spiegle, took over from there. Clint Eastwood's likeness as Rowdy Yates improved with FC #1160 (#3) onward.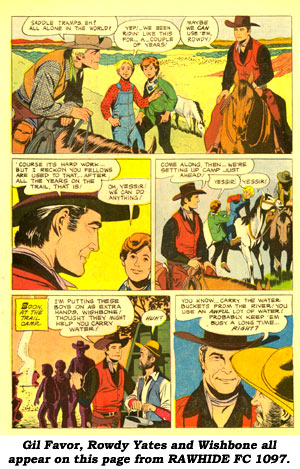 Why Dell never turned "Rawhide" into a "regular" monthly or bi-monthly series is puzzling, but FC #1160 (#3) was another six months away, Feb./April '61. The remaining issues were FC #1202 (#4) in July/Sept. '61; FC #1261 (#5) in Dec./Feb. '62; FC #1269 (Mar./May '62) and #01684-208 for July/Aug. '62, the final Dell issue. Gold Key took over a year later in July '63 with #1 and #2 but the artwork suffered and the "Rawhide" comics ended there, even though the TV series carried on through Dec. '65.
All of the comic stories, primarily by prolific Paul S. Newman (1924-1999) and the team of Robert Schafer (1926-2006) and Eric Friewald (1927- ), were faithful to the TV series.
As for the artists, all were good with westerns. Warren Tufts (1925-1982) had drawn the CASEY RUGGLES comic strip as well as Dell issues of HIGH CHAPARRAL, DALE EVANS, TALES OF THE TEXAS RANGERS, ZORRO and others. Russ Manning (1929-1982) had penciled ANNIE OAKLEY, DALE EVANS, JOHNNY MACK BROWN, GENE AUTRY, REX ALLEN and others for Dell. Dan Spiegle (1920- ) drew the popular HOPALONG CASSIDY daily/Sunday comic strip and worked on Dell renditions of BAT MASTERSON, COLT .45, TALES OF WELLS FARGO, LAWMAN, WAGON TRAIN, REX ALLEN, JOHNNY MACK BROWN and others.
Collector wise, the earliest issues are the best, with copies of 1-6 in Fine costing $42 - $66. Later issues go for $30-$35.
"RAWHIDE" COVER GALLERY