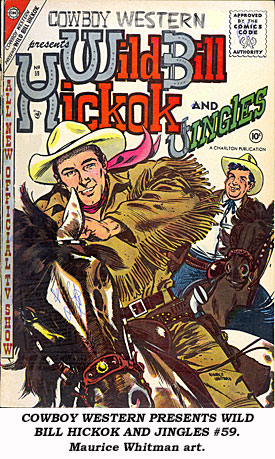 WILD BILL HICKOK
TV's "Wild Bill Hickok" began in the Spring of 1951 but Guy Madison as Wild Bill and Andy Devine as his partner Jingles didn't ride onto the comic book page at Charlton until April of 1956 in COWBOY WESTERN PRESENTS WILD BILL HICKOK AND JINGLES #59.
Charlton was notorious for changing titles of comics but retaining the same numbering. So previously COWBOY WESTERN had been YELLOWJACKET and JACK IN THE BOX. COWBOY WESTERN #17-45 featured some Joel McCrea, George Montgomery and Sunset Carson movie adaptations as well as Fawcett reprints (GOLDEN ARROW, TOM MIX, MONTE HALE, etc.) before briefly becoming SPACE WESTERN #40-45 in '52-'53. #46-58 reverted back to COWBOY WESTERN with more Fawcett and Avon reprints.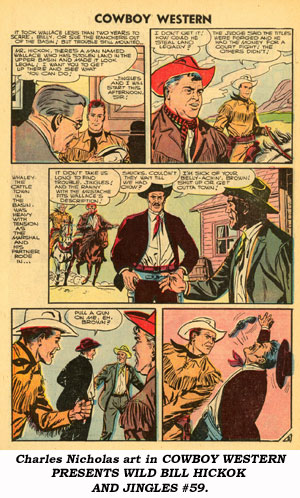 Charlton eventually licensed the rights to TV's "Wild Bill Hickok" as stated in April of '56 (#59) and continued publishing Wild Bill and Jingles stories quarterly through #67 in March 1958 (the year the TV series ended). The TV series went immediately into reruns so Charlton continued the series but dropped the COWBOY WESTERN PRESENTS and just named the comic WILD BILL HICKOK AND JINGLES for eight more quarterly issues (#68 August '58 through #74 October '59). A 76th issue has been rumored to exist for as long as I can remember, but in over 55 years of collecting comics I've never seen a copy or even seen one advertised.
All the covers to COWBOY WESTERN PRESENTS WILD BILL HICKOK AND JINGLES were nicely done by Maurice Whitman. Dick Giordano (1932-2010) drew the initial story in #59 and Charles Nicholas (1921-1985) did three more in that issue. It was simplistic but effective art, rather tame actionwise under strict Comics Code supervision. Giordano became Editor-in-Chief at Charlton from '65-'68 before moving into an editor's position at DC. Nicholas continued drawing the Hickok/Jingles stories in #60-67. He was inked by several artists—primarily Vince Alascia (1914-1998) but as well by Sal Trapani (1927-1999), Giordano and Rocco Mastroserio (1927-1968).
Nicholas later worked at CRACKED humor magazine and on the HULK newspaper strip. Sal Trapani was a brother-in-law of Giordano. He began his career in '49 at Hillman and Gilmor. In the '60s he drew for ACG and Warren. He later worked for DC, Dell, Gold Key and Marvel. Alascia began at Timely in the '40s and later Avon before becoming a workhorse at Charlton. Italian born Rocco Mastroserio (1927-1968) mainly contributed to Charlton titles (BILLY THE KID, CHEYENNE KID, WYATT EARP and Sci-Fi titles) but did some work for Avon and Prize titles. His last work was for Warren horror publications in the '60s.
The final issue, a 68 page 15 cent Double Issue, also featured two stories by the virtually unknown Medio Iorio (inked by Sal Trapani), three others by the super talented Joe Maneely (1926-1958), one of Atlas' most respected talents, and five slapdash non-Hickok pages by former EC artist Al Williamson (1931-2010), inked by cohort Angelo Torres.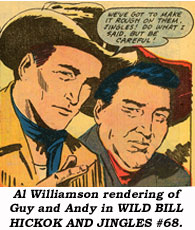 Most of the stories in all issues are likely written by Joe Gill (1919-2006) who penned hundreds of scripts for Charlton in all genres but also saw some work at DC, Dell and Gold Key.
#59-66 can be found in Fine for $20 or so while #67 commands $27 due to larger length and Maneely/Wil-liamson artwork.
As the title became simply WILD BILL HICKOK AND JINGLES with #68 in August '58, Maurice Whitman continued drawing most of the covers through #73. The covers to #74 and 75 were by Charles Nicholas, inked by Vince Alascia. Whitman, Williamson/Torres and Nicholas contributed art to #68. #69, 70 featured work by Nicholas and Williamson/Torres. In these issues, EC great Al Williamson's work is so hurried and unfinished-looking (due to the cheap per page rates paid by Charlton) he humorously signed his work Zero Breckwith and Baldow Smuug. #71, 72 seem to be by Whitman and Nicholas (possibly Giordano in #71). #74 was all Nicholas. The absolute nadir was reached artwise in #73 and 75 with simply awful, amateurish work by both Tony Tallarico (1933- ) and Bill Fraccio (1920-2005). How either one ever found work beyond Charlton at CLASSIC ILLUSTRATED, Dell, Warren and others is beyond me. Again, most stories were undoubtedly written by Joe Gill.
In Fine, #68, 69 bring $33, #70 is at $24 with #71-75 easily available for $18 each.
WILD BILL HICKOK AND JINGLES COMICS COVER GALLERY