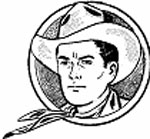 Just as Tim Holt's RKO post-war westerns were a cut above the other product of the day, so were his ME (Magazine Enterprises) comic books, every one of them drawn by prolific artist Frank Bolle (born 1924) who got better as he went along. Many stories were penned by Gardner Fox who became a fixture at DC.
Tim and Chito Jose Gonzales Bustamonte Rafferty first rode the comic book range in TIM HOLT #1 (actually numbered A-1 #14) in April 1948. (The A-1 designations continued through #3 with regular numbering taking over with #4).
The first issue of TIM HOLT sported a drawn cover, but #2-18 (with the exception of #17 which cover-featured The Ghost Rider) all had photo covers. All these issues also had either photo back covers and/or inside photo covers, often movie scenes with people like Tom Keene (#8), Jeff Donnell, Harry Woods, Robert Clarke. Child actor Gary Gray was on the cover of #7. Chito (Richard Martin) made the covers of #9, 14. Fan favorite Frank Frazetta drew the covers to #17, 21, 23, thereby at least doubling the back issue cost of these three issues. Dick Ayers began his "Ghost Rider" backup strip in #11.
ME introduced Tim as Red Mask in #20 and slowly but surely the Red Mask persona took over Tim's comics turning him into a pseudo western superhero, eventually even disposing of sidekick Chito. By #42 (June/July '54) the title even became RED MASK and our screen

cowboy was totally gone.
Tim's RKO westerns had ended in 1952, so I assume ME saw no reason not to completely revamp the comic book.
Incidentally, starting with #39, Bolle fashioned the issues with a simulated 3-D effect where characters were drawn outside normal panel borders.
All things considered, for collectability, TIM HOLT #10, 12-16 is your best bet. They'll cost you $40-$50 each in fine condition.
Tim as Red Mask is also featured in ME's BEST OF THE WEST #2-12. AC Comics reprinted some Tim Holt stories in recent years. CRACK WESTERN #72 (5/51) from Quality has a Holt photo cover, but no story as those rights belonged to ME.