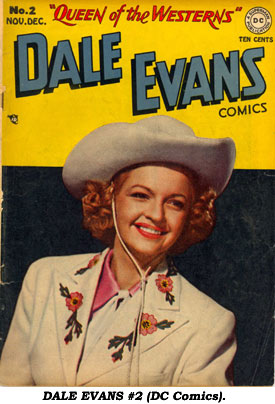 "DALE EVANS COMICS"
Dale Evans rode across printed comic book pages twice, once for DC, once for Dell Comics. The first version was unfaithful, the second was a bullseye.
Let's first examine DC's DALE EVANS COMICS which began in Sept. '48 and was published bi-monthly for 24 issues through July/August '52. Billing her as "Queen of the Westerns", photo covers of Dale were on #1, 2, 4-14, the rest were all drawn covers by James McArdle. The problem was, without Dale's name and photo you'd never know the comics were about Dale. The artwork was by Susie Day, Ray Burnley (inker) and Jim McArdle (1899-1960), the primary artist on

most of the DC run. Little attempt was made to capture Dale's likeness by any of these artists. Furthermore, Dale's horse was named Pal, and later Soda (as of #22) instead of Buttermilk.
Sometimes stories were set in modern day (with Dale as an actress), others placed her in the Old West as owner of the Circle 6 Ranch. Ryerson Johnson wrote many of Dale's DC stories which were often incredible, as if she was Supergirl. "Dale Evans' Roundup" was a regular text feature purportedly written by Dale (of course it wasn't) or she wouldn't call her friends "Pat Brody, Lloyd Veriman, Jim Spencer" and her horse Pal. Roy (no last name) is often mentioned as are other stars such as Hoot Gibson. Apparently, due to licensing arrangements, Roy's first name could be mentioned in these text features, but he could not be shown in stories as he was licensed to Dell at the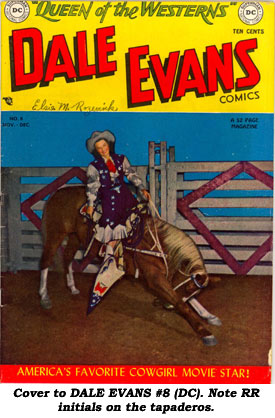 time. Oddly, Dale is mounted on one of Roy's fancy red/white/blue saddles on the covers of #4 and 8. Roy's "RR" initials on the tapaderos are whited out on #4 but not on #8.
Dale fared much better a year later when Dell picked up her adventures for a 22 issue quarterly run beginning with Four Color #479 in July '53. Technically, the comic was titled QUEEN OF THE WEST, DALE EVANS but her name was lettered much larger so everyone simply referred to it as DALE EVANS. All 22 had gorgeous photo covers, with Buttermilk featured on FC #479 (#1), #6, #10, #14, #16, #18, #20, #22. Bullet was with Dale on #5, #9, #11, #12, #15, #17, #19, #21. Inside front cover photos were in #2 through #8, #10, #21. Back cover photos were on #4-8, #15 (showing that same red/white/blue RR saddle from DC covers).
Issue #2 (FC #528) came out in the Fall of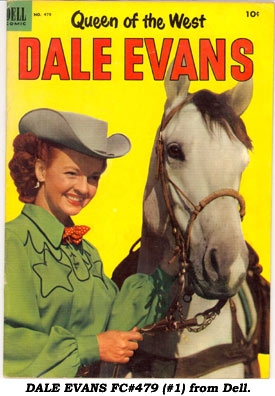 '53, then Dell began regular numbering with #3 (April/June '54) through #22 (Jan./Mar. '59). Making the Dell series more authentic was the inclusion of Pat Brady and his jeep Nellybelle (oddly replaced by Curley the Cook in the last three issues), the dog Bullet, Dale's horse Buttermilk and the fact Dale operated a café in Mineral City just as she did on Roy's TV series.
Roy Rogers is mentioned in issue #4 and in the second story in #5 as Dale answers a young fan's question.
Making Dale and Pat look like they should are artists Hi Mankin (1926-1978), Russ Manning (1929-1981) (the two primary artists), Jesse Marsh (1907-1966), Nat Edson (1909-2001), Mike Arens (1915-1976), Nicholas Firfires (1917-1990), John Ushler (192?- ), Dan Spiegle (1920- ) even Warren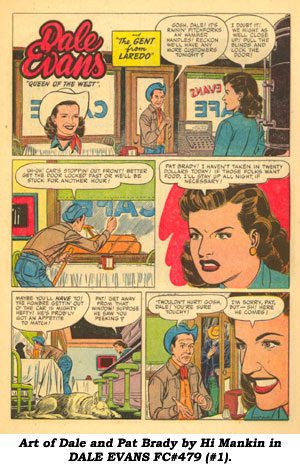 Tufts (1925-1982) in #21. Mankin illustrated the ROY ROGERS syndicated newspaper strip (among others) from '53-'58. He later went to work for Hanna-Barbera cartoons. Russ Manning spent some 15 years at Dell and Gold Key contributing to ROY ROGERS, WYATT EARP, REX ALLEN, RAWHIDE, GENE AUTRY, TARZAN and others. Jesse Marsh was the primary artist on Dell's TARZAN from '47-'65. He worked for Disney from '39-'48 before coming to Dell, at first working on GENE AUTRY. Mike Arens worked on the ROY ROGERS syndicated Sunday comic strip from '57-'62 as well as comics at Dell and Whitman BLBs. Ushler contributed to the early ROY ROGERS newspaper strips and drew other westerns for Dell. Dan Spiegle is best known for his work on the HOPALONG CASSIDY newspaper strip. Warren Tufts created CASEY RUGGLES for the newspapers but also worked at Dell on RAWHIDE and RIFLEMAN. He also later worked at Hanna-Barbera.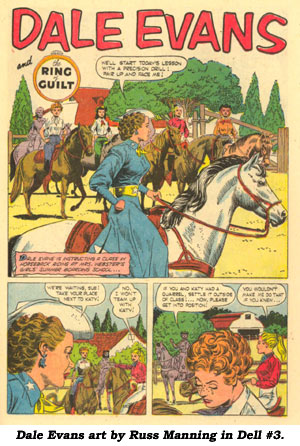 DC's DALE EVANS #1 can bring $200 in Fine, #3-11 generally $100 and the rest from $45-$65 in Fine. Thankfully, the better DALE EVANS comics are from Dell with FC #479 (#1) priced at $54 in Fine; FC #528 (#2) at $30 and #3-22 from $12 to $24 each.
Additionally, Dale Evans stories were added to the lineup in Dell's Giant 132 pg. WESTERN ROUNDUP with #11 (July/Sept. '55) and continuing to the end (#24, Oct./Dec. '58). The other stars featured were Roy Rogers, Gene Autry, Rex Allen, Johnny Mack Brown, Bill Elliott and the Range Rider. The lineup changed later on to include more TV westerns. Most issues from #11-#24 can be bought for $25-$30 (and darn well worth it).
For the completist Dale is cover featured and included in the story "Queen of the Westerns" in DC's BOY COMMANDOS #32 (March/April '49). About $65 in Fine.
Dale Evans Cover Gallery