"GEORGE MONTGOMERY"
George Montgomery was never featured in his own series of comic books, but Fawcett did adapt three of his westerns into comic book format.
FAWCETT MOVIE COMIC began adapting movies into comic form in 1949. The first seven issues had no number, just the title of the film being adapted. The first issue put 20th Century Fox's "Dakota Lil" into comic form with a photo cover of stars George Montgomery, Rod Cameron and Marie Windsor. Inside front and inside back covers featured four stills from the western. The back cover is a great full color pin-up of Montgomery.
The rest of the 21 issue run of FAWCETT MOVIE COMIC through December '52 adapted "Rocky" Lane, Monte Hale, Vaughn Monroe, Lash LaRue B-westerns along with several non-western titles.
DAKOTA LIL can usually be found in Fine for about $60.
Fawcett's MOTION PICTURE COMICS began in 1950 with #101, adapting "Rocky" Lane, Monte Hale, Lash LaRue B-westerns into comic form. Following the same format of a full 32 pg. issue movie adaptation, with no ads, #106 picturized "The Texas Rangers" with good likenesses of Montgomery, Noah Beery Jr., William Bishop and others. The front cover, inside front and back, and back cover were all photos from the Columbia film.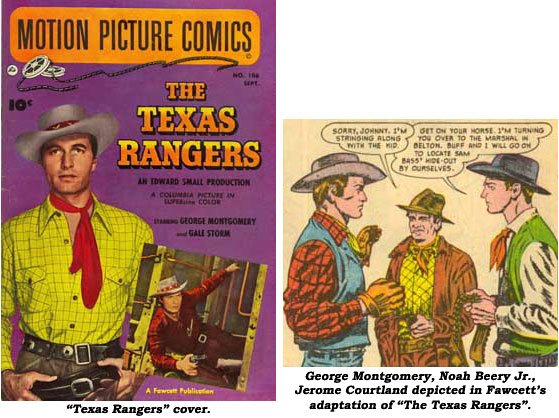 #114 (Jan. '53) adapted Columbia's "Cripple Creek" with acceptable but not as good artwork as in TEXAS RANGERS. Unfortunately, CRIPPLE CREEK spelled the end of Fawcett's MOTION PICTURE COMICS. Both issues bring around $30-$45 in Fine.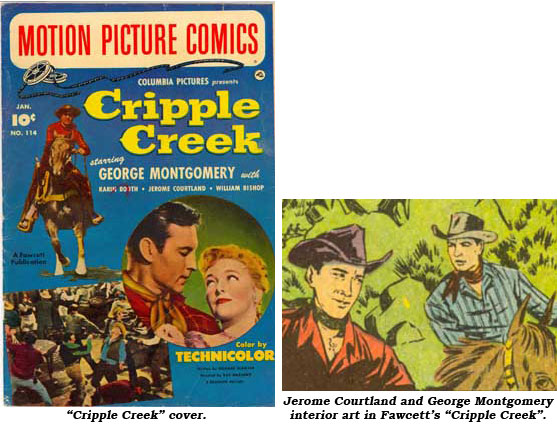 Possibly, Fawcett ceased publication on all their movie related comics because, with a full 32 pages of story with no ads, they were unable to turn a profit on the books. All are very collectible today and we continually thank Fawcett for a noble experiment.
Then, in early 1950 MOVIE LOVE #2, published by Famous Funnies, included a 13 page adaptation of George Montgomery's "Davy Crockett, Indian Scout" ('50 U.A.) with art by Morris Weiss. There is a small circular cover photo of George and Ellen Drew from the film.