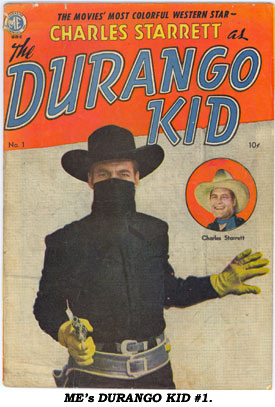 "DURANGO KID"
ME Comics, a smaller publisher than Dell and Fawcett, only cornered two screen cowboys—but they were two of the most popular, TIM HOLT and THE DURANGO KID.
Charles Starrett started at Columbia in late 1935 but only made the first Durango Kid western in 1940. So popular was it, Columbia had Starrett make Durango westerns exclusively from '45 til '52.
ME obtained the rights to Charles Starrett and THE DURANGO KID with #1 on Oct./Nov. 1949. The comic ran bi-monthly through #41 (Oct./Nov. '55), three years longer than the films themselves.
While Starrett's first name in the pictures was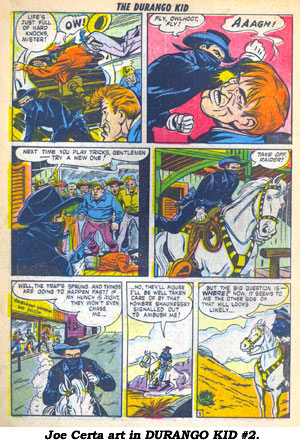 always Steve, his last name changed from picture to picture. Not so in the comic book, it was always Steve Brand. ME even gave Durango an origin story in #17. His comic book sidekick was Muley Pike, a Smiley Burnette lookalike as the Smiley name was tied up over at Fawcett. Durango's white steed was Raider as in the films.
There were stunning photo covers on #1-5, but artwork was used from there on. Interior cover photos ran from #1-9. (Check the cover of #13, the artwork is copied from the photo on #3.)
Most of the stories were written by Gardner Fox (1911-1986) while art chores were handled by Joe Certa (1919-1986) (with John Belfi inks) in #1-#18. Fred Guardineer (1913-2002) took over with #19 through #41. Frank Frazetta illustrated back-up "Dan Brand and Tipi" stories in #1-16, replaced by Fred Meagher and Frank Bolle.
With the advent of the Comics Code, Durango's adventures became a shade tamer as of #36.
Because of the photo covers, #1-5 are the most sought after issues. #1 brings $210 in Fine, #2—$102, #3-5 book out at $90, #6-10 and the #17 origin issue are usually priced at $45 in Fine, with #18-41 at $30.
Durango stories also appeared quarterly in ME's BEST OF THE WEST #1-12 ('51—April/June '54) with art by Certa/Belfi in #1-4 and Guardineer stories in #5-12. Durango shared page space here (usually) with Tim Holt, Straight Arrow and The Ghost Rider.
ME also issued GREAT WESTERN quarterly, #8-11 (#1-4), from Jan./March '54 to Oct./Dec. '54. These featured reprints of early Certa drawn Durango stories along with Straight Arrow and other fictional comic cowboys.
BEST OF THE WEST #1 in Fine commands $120 with #2-12 at $45-$65. GREAT WESTERN #8-11 run $35-$55 in Fine.
DURANGO KID Cover Gallery