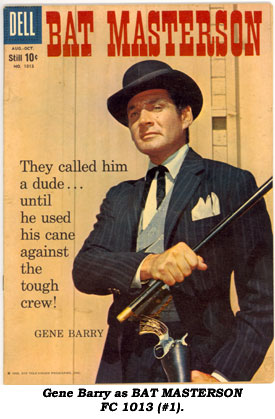 "BAT MASTERSON"
When westerns swept the TV landscape in the mid to late '50s, Dell Publishing signed nearly every TV cowboy to a comic book contract, including Gene Barry as debonair BAT MASTERSON.
Bat's TV series began in the Fall of '58 with Dell's Four Color tryout BAT MASTERSON (FC #1013) being issued with an Aug./Oct. '59 date. The comic remained a quarterly, continuing for two years and nine issues, beginning regular numbering six months later with #2 (Feb./Apr. '60) and continuing through #9 (Nov./Jan. '61/'62).
The TV series ended its three season run in June '61, so the comic outlasted the series by about six months. All nine issues sported fabulous Gene Barry photo covers.
Often comic book cowboy tales are interchangeable…a Ken Maynard story could just as easily be a Bob Steele story, but in BAT MASTERSON the stories closely reflected those presented on TV, being tailored to fit Barry's Masterson portrayal.
Artwork was primarily by Dan Spiegle (1920- ) or Jerry Robinson (1922- ). Spiegle is most famous for his work on the HOPALONG CASSIDY daily and Sunday comic strip from '49-'55, but he also illustrated dozens of Dell westerns—ANNIE OAKLEY, BRAVE EAGLE, BUFFALO BILL JR., COLT .45, GENE AUTRY, TEXAN, JOHNNY MACK BROWN, LAWMAN, among others. Robinson drew thousands of comic book stories, including a long run on BATMAN. Gaylord DuBois seems to have written most of the Masterson stories.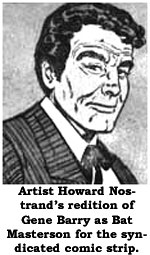 There was also a BAT MASTERSON syndicated daily and Sunday comic strip from '59-'70 written by Ed Herron and drawn by Howard Nostrand ('29-'84) with an assist from Neal Adams.
In Fine, Dell's BAT MASTERSON issues sell in the $25 range.
BAT MASTERSON
Cover Gallery