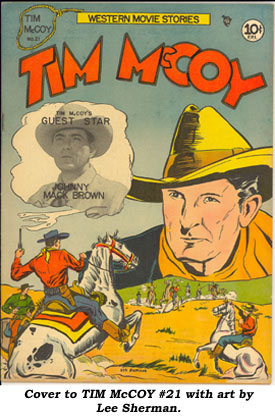 "TIM McCOY"
Tim McCoy was not treated well in comic books. McCoy had been a major western star at Columbia, Puritan, Victory, Monogram and PRC from '31-'41. From '41-'42 he was a third of the popular Rough Riders trio, then retired from the screen save for a couple of guest star shots. So, by late 1948 when lowly Charlton Comics in Derby, CT, grabbed up McCoy for comic books, he was a pretty much forgotten cowboy hero by current comic book buying kids. That Tim's lot fell to bottom-of-the-barrel Charlton didn't help one iota.
TIM McCOY picked up numbering from Charlton's canceled ZOO FUNNIES with #16 in Oct./Nov. 1948 and was published bi-monthly for a year, 6 issues, through #21, August/Sept. 1949, at which time the book changed titles again, to PICTORIAL LOVE STORIES with #22.
TIM McCOY's comic book was an odd affair in that it featured not only McCoy stories but very poorly drawn and written western film adaptations with John Wayne, Jimmy Wakely, etc.; one page bio fillers of various western stars by Mario DeMarco; historical vignettes on Indians, gunfighters, etc. "as told" by McCoy; and a comedy filler, "Pecos Bill".
Tim's comic book adventures, a mish-mosh of Rough Riders and earlier movie adaptations, were hacked-out by the worst assemblage of "artists" (if they can be called that) ever to work in comics. None of the interior story artists ever captured Tim's likeness; it seemed as if they didn't even try. Lee Sherman managed a likeness on the cover of #21, but his interior art on movie adaptations was absolutely amateurish.
For the record, here's what's in each issue:
#16—"Riders of the West" Rough Riders movie adaptation (also features Buck Jones); Tim's Injun Talk; adaptation of "Red River" w/John Wayne; "Pecos Bill"; one page DeMarco fillers (reprinted many times since) on Tim McCoy, Jimmy Wakely, Johnny Mack Brown; Gene Autry; drawn cover by Lee Sherman; back cover photo.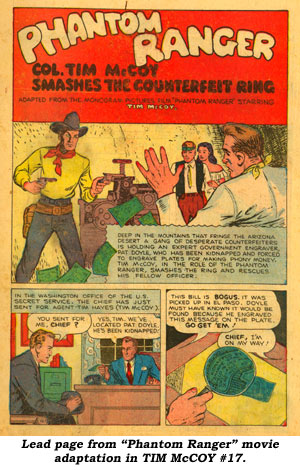 #17—"Phantom Ranger" McCoy movie adaptation; Tim's Indian dances; "Pecos Bill"; movie adaptation of "Marshal of Amarillo" w/Rocky Lane; one page DeMarco fillers on Tex Ritter, John Wayne.
#18—"Two Gun Justice" McCoy movie adaptation; Tim's western lingo; "Pecos Bill"; movie adaptation of "The Plunderers" w/Rod Cameron; one page fillers by DeMarco on George O'Brien, Gary Cooper, Ken Curtis.
#19—"Renegade Guns" ("End of the Trail" McCoy movie adaptation); Tim and Jesse James; Tim and Virginia City; "Crashing Thru" movie adaptation w/Whip Wilson; Tim and Curley Bill spin; one page DeMarco fillers on Tim McCoy, Hopalong Cassidy, Yakima Canutt, William S. Hart, Tim Holt.
#20—Original McCoy story; "Pecos Bill"; Tim's western lingo; Colt firearms; movie adaptation of "Gun Runner" w/Jimmy Wakely; Tim and Tombstone; one page DeMarco fillers on Bob Steele, Billy the Kid, Jim Bridger.
#21—"Gunman From Bodie" Rough Riders movie adaptation; Tim's Indian sign language; Tim and Dodge City; "Pecos Bill"; Tim and bulldogging; movie adaptation of "Trail's End" w/Johnny Mack Brown; McCoy original story; one pagers by DeMarco on Rod Cameron, Buck Jones.
Why issues of TIM McCOY command $100-$125 in Fine is beyond comprehension; perhaps only due to the fact they're hard to find because nobody bought them at the time, making them scarce today.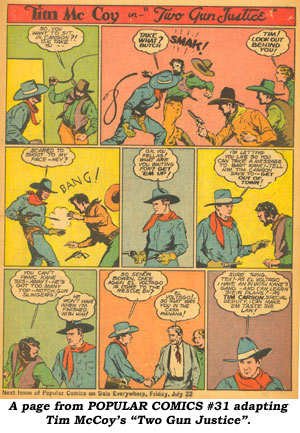 Tim was treated better much earlier in a few issues of POPULAR COMICS, an anthology-type comic composed primarily of comic strip reprints published by Dell which, from #28 to #43, adapted B-westerns with Gene Autry, Jack Randall, Tex Ritter and McCoy into comic form. #31 (8/38) adapted "Two Gun Justice" and #32 (9/38) featured "Phantom Ranger". These issues run about $140 in Fine.
Similarly, Dell's THE FUNNIES, another comic book haven for strip reprints, also adapted B-westerns to comic book format. #20 starred McCoy (poorly drawn) in "West of Rainbow's End". ($195 in Fine.) There were probably others, but I only own #24 and #25 (Bob Baker stories) and #30 (Tex Ritter), so cannot be positive.