STRAIGHT ARROW
"Straight Arrow" first drew back his Comanche bow on radio on May 6, 1948, on the West Coast Don Lee network for 30 minutes on Thursday night. The show had several time changes and moved to Mutual in February '49 and ran until June 1951.
A comic book version of the popular radio Western didn't come until February/March '50 with STRAIGHT ARROW #1 from ME (Magazine Enterprises). It stayed bi-monthly until #4 (August '50) when it became a monthly comic on through the end of the run with #55 in March '56, outlasting the radio series by nearly five years.
Art in all 55 issues was by Fred Meagher (1912-1976) who also did the covers for #1, 2, 4-21, 23-55. The talented Frank Frazetta contributed the covers to #3, 22. Stories were primarily written by Gardner Fox (1911-1986). Back-up stories of young Indian brave Red Hawk, with art often by Bob Powell (1916-1967) were in #2-55. Many issues advertised premiums associated with the "Straight Arrow" radio program and Nabisco Shredded Wheat.
Straight Arrow also appeared in ME's BEST OF THE WEST #1 ('51) through #12 (April/June '54) along with The Ghost Rider, Durango Kid, Tim Holt as Redmask and Bobby Benson, all published by ME. ME's GREAT WESTERN was a reprint title beginning with #8 (January/February '54) through #11 (October/December '54) which carried Straight Arrow stories along with Durango Kid, Tim Holt, Ghost Rider and others. Art in both titles was also by Meagher. STRAIGHT ARROW'S FURY was an ME one-shot in 1954 and told the origin story of the horse.
In Fine, STRAIGHT ARROW #1 commands $141. #2, 4-5, $65; #6-21 range from $42-$66 depending on the stories; #23-55 price at $27-$42 again depending on the stories. Due to the cover art by Frazetta, #3 is $93 and #22 is $75.
BEST OF THE WEST #1 brings $123; #2, $66; #3-5, $54; 6-12, $45.
Copies of GREAT WESTERN are priced too high in my opinion for reprints with #8 at $54; #9, $45; 10-11, $36.
STRAIGHT ARROW'S FURY one-shot in Fine books at $45.
STRAIGHT ARROW Cover Gallery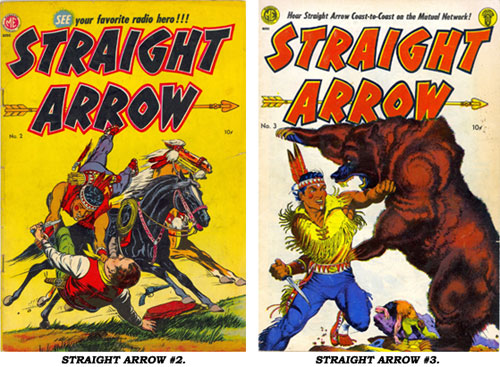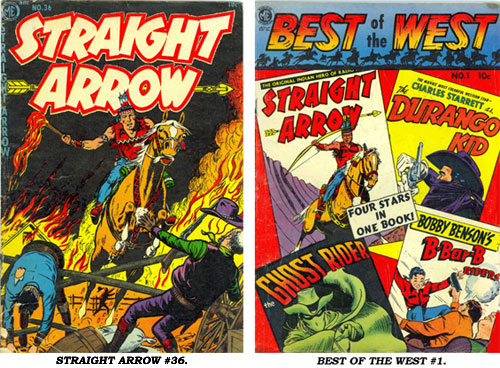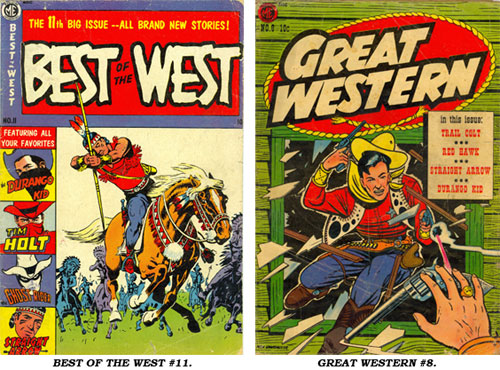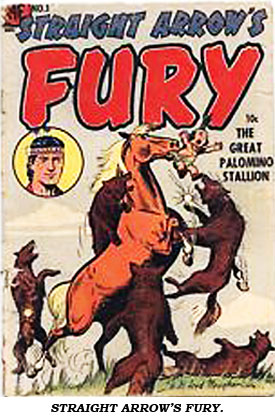 A "Straight Arrow" newspaper strip, illustrated by the talented team of John Belfi and Joe Certa, was syndicated to about 200 U.S. newspapers from July 1950 to August 1951.