Gene Autry was not only the forerunner of all the singing cowboys, he also was the first B-western cowboy to have a regular comicbook series. Fawcett's GENE AUTRY COMICS #1 went on sale for a dime in Dec. '41. It's now worth $629–$11,000, depending on condition…if you can locate a copy. Fawcett published 10 issues from '41-'43.
Dell took over with #11-12 then put Gene into their Four Color Comics series in '44 for seven issues (FC 47, 57, 66, 75, 83, 93, 100) before resuming numbering with #1 in May '46 and continuing for 121 issues til January/March '59. By '48 Dell was publishing more than one million GENE AUTRY COMICS every month.
The title changed slightly with #102 to GENE AUTRY AND CHAMPION. With #112 (11/56) the change was even more dramatic, with the established photo covers being abandoned in favor of painted covers of… Champion. Even Champ's name was now larger than Gene's! By #113 Gene's horse had even supplanted him as the lead story. (Dell also published GENE AUTRY'S CHAMPION for 19 issues from '50-'55.)
Although Fawcett #1 and 3 and Dell #11 had photo back covers, the first Autry photo front cover was on Dell Four Color #100. Regular issue #1 was again drawn, then photos were used continually from #2-111. Photo back covers ran from #4-65 (except for #19, #46, #47). All cover photos were specially posed by Gene except for the rare movie scene from "Strawberry Roan" (w/Eddy Waller, Pat Buttram, Rufe Davis and others) on the back of #12 (2/48) and of Gene and Barbara Britton from "Loaded Pistols" on the back of #25 (3/49), released in conjunction with the films. Various Champions were shown on the front or back of many issues.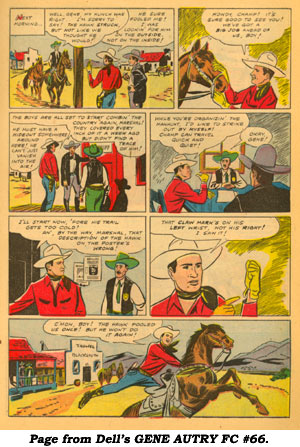 Different artists worked on GENE AUTRY COMICS. Excellent western artist Till Goodan drew several Fawcett and Dell FC covers and the interior of #2, with spot illustrations in several others. Jim Chambers did work at Fawcett along with some other rather inferior artists. Artists at Dell were never allowed to sign their work, but they included Chambers, Jesse Marsh, Nat Edson, Nicholas Firfires (second husband of Buck Jones' daughter Maxine), Ray Ramsey, John Ushler, Tom Massey, Mike Arens, Russ Manning and Dan Spiegle. Firfires, Marsh and Ramsey did the bulk of the work.
Stories came from writers Gaylord DuBois, Phil Evans, Dick Calkins (creator of Buck Rogers), Jean Klinordlinger, prolific Paul S. Newman, Eleanor Packer, screenwriter Eric Freiwald, Robert Ryder, John Wade Hampton and Kellogg Adams.
Predating all of these, POPULAR COMICS #28 (5/38) (published by Dell) featured a six page movie adaptation of Gene's "Old Barn Dance". Gene also appeared in Dell's WESTERN ROUNDUP Giants #1-18, five small Quaker Puffed Wheat/Rice giveaway comics ('50), an 8x6" GENE AUTRY ADVENTURE COMICS giveaway from Pillsbury in '47, five 1953 3-D pocket-size giveaways and 10 MARCH OF COMICS (an advertising venue for Weatherbird Shoes, Sears, etc.)
Beginning with a movie adaptation of "Public Cowboy No. 1" in '38, Whitman issued 11 Gene Autry Big Little Books. The others were all original stories. In '49-'50 Whitman produced two slightly taller Autry New Better Little Books. Then there were hardback novels, coloring books, paint books, paperdoll folios, Sandpiper and Little Golden Books and English publications all bearing Gene's likeness.
Additionally, GENE AUTRY RIDES came out as a Sunday only newspaper comic strip in the Spring of '40. Distributed by Gene's own organization, it was written by screenwriter Gerald Geraghty ("Phantom Empire", "Mexicali Rose", "Riders In the Sky", etc.) and drawn by cowboy cartoonist Till Goodan. The first story was a loose adaptation of "Phantom Empire", with Gene's sidekick changed from Smiley/Frog to Frosty. The strip ended in '42 as Autry entered WWII service.
Gene's renewed popularity on TV led to a second GENE AUTRY strip. General Features began a daily 9/8/52 with Sunday pages following 4/26/53. The strip, which often found Gene far from the western range—in Australia and Arabia for example, was written by Bob Stevens and competently illustrated by Bert Laws. The strip ended in '55.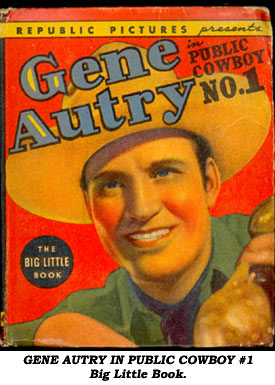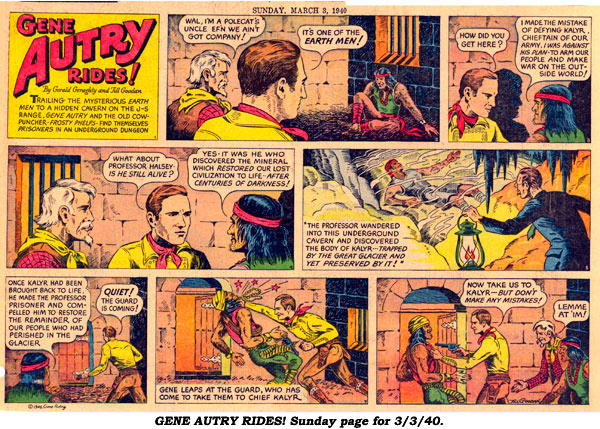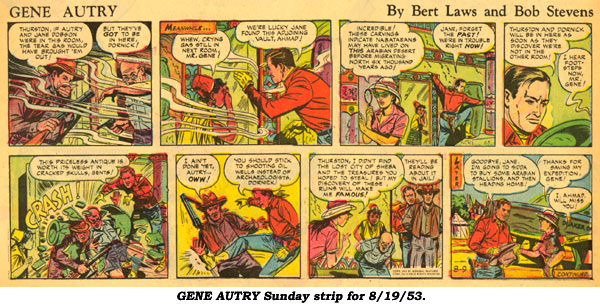 GENE AUTRY COVER GALLERY