"JOHNNY MACK BROWN"
Long-time B-western cowboy Johnny Mack Brown was still making films for Monogram when Dell picked up the rights to the Alabama range rider and his horse Rebel in March 1950 with Four Color #269 (#1). Seeing good sales, Dell began regular numbering on JOHNNY MACK BROWN with #2 in Oct./Nov. '50.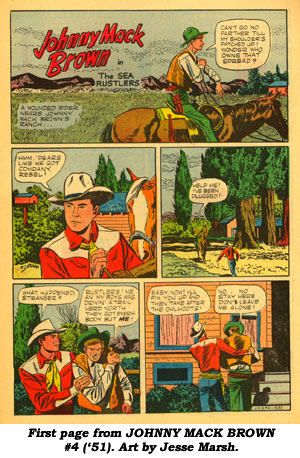 The comic book was a quarterly at first, becoming bi-monthly with #4 (Apr./May '51) and continued that way until #9 (March/May '52) when it reverted back to a quarterly. When Brown's Monogram series ended in October '52 with "Canyon Ambush", Dell decreased the frequency of Brown's comics and returned to Four Color numbering with FC #455 (#11) in March '53. Only two issues per year (one in the Spring about March and one in the Fall about September) were published through early '59, FC #963 (#22).
There are gorgeous photo covers on all issues, with back cover photos as well on the first 12 issues, plus FC #618, #776. Many of these photos were taken inside and outside Brown's real home.
Jesse Marsh (1907-1966), one of the few black artists in the business at the time, who had a long run on Dell's TARZAN comics, captured Johnny Mack's likeness quite well for issues 1-7 and 9, but the artwork took a Running-W spill with #10 and FC #455 (#11) being particularly poor. From there on, Nat Edson (1909-?), Tom Massey, Mike Arens (1915-1976), Nicholas Firfires (1917-1990), Dan Spiegle (1920- ), Russ Manning (1929-1982), Sparky Moore (1925- ) Tom Cooke, and Bill Ziegler (1925-1993) shared art chores, sometimes capturing Brown's likeness but often not.
Writers included Dick Calkins, Gaylord Du Bois, Phillip Evans and Robert Ryder.
Therefore #1-9 are the most desirable for your representative B-western comic collection. FC #269 (#1) usually costs $65 in Fine with #2, 3 bringing $30 and all the rest averaging $21 in Fine.
There are also Johnny Mack Brown stories in Dell's WESTERN ROUNDUP #1 (June '52) to #21 (Jan./Mar. '58). Johnny Mack's tales were drawn by a variety of artists here in the 25¢ Giant that also featured Roy Rogers, Bill Elliott, Rex Allen and Gene Autry for most of it's 25 issue run, becoming more TV cowboy oriented the last few issues. #1 in Fine sells for about $75, the rest are $27 to $42 in Fine.
JOHNNY MACK BROWN
Cover Gallery