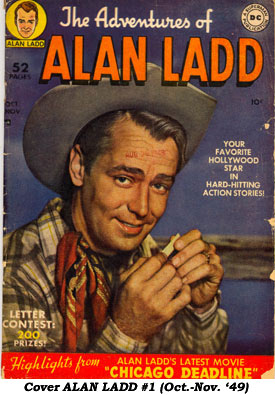 "ALAN LADD"
Although by 1949 most movie going adults were familiar with Alan Ladd, to the vast majority of comic book readers Ladd was not nearly as well known since he didn't appear in series westerns. DC Comics was probably inspired to put Ladd in comic books following his success in "Whispering Smith" ('48), a well received A-western. In fact, THE ADVENTURES OF ALAN LADD #1 (Oct. Nov. '49) cover featured a shot of Ladd from "Whispering Smith". Nevertheless, it was one of the oddest decisions in comics publishing history to try a title starring a non-genre actor. Then again it might have also been a business decision as DC developed a licensing deal with Paramount (Ladd's home studio) to publish comics based on Bob Hope ('50-'68) and Dean Martin and Jerry Lewis ('52-'57), also Paramount stars.
It's also true DC was late-in-the-game in licensing western stars for their comics—Fawcett and Dell had nearly cornered the market. DC picked up Dale Evans in '48, Jimmy Wakely in '49 and perhaps thought Ladd could help fill the void. Problem was, THE ADVENTURES OF ALAN LADD was never a true western comic book, nor was it a true crime or adventure comic, but a strange hybrid of stories that forced movie star Ladd to become mixed up in a variety of intentional and unintentional adventures away from the movie set. The approach was unusual and often strained, so much so that in the last two issues mythical Ladd stories were "retold".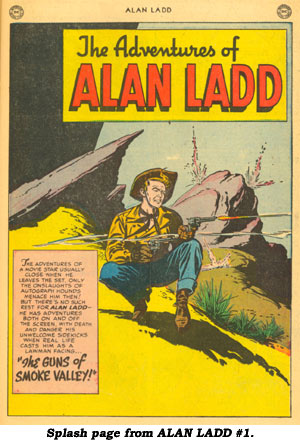 Due to poor sales, Ladd's bi-monthly run lasted only nine issues through Feb. March '51. Perhaps stories were too complicated for younger readers, added to the fact in the '49-'50 years comics were going through a period of change and experimentation. At any rate, Ladd's sales were poor and the title was cancelled.
In recent years, due to hard to find excellent condition copies, THE ADVENTURES OF ALAN LADD has become a highly sought after nine issue series. #1-6 sported photo covers, #7-9 were drawn. The only western cover was on #1 (Oct. Nov. '49) which actually hit stands in August '49. #1 featured one western story as Alan finishes a movie and becomes involved with real west train robbers. Art seems to be by Dan Barry (1923-1997). Also Ladd's "Chicago Deadline" was adapted; there was a two page bio; and the other stories were non-western.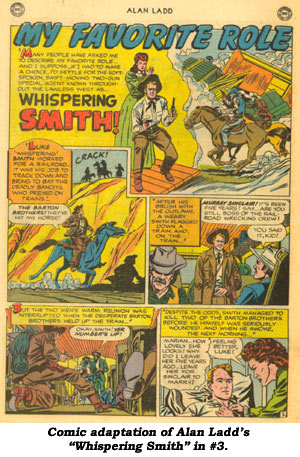 #2 (with nice art by Ruben Moreira) (1922-1984) had Ladd on vacation becoming a real west lawman. Other three stories were non-western. #3's only western element was a four page movie adaptation of "Whispering Smith". In #6 Ladd gets involved with a lost western gold mine. #8 features Alan as a mythical Texas Ranger. Art by Sy Barry (1928- ). A stuntman story in this issue mentions Ed "Yak" Canutt, Nellie Walker, Helen Thurston and others. In #9 Alan is a sheriff with no movie connection. Again, Sy Barry art. #4, 5, 7 contained no western elements except for a filler in #7 about Rin Tin Tin, including a singular Roy Rogers and Trigger panel.
Hard to find Fine copies of #1 run about $240; #2 $125; #3-6: $100; #7-9: $80.