THE TRAIL BLAZERS
Ratings: Zero to 4 Stars.

WILD HORSE STAMPEDE ('43 Monogram) Even with slight paunches, Ken Maynard still tears off some of his famous horse tricks with Tarzan and Hoot Gibson is still adept with a rope, fist and clever quip as they thwart Ian Keith and "the boys" (Glenn Strange, Tom London, Robert McKenzie) who plan to rustle wild horses much needed by the railroad. Much has been written about Bob Baker being one of the Trail Blazers in this, the first of the series. Certainly, the title card billing does not indicate that as it says, "Monogram Pictures Corp. presents the Trail Blazers—Ken Maynard, Hoot Gibson in (with large letters as they ride along Smith Road at Corriganville) "Wild Horse Stampede" with Betty Miles, Bob Baker, Ian Keith." So—in billing, Baker is lumped together with the leading lady and the saloon owner/outlaw leader. When he appears in the film, he's portrayed as a bit of a weak-kneed lawbook-reading sheriff, being knocked down (and not getting up til Ken and Hoot intervene) in the saloon by Tom London. Shortly thereafter, comic Si Jenks makes him holler uncle with an armlock!?! Baker does come alive toward the end, subduing Glenn Strange and getting the fade out near-kiss with Betty Miles. Nevertheless, Ken and Hoot ride off without Bob. These facts suggest this was the only film planned for Baker. Contrary to Hoot's usual outfit, he wears a two-gun rig in this film. A glaring continuity lapse has Hoot change shirt and hat while he's riding hell-bent for leather toward Betty Miles' ranch. Screenwriter Frances Kavanaugh recycled her plot three years later for Eddie Dean's "Driftin' River". Both were produced by Robert Tansey, but "Wild Horse Stampede" at least had the far better Alan James (1890-1952) as director. Tansey, himself, directed the Dean version.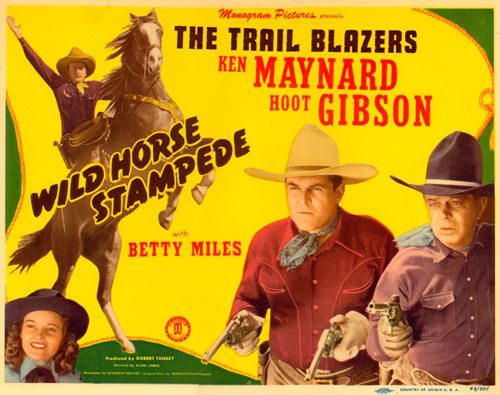 LAW RIDES AGAIN ('43 Monogram) Underhanded Indian agent Kenneth Harlan, aided by "escaped" prisoner Jack LaRue, is cheating the Arizona Indians of their government allotted cattle shipments, causing the Indians to raid stagecoaches and wagon trains. The law rides again as Gibson and Maynard (The Trail Blazers) help stage line owner Betty Miles and Sheriff Kenne Duncan restore peace. Old timer Hank Bell—who's usually just a townsperson or looker on—takes an active part as one of Harlan's henchmen along with John Merton and Chief Thunder Cloud. Yep, the same Chief Thundercloud who five films later would himself become a Trail Blazer. Maynard debuts his famous, "Well, here we go again" line whenever Hooter has one of his brilliant ideas. Some hard riding action sequences, made all the more exciting by Frank Sanucci's chase music. The famous stock footage shot from "War Paint" ('26) of Indians crossing the Wind River near Lander, WY, is utilized. This is the last Maynard film directed by Alan James who had been associated with Ken off and on since the '30s.

BLAZING GUNS ('43 Monogram) An illegal toll road (run by LeRoy Mason) is all the plot you need in this Trail Blazers western to start the non-stop action and fun rolling as Maynard and Gibson outwit and outfight Mason's men at every exciting turn while they help Roy Brent (Mason's good brother) and his gal, Kay Forrester, clean up Willow Springs. Hoot paroles three jailbirds to help them clean up the town. Pure, unadulterated B-western fun! Possibly the best of the Trail Blazers series. Tansey had used the helpful convicts idea in Jack Randall's "Stars Over Arizona" ('37) and reworked this idea for "Cattle Queen" in '51. A small role is played by Robbie Kavanagh, screenwriter Frances Kavanaugh's sister. It was her only film.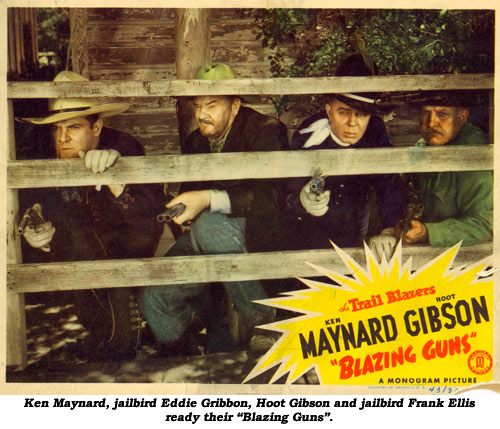 DEATH VALLEY RANGERS ('43 Monogram) Bob Steele makes his initial Trail Blazers appearance and there's no pretense to art, just Saturday afternoon B-western action in its purest form as the Trail Blazers (Maynard, Gibson, Steele) break up crooked mine owner Weldon Heyburn's plot with chemist Karl Hackett who has discovered a formula for reheating gold and pouring it back into the rock where it cannot be distinguished from virgin ore as Heyburn runs the stolen gold through his mine. Notice that Heyburn's character is named James T. Kirk. What are the odds a young Gene Roddenberry watched this western back in his youth? Director Bob Tansey recycled his plot from "Gun Packer" ('39) with Jack Randall for this one. Adele Buffington purloined it for her own in '49 as "Rangeland" with Whip Wilson.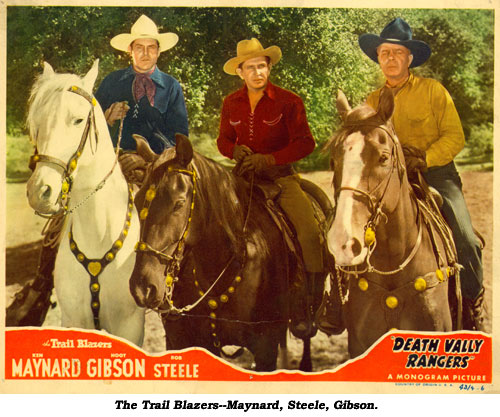 WESTWARD BOUND ('44 Monogram) The Trail Blazers (Maynard, Gibson, Steele) ride, fight, rope and provide plenty of adventure, thrills and fun as they go into nearly constant action against a land grabbing bunch of owlhoots who would use oncoming Montana statehood to their own greedy advantage.

ARIZONA WHIRLWIND ('44 Monogram) The Trail Blazers (Maynard, Gibson, Steele) combat crooked banker Karl Hackett who has hidden uncut diamonds in a stagecoach to be received by gangster Ian Keith. Meantime, Hoot and Ken find time to string telegraph wire while Bob romances Myrna Dell who once told me, "I adored Bob Steele, he wasn't as old as Ken and Hoot. Gawd! They were old enough to be my grandfather!" Young Don Stewart, who was performing in rodeos at age 5 or 6, is the Trail Blazers' young pal. He was also in their "Wild Horse Stampede" and Tom Keene's "Where Trails End" then disappeared from sight. This was Maynard's last ride with the Trail Blazers; he quit the series citing monetary reasons.

OUTLAW TRAIL ('44 Monogram) Through the iron fists of his henchmen, Cy Kendall controls Johnstown and the local ranchers by issuing his own "script", then forcing them to comply with his terms or go bankrupt. That intrepid team of Trail Blazers (Gibson, Steele and newcomer Chief Thunder Cloud) topple the domination of the oppressors. Producer/director Bob Tansey and all concerned seemed to know the end of the trail was in sight as everyone just seems to be going through the motions in this one—even though it's filled with plenty of action. Story credit goes to Alan James who used bits and pieces of his "Trail Drive" written for Ken Maynard in '33.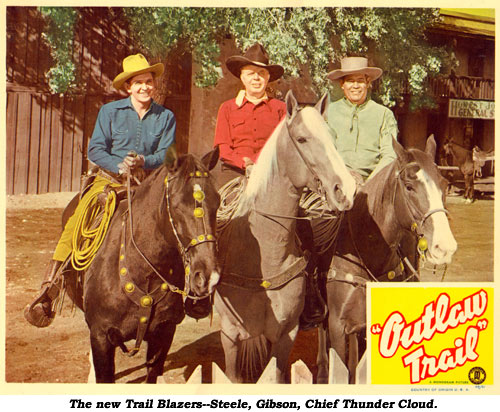 SONORA STAGECOACH ('44 Monogram) Action all the way as Charlie King's outlaw gang is determined to kill Rocky Camron before "the toughest lawdogs in the west," the Trail Blazers, are able to escort him safely to Sonora for trial. Rocky will hang them all for an express robbery and murder if he arrives alive for trial. Technically, this was the last of eight very popular Bob Tansey produced Trail Blazers B's that had seen the group go from just Maynard and Gibson to adding Steele in the fourth film and dropping Maynard after the sixth film replacing him with Chief Thunder Cloud, who seemed extremely happy to be starring but operated like a fifth wheel. Without him, Steele and Gibson continued on, under a completely different production setup, for three more titles.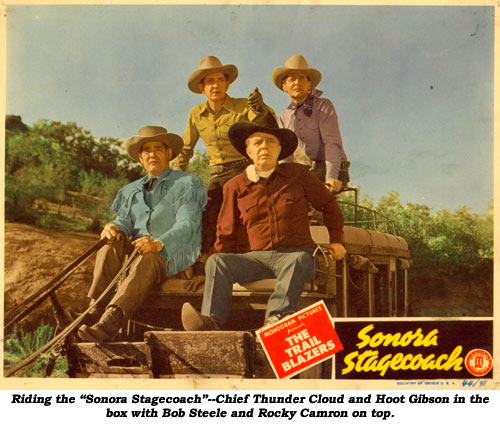 UTAH KID ('44 Monogram) Steele/Gibson co-starrer is a remake of John Wayne's "Man from Utah" ('34). Lindsley Parsons wrote the Wayne film (weakest of his Lone Star series) and was now producer of this picture. Steele and Gibson uncover a gang who have made a racket out of fixing rodeo events. Pretty slim stuff with a weak plot and nondescript heavies burdened by too much rodeo stock footage (over 8 minutes) and rodeo announcer "comedy antics" from Earle Hodgins.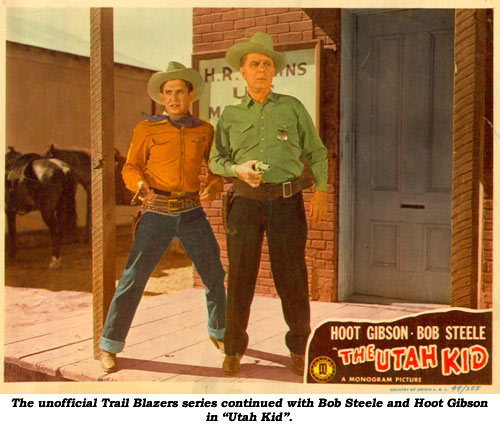 MARKED TRAILS ('44 Monogram) After Bob's lawman uncle is knifed and killed by criminals Mauritz Hugo and femme fatale Veda Ann Borg, Steele gets hot on the trail of the rangeland Bonnie and Clyde who are now pulling some sort of convoluted oil swindle in another town. Bob's pal, Hoot Gibson (basically assuming a sidekick role here), goes undercover, posing as a dude town-builder. Bit of an unfocused mish-mash plot.
TRIGGER LAW ('44 Monogram) Not available for viewing.