BOB BAKER
Ratings: Zero to 4 Stars.

COURAGE OF THE WEST ('37 Universal) "The new-est singing hero of wild west lore…tuned up for a song or a fight! Riding a painted pony like a flaming bullet-streak in the night!" That's the way Universal promoted their new western star, Bob Baker (whom they originally wanted to call Tex Baker, but Bob, being from Iowa, Colorado and Arizona, protested) in his first of 12 starring westerns replacing Buck Jones when he left the studio in '37. Baker was chosen over Dick Weston (soon to be Roy Rogers at Republic) and six others because as Bob said, "I could ride, sing and play the guitar." Formerly of the WLS (Chicago) National Barn Dance, it was another WLS alumnus, Max Terhune, who helped Bob hone his acting skills. In this film, possibly Bob's best, Free Ranger J. Farrell MacDonald adopts young Bob (played by Buddy Cox) after MacDonald's Rangers (including Fuzzy Knight) capture and sentence Bob's real father, Harry Woods, to hang. However, Woods escapes and years later reappears when Bob is full grown and a Free Ranger himself with his adopted Dad. Real father and son nearly shoot it out before Norton S. Parker's screenplay neatly rectifies the drama. It's a good story which benefits from director Joseph H. Lewis' inventive camera work in his directorial debut. Several Fleming Allan songs, some sung by leading lady Lois January.

SINGING OUTLAW ('38 Universal) One of the most entertaining Baker B-westerns is his second outing with careful direction from "Wagon Wheel" Joseph H. Lewis. A posse mistakes rodeo rider Bob for a dead outlaw. Before he can re-assert his own identity, Bob has to round-up a band of rustlers led by LeRoy Mason and justify his mysterious actions to his sweetheart, Joan Barclay. Some wonderful cowboy songs by Fleming Allan but Bob's voice sounds better blended with a group.

BORDER WOLVES ('38 Universal) It's only director Joseph H. Lewis' direction and unique camera angles that bring any life at all to this routine B-western which has Baker and the western Hoagy Carmichael wannabe, Fuzzy Knight, falsely convicted of a wagon train massacre. To clear themselves they ride the "hoot-owl trail" to find the real badmen, a group of perfectly-in-harmony singing killers(!) headed up by possibly the blandest outlaw leader in B-western history—Dick Dorrell. At one point Baker is captured by the Sheriff after taking a bath! Different idea, yes, but altogether, not what we expect from a B-western.

LAST STAND ('38 Universal) Director Joseph H. Lewis turns a routine "Baker goes undercover as an outlaw to find the rustlers-killers of his father" story into an interesting hour via his always fluid and intriguing camera angles and scene setups. Watch for the scene early on where a stagecoach bandit takes an obviously for-real horse spill.

WESTERN TRAILS ('38 Universal) Friendly rivals for the affections of cute Marjorie Reynolds, Baker and John Ridgely, go after stagecoach bandits led by Reynolds' brother, Carlyle Moore. Draggy, weak entry is a remake of John Wayne's far superior "Dawn Rider" ('35), both produced by Paul Malvern. Perhaps some of the fault for the slowness can be attributed to the fact this was George WaGGner's first directorial effort. WaGGner purposely always spelled his name with two capital G's.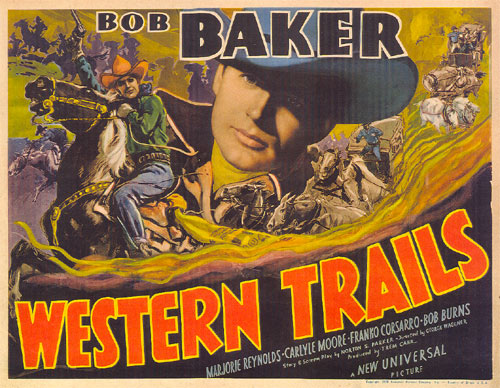 OUTLAW EXPRESS ('38 Universal) It takes 40 minutes of singing and romancing for Baker and sidekick Don Barclay to swing into action against bandits who rob pony express riders of registered Spanish land grants. A gun-blazing finale, but it's not enough to save the film.

BLACK BANDIT ('38 Universal) Twin sons (Baker in a dual role as Bob and Don) are quite different in nature. Bob is kind and good natured, Don is jealous and ill-tempered. After an argument, Don runs away from home, eventually riding the outlaw trail as the Black Bandit. Bob grows up to be a lawman, not realizing, at first, he's pursuing his own brother. You can probably guess the ending. A good plot short on action content degrades this to one of Baker's lesser efforts.

GUILTY TRAILS ('38 Uni-versal) Sheriff Baker quits cold when he thinks he's killed an old friend following a bank robbery actually committed by banker Jack Rockwell which is only a cover allowing Rockwell to steal gorgeous Marjorie Reynolds' proof of inheritance of a ranch. The three Fleming Allan songs aren't as noteworthy as in other Baker features. A good enough plot, written as most of Baker's B's were by Joseph West (a writing pseudonym of the film's director, George WaGGner), but lacking in the hard riding excitement factor, especially after a pretty good first quarter.

PRAIRIE JUSTICE ('38 Universal) Baker's Sheriff father is killed when Marshal Bob helps him investigate a rash of stagecoach holdups and rustlings. Bob falls for Dorothy Fay whose uncle, Jack Rockwell, is unfortunately implicated with bandits. (Ever notice the unwritten B-western rule? Girls' uncles could be crooked, fathers could not.) Bob's dog, Smokey (likely a Blue Heeler), plays a large part in the story—especially in the final fadeout scene.

GHOST TOWN RIDERS ('38 Universal) Forrest Taylor's gang hides out in a ghost town (best use ever of the Brandeis Ranch) and plot to promote a fake gold rush, bring the town back to life, then clip the suckers who rush in, but when the legal owner of the town, Fay McKenzie (billed Fay Shannon for whatever reason), arrives, it throws a crimp in Taylor's plans. When Taylor tries to get rid of Fay, she's rescued by wild horse wrangler Baker and pal Hank Worden. All the action takes place on New Year's Eve, so it's a good one to watch during the Holidays. Remade as "Gold Strike" in '50 with Tex Williams.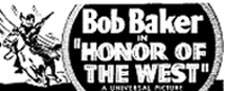 HONOR OF THE WEST ('39 Universal) Singin' Sheriff Baker has to straighten out friend Carleton Young, who's tied in with a gang of rustlers. To complicate matters, both men are in love with the same girl. A strong story, expert direction and good action make this one of the most watchable of Baker's dozen. Baker's voice never sounded better than on songwriter Fleming Allan's "The Old Chuckwagon", sung here with a group. In my opinion, Baker always sounded better when his tenor voice melded in with a vocal group. In her only oater, the leading lady is Marjorie Bell—better known as Marge Champion when she married Gower Champion and they became a top dance team in MGM musicals. One hell-bent for leather riding scene has her looking scared to death and about to fall out of the saddle. Jack Kirk has one of the best roles of his loooonnng B-western career as the main heavy. He played sheriffs, fathers, outlaws and townsmen from '26-'48 and was often seen plucking a guitar and singing in a group with friends Glenn Strange, Cactus Mack, Chuck Baldra and others. His was the voice you heard singing for John Wayne in "Winds of the Wasteland". Incidentally, Glenn Strange has a nice part here as vengeful lawman, Bat Morrison.

PHANTOM STAGE ('39 Universal) Baker's last starrer is a remake of Bob Steele's "Galloping Romeo" ('33). A stagecoach is being regularly robbed of gold shipments. Runt Ernie Adams hides inside a specially designed trunk and steals the gold while the stage is enroute to its destination. When the stage arrives, the trunk containing Adams and the gold are taken off the stage by robber chief Forrest Taylor. Baker and sidekick George Cleveland take a stage-driving job to catch the culprits. For Bob's last, it's a let-down ending; it's Cleveland who guns Taylor and saves Bob's life. Quite un-B-western heroic. Songs written as usual by Fleming Allan but it's certainly not sidekick Cleveland's voice "singing" in the opening scene with Baker. Not even his mouth movements are in lip sync! One sequence required Baker to drive the stage at breakneck speed over a rugged road. One of the horses broke his pace and dragged the others off the road causing the stage to wreck into the side of a hill. Baker was slammed against the hill but, luckily, his hat cushioned the blow to his head, preventing serious injury. Bob completed the scene a few days later after his release from the hospital. The story (and much stock footage) was used again in '50 for Tex Williams' "Fargo Phantom".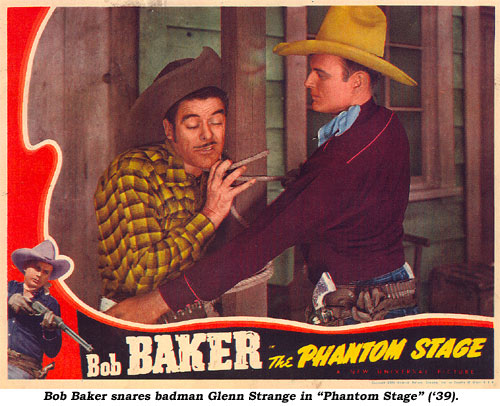 DESPERATE TRAILS ('39 Universal) The first in a series of Johnny Mack Brown B's produced by Albert Ray. Quite a comedown for Baker who, as Brown's pal has little to do other than sing "Ridin' Home" twice—once in front of a very poor process screen. Frustrated with second billing and roles that often didn't even warrant that, Baker quit after six films.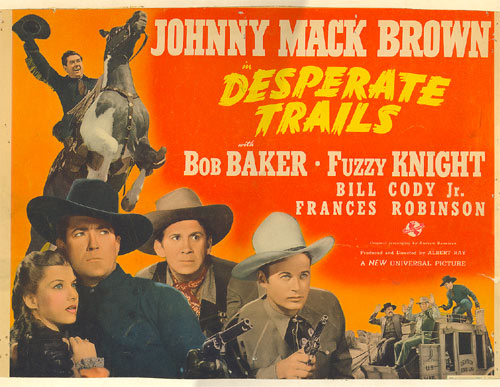 OKLAHOMA FRONTIER ('39 Universal) U.S. Marshal Brown heads for the opening of the 1893 Oklahoma land rush where he encounters childhood friends Baker and sister Anne Gwynne, agreeing to help them stake a claim. Brown draws a map and gives it to Baker who is killed for it by landsharks. A real nothing role for Bob.

CHIP OF THE FLYING U ('39 Universal) Baker is relegated to the role of back-up cowboy, singing two songs and that's about all he does.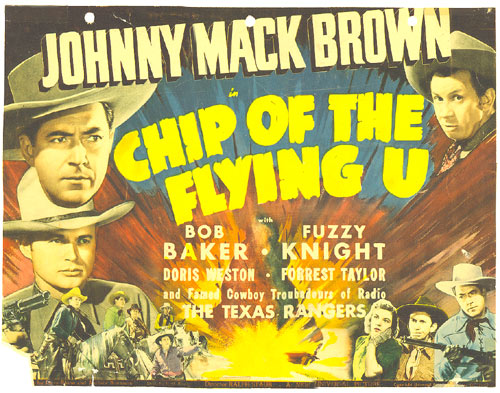 WEST OF CARSON CITY ('40 Universal) Baker, in a very secondary role to Johnny Mack, sings two songs, both of which, "On the Trail of Tomorrow" and "Let's Go", were reused a year later in "Arizona Cyclone" by the Notables, who sing here with Baker.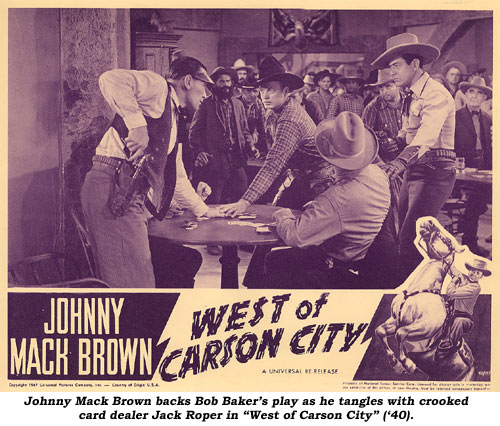 RIDERS OF PASCO BASIN ('40 Universal) Rodeo rider Brown returns to Pasco Basin to help his father-figure newspaper editor who is waging a campaign against crooked land promoters. Brown is helped by ranch hand Baker who is in love with Brown's old girlfriend. (At one point Baker goes on a tirade about being second best to Johnny Mack's character that sounds as if he really means it. It's fairly well known Baker resented losing his own series and playing second fiddle to Brown.).

BADMAN FROM RED BUTTE ('40 Universal) Two Johnny Mack Browns for the price of one, twin brothers—one good, one bad. The good Brown helps elect his singing lawyer pal, Baker, justice of the peace as they bring gun law and fisticuff order to the town.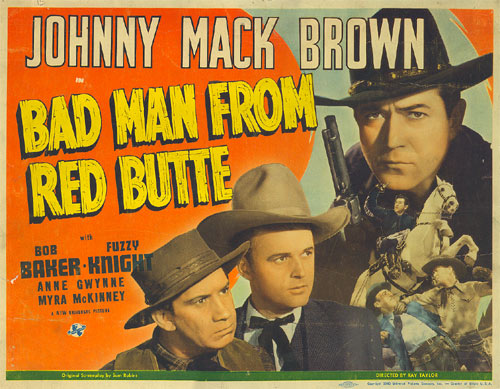 OVERLAND MAIL ('42 Universal serial) Baker, although billed 5th, is barely noticeable in only chapters 1 and 14 of this Lon Chaney Jr./Don Terry serial.