CAL SHRUM
Ratings: Zero to 4 Stars.
Cal Shrum (1910-1996) got his start in radio on Denver's KOA in 1933 before moving to Hollywood as a member of brother Walt Shrum's Colorado Hillbillies. He later formed Cal Shrum's Rhythm Rangers. From 1938 to 1945 he and his band, which included his wife Alta Lee, appeared, often uncredited, in B-Westerns with Gene Autry, Jack Randall, Judy Canova, Tex Ritter, Dave O'Brien/James Newill, Charles Starrett and Johnny Mack Brown. He then struck out on his own for two lowbudget affairs.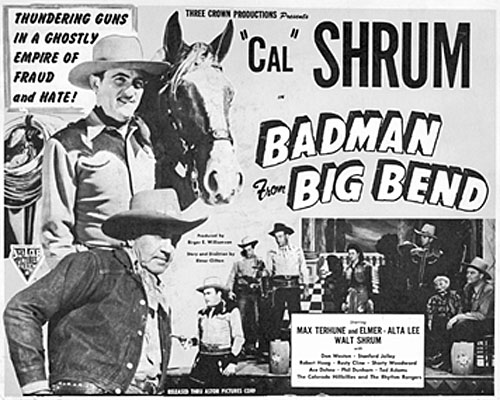 SWING, COWBOY SWING ('44 Three Crown) Reissued as BADMAN FROM BIG BEND ('49 Astor) The defining line comes midway when Max "Alibi" Terhune states, "Boy, this is terrible!" Independently produced by and starring unheroic looking, black mustached, Western musician Cal Shrum—along with stone-faced wife Alta Lee and Shrum's Rhythm Rangers troupe, including Don Weston, Cal's brother Walt Shrum and his Colorado Hillbillies, the basic plot involves a mystery killer with a rifle plaguing the local opera house where the boys are set to perform. Stan Jolley seems to realize he's in a washout and camps it up although there's not much he can do with the material. Picture has the look and feel of a Monogram with familiar canned Frank Sanucci music, direction by Elmer Clifton, photography by Robert Cline (who lensed many Range Busters titles) and filmed at Corriganville and Placerita Canyon. Production manager is William Nolte of Range Busters B's.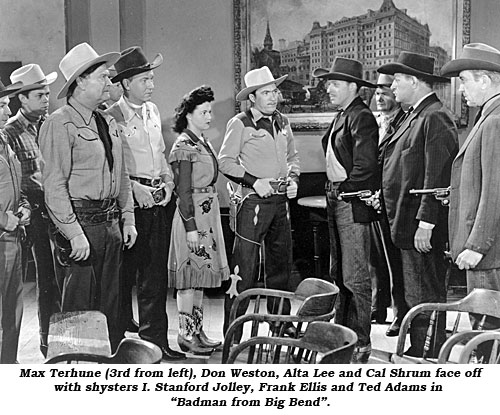 ZERO TROUBLE AT MELODY MESA ('49 Three Crown/Astor) Filmed in '44 along with "Swing, Cowboy, Swing" but never released until '49. The real "trouble" is trying to suffer through this untenable excuse for a Western movie. Jimmy Shrum inherits a ranch when his Dad is murdered by Jimmy's uncle, Stan Jolley, who covets the ranch for himself. The plot is foiled by former Hopalong Cassidy sidekick Marshal Brad King and musician Cal Shrum who functions here more as a sidekick. Shrum's "Ipple Dipple fish story" (obviously straight out of his stage act) has to be heard to be believed. The music is the redeeming factor here, and there's an ample amount—one sung by Brad King, one by Walt Shrum, one from Cal's wife Alta Lee, one by Cal and one even from Jimmy.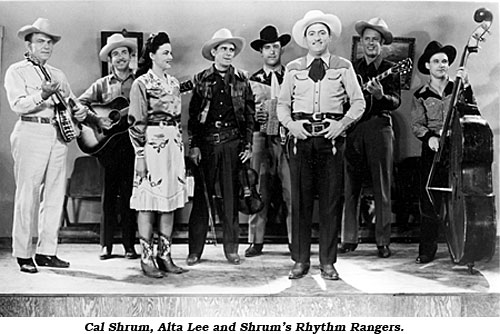 While hosting a 15 minute show on KOAT-TV and appearing in person in Albuquerque, NM in 1950 at the El Rey Theatre and every Saturday at the Armory, through private investors Shrum began to raise money to finance some new lowbudget B-Westerns. Although some footage was shot the films were never finished and the footage seems lost to the ages.