BOB STEELE (Pt. 1)
Ratings: Zero to 4 Stars.

NEAR THE RAINBOW'S END ('30 Tiffany) In his talking film debut, Bob Steele made this singing cowboy movie five years before Gene Autry came along. It's not the age-old sheepman/cattleman dispute you're watching this early soundie for, it's to hear and see Bob Steele and Perry Murdock sing. Also notable is one of the classiest heels-over-head backward mounts you'll ever see in a western. Early sound direction by J. P. McGowan is a bit static, but Bob has two dandy fistfights with heavy Al Ferguson. Bob's leading lady is former silent serial queen Louise Lorraine.

OKLAHOMA CYCLONE ('30 Tiffany) On the run from the Sheriff, Steele stumbles onto a rancho owned by Don Hector Sarno but run by an outlaw gang led by Charles King. Soon there's conflict between Bob and Charlie over the affections of Don's daughter. Al "Fuzzy" St. John, as Bob's outlaw pal, plays a great death scene. Again, Bob sings several songs. Dreadfully slow, but notable for the first of numerous on-screen slugfests between Steele and King. Remade in '36 as "Song of the Gringo" with Tex Ritter.

LAND OF MISSING MEN ('30 Tiffany) Steele and sidekick Al St. John rescue Caryl Lincoln from the Black Coyote's gang and expose him as Sheriff Edward Dunn and his Mexican accomplice Emilo Fernandez. Real life outlaw Al Jennings has a minor role. Bob Warbles "Prairie's End" twice. Fernandez later became one of Mexico's best known film directors on major features.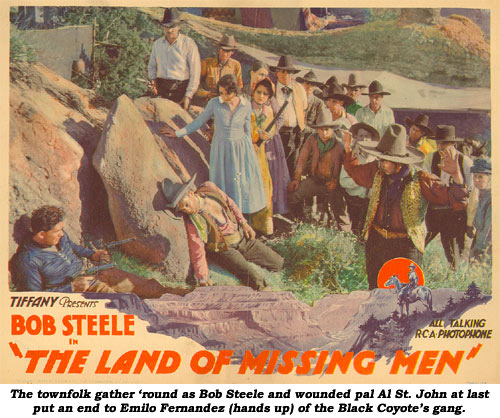 HEADIN' NORTH ('30 Tiffany) Even at this early stage in his career Steele exhibits strong signs of the fine actor he was to become, especially in character roles apart from B-westerns. This one exudes a fascinating raw charm that will keep you smiling all the way. Filled with adult pre-code overtones, especially when Bob's girl tells him she's allowed another man to make love to her in order to gain information.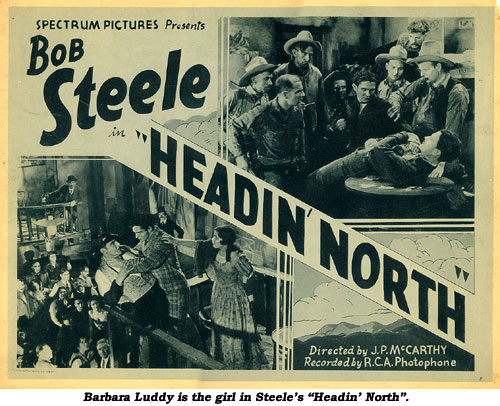 SUNRISE TRAIL ('31 Tiffany) With no action til the 57 minute mark (in a total of 63 minutes), there's a lot of latitude for platitudes…"partners," "different trails," "ridin' tonight," "long ropes," "tangled ropes"…in this early Steele cattle thieves plot. Leading lady Blanche Mehaffey plays it woeful and forlorn.

RIDIN' FOOL ('31 Tiffany) Steele and Ted Adams are accused of crimes they didn't commit while both vie for the affections of the girl, Frances Morris. Steele sings a love song to Morris. Problem with these early talkies is—technicians hadn't learned how to place the microphones out on the range, so the action (what there is of it) is primarily confined to sound stages, giving "Ridin' Fool" the feel of a play. Also weak here is the fact one of the real culprits—Al Bridge—is never caught and dealt with! Leading lady, Frances Morris (once married to actor Antrim Short), turned to character parts in the '40s and continued to work into the '60s.

NEVADA BUCKAROO ('31 Tiffany) Captured after a stagecoach holdup, Steele is imprisoned. After his old gang tricks the Governor into pardoning him, Bob decides to go straight and goes after his former partners. Dorothy Dix is the girl whose faith in Steele is severely put to the test. Artie Ortego has one of his biggest roles as Dix's rejected suitor. Light in the action department. Kindly John Elliott is Dix's father, a role he became so accustomed to playing he could have done it in his sleep.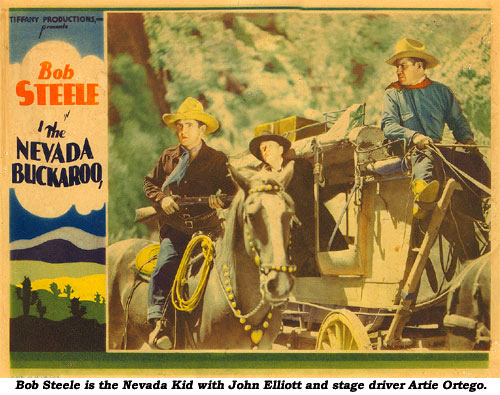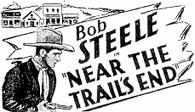 NEAR THE TRAIL'S END ('31 Tiffany) New town marshal Steele crosses paths with town boss and rustler Hooper Atchley over bean-ery girl Marion Shockley. Slight. Again, Bob sings.

SOUTH OF SANTA FE ('32 Tiffany) Steele helps a girl get back the map to a gold mine after her father (John Elliott) is killed for the map by bandits. Lots of milling around, but not much of a movie. As Lanky, this is longtime character actor Eddie Dunn's only sidekick role. Oddly, Steele's character name is "Tom Keene".

LAW OF THE WEST ('32 SonoArt-World Wide) Moving over to SonoArt-World Wide, Steele's westerns took a big leap forward. Seeking vengeance on the lawman (Hank Bell) who branded him, rustler Ed Brady steals the baby (Steele) of the lawman and his wife. Seventeen years later—Brady has raised Steele as his own kid, but Bob rebels against his brutal upbringing by Brady who has whipped him mercilessly over the years. Meanwhile, Charles West, another rustler who was caught by Bell years ago, has now gone legit over the 17 year period and has a daughter, Harley Wood, who is in love with Steele. The two plan to escape the tyranny of Brady and marry. However, spiteful Brady in an evil, vengeful twist, plots to turn lawman Bell and his son against one another in a gundown. A good story with a real edge, written and directed by Bob's real life father, Robert N. Bradbury.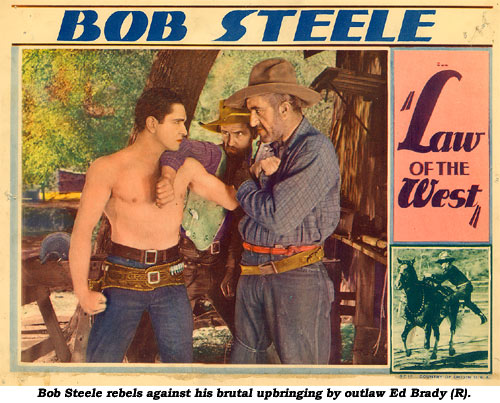 RIDERS OF THE DESERT ('32 SonoArt-World Wide) Even though the Arizona Rangers have officially disbanded, Bob and his boys gather to ride one more time to avenge the murder of a former member. A pre-sidekick George Hayes makes an excellent heavy. Interesting to watch Al St. John in one of his very first sidekick roles beginning to develop what would become his "Fuzzy" character. Involving story, good action and stunts make this one of Steele's more enter-taining independents. Leading lady Gertrude Messinger was once married to ace stuntman Davy Sharpe.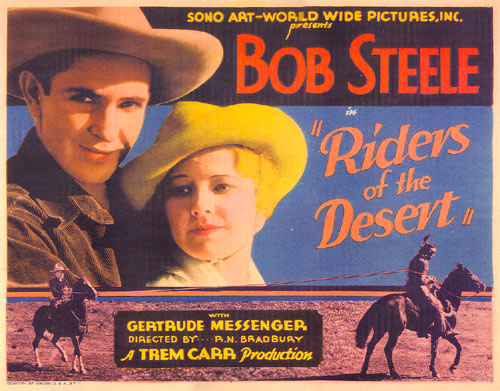 THE MAN FROM HELL'S EDGES ('32 SonoArt-World Wide) At the beginning we're led to believe Bob is a convict at Walla Walla as he stages a successful prison break. Soon we learn he and his pals, George Hayes and Pee Wee Holmes, are undercover agents who have staged the break in order to gain the confidence of three other cons who will soon be released after 10 years. They—and an unknown boss who was not captured and who Bob seeks to uncover—stole and buried $100,000 following a train robbery. Some marvelous stunts including a 90 foot on-horseback plunge from a cliff into Lake Elsinore. And yes—Bob loses yet another father. Midway there's a funny, gay cowboy joke and a Boo Boo: A wanted poster offers a reward for Flash Martin but Bob's character name is Flash Manning. The fact Steele starts out in Walla Walla may be an inside joke as that's where director Bradbury was born—the town, not the prison.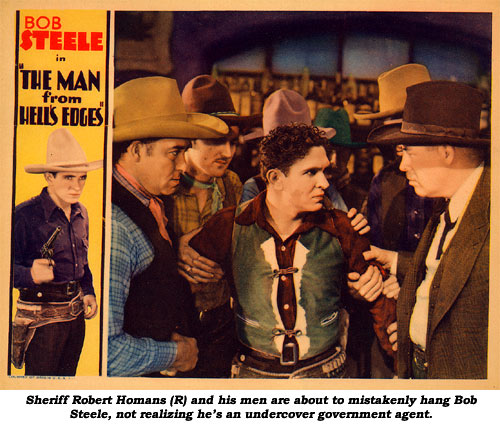 SON OF OKLAHOMA ('32 SonoArt-World Wide) Off beat, unusual Steele in which coincidence is accelerated to a prominent degree. While Robert Homans sleeps in his wagon in the desert, despicable Earl Dwire threatens Homan's wife (Josie Sedgwick) that he will kill Homans if she does not leave with him. She does so reluctantly, leaving a note for her sleeping husband. Her baby son falls out of the back of Dwire's wagon and is lost. Meanwhile, Dwire returns and kills Homans. The baby is found unharmed in the desert by Julian Rivero who rears the child to adulthood as Bob Steele. Years have passed and now Sedgwick is the tough owner of a saloon. She has long parted with Dwire, but he reappears trying (here's where coincidence comes in) to rob Rivero and family of their gold mine. Coincidence hastens coincidence, and without revealing all the startling surprises, all's well that ends well.

TEXAS BUDDIES ('32 World Wide) Aviator Steele returns from WWI to find his aunt dead, his girlfriend married and gone and his horse sold to Harry Semels…only his Dad's old pal, George Hayes, remains. Steele and Hayes become prospectors then run afoul of Semels' plans to rob the desert biplane which has replaced the stagecoach. The charming pairing of Steele and Hayes makes this one sparkle—plus the novelty of biplanes and tin lizzies in a new west.

HIDDEN VALLEY ('32 Monogram) Steele with a touch of Indiana Jones in a search for a hidden valley of gold and turquoise protected by an ancient Indian civilization. Steele is convicted for the murder of an archeologist, breaks loose and goes after the real killer. Goodyear Rubber Co. loaned a blimp to Monogram and it was flown by Captain Vern L. Smith over Lone Pine, CA. Outstanding camera work from director Robert N. Bradbury's oft-used cameraman Archie Stout, whose low budget work here compares favorably with his later cinematography on A-films like "Beau Geste" ('38) and "Fort Apache" ('48).

YOUNG BLOOD ('32 Monogram) Steele is a youthful wayward, but genial, bandit heading up a gang of toughs. After robbing a stage carrying Countess Neoma Judge, Bob won't split the highfalutin' French performer's jewels with the gang, planning to return them to her. But then Charlie King, smitten with the Countess, takes them from Bob. Later, battling down Charlie, Bob manages to wrest the jewels back again and return them to the Countess. It's only then Bob realizes he's really in love with pretty Helen Foster and decides to reform, taking a Pony Express rider job. Spiteful Charlie and the gang are then out to even the score with Bob. Some of the themes hinted at in "Young Blood" between Steele and the Countess are quite adult in content for a picture primarily directed at a juvenile B-western audience.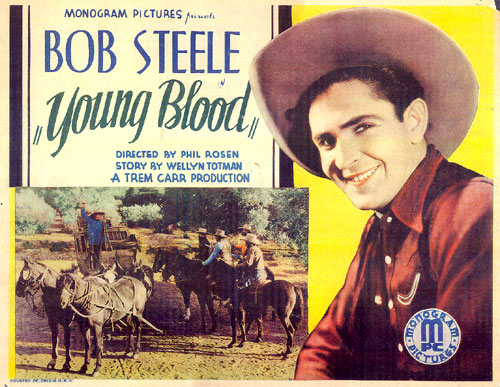 FIGHTING CHAMP ('32 Monogram) Probably the hollerinist B-western you'll ever see! Badguy George Chesebro cranks up the decibel level and the crowds follow! Washed up Navy prizefight champ Kit Guard and loudmouthed manager Chesebro come west looking for opportunities. They're set to take on rancher Frank Ball's blustery foreman Charlie King (looking odd with no mustache) until cowboy Bob decks Charlie with one punch in an argument. Ball hires battling Bob to take on Guard so as not to lose all the dough that's been wagered. Angered, King pulls some underhanded deeds to guarantee Guard will win.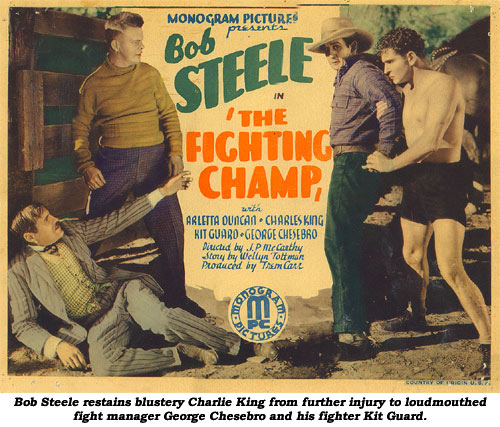 BREED OF THE BORDER ('33 Monogram) Cowboy Bob drives a race car (including the final chase) and fences admirably with Fred Cavens; otherwise it's routine as he and pal George Hayes join forces with a female secret service agent to track down Mexican border smuggler Ernie Adams.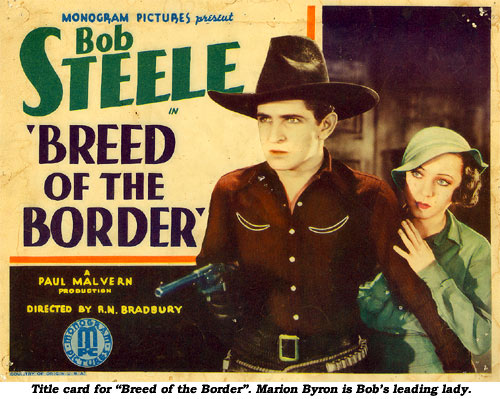 ZERO GALLANT FOOL ('33 Monogram) A noble but failed experiment by Steele and his director father, Robert N. Bradbury. Bob, a circus trick rider and aerialist, plaintively sings "The Girl That I Love" as we learn his clown Dad (George Hayes) was framed years earlier by John Elliott—they both loved the same woman, Bob's long lost mother. Drudgingly slow and padded for lack of story for over 20 minutes midway by various circus acts.

GALLOPING ROMEO ('33 Monogram) Evil Ernie Adams and Ed Brady are forcing Brady's daughter, smallish Doris Hill, to hide in a trunk on the stagecoach and snatch the money from the express box when no one is looking enroute to the coaches' destination. Steele and pal George Hayes sign up as stage drivers to catch the thieves. Remade as "Phantom Stage" with Bob Baker in '39. The common thread here is Ernie Adams, who is in both versions, and Paul Malvern who was involved in production on both titles. Malvern or Adams obviously saved their script as many of the scenes and much of the dialogue is exactly the same. A third version came along in '50 with Tex Williams, "Fargo Phantom".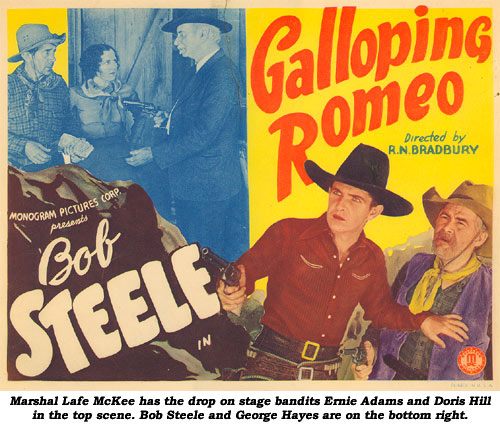 RANGER'S CODE ('33 Monogram) Not available for review.

TRAILING NORTH ('33 Monogram) Boredom sets in quick with all the snow and ice cold dialogue. Steele's on the frozen, snowbound, dogsled trail of the man who killed his Ranger surrogate father. Vowing to bring the killer and a girl singer (Doris Hill) back to justice, Bob is faced with the dilemma of having fallen in love with Hill whom he believes to be an accomplice of the killer. Once again, way before Autry, Steele becomes a "singing cowboy".

A DEMON FOR TROUBLE ('34 Supreme) Walter McGrail buys a ranch from Gloria Shea and her brother Nick Stuart, then kills Stuart to regain the money, blaming it on Texas drifter Steele. Terrific fight and stunt sequence midway. Great use of Lone Pine locations, including the Hoppy cabin.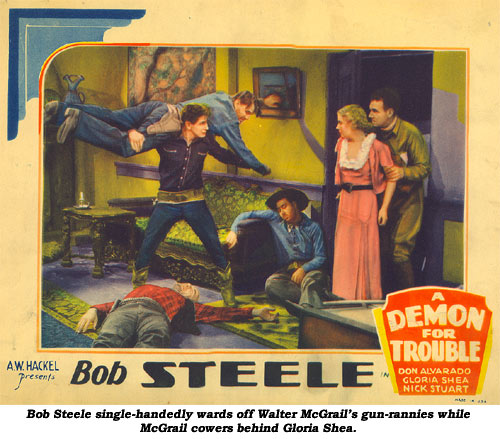 BRAND OF HATE ('35 Supreme) Bob's in love with Lucile Browne, daughter of homesteader William Farnum. Both Farnum and Steele's father approve of what appears to be a hot romance. All that changes when Farnum's long-lost worthless half brother (George Hayes) shows up and moves into Farnum's house with his two no-count sons, threatening to expose the fact Farnum was once in jail if Farnum doesn't let them hide out there. To keep Bob from harm, both Lucile and her father pretend to rebuff Bob. The situation escalates when Bob's father is shot by the rustler family, Bob's dog is shot and wounded, Lucile's little brother is abused, and Hayes' two sons begin to look at Lucile with lust in their eyes. Steele goes on a rampage of revenge! Supreme quite often offered adult themes in their B-westerns, elevating them just a bit beyond the juvenile Saturday afternoon market.

ALIAS JOHN LAW ('35 Supreme) Steele and deaf pal Buck Connors doctor a U. S. Marshal, then take his place in tracking down ambushers who ride for notorious mail robber Earl Dwire who is out to grab Bob's lately deceased mother's oil rich ranch by representing himself to be Steele. Exciting finish on the swinging footbridge above the Kernville River. Recently interviewed, Roberta Gale finds her westerns "embarrassing" and terms Bob Steele "a little shrimp who couldn't act but could ride horses well, at least." Remade in '50 with Jimmy Ellison and Russell Hayden as "West of the Brazos".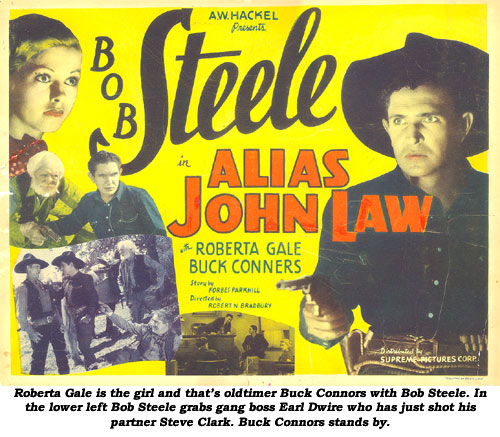 BIG CALIBRE ('35 Supreme) If you appreciate offbeat westerns with a weird bent that still have plenty of action, "Big Calibre" is for you. Written by star Steele's real-life buddy, Perry Murdock, a lanky, curly-haired actor/singer/set decorator/screenwriter, Murdock also appears, uncredited (?) in the dual-role (more or less) of mad chemist Zenz and ugly-as-sin assayer/killer Gadski. A recurring theme in Steele's pictures directed by his father, Robert North Bradbury—as is this one—is Bob's search for his father's killer, Zenz, who used corrosive gas to kill Bob's Dad and rob him of cattle money. Eventually, Steele chases Zenz across the desert for a thrilling finale in which his car and Steele hang precariously over the edge of a cliff as Zenz prepares once again to use his acidic gas capsules.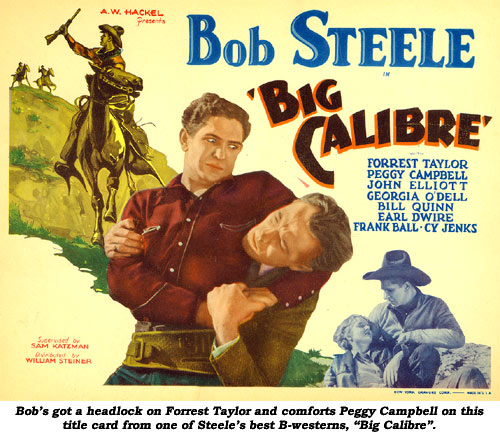 KID COURAGEOUS ('35 Supreme) A lot of who's in whose clothes switcheroos before Steele clears up the mysterious disappearance of one of his father's mine em- ployees and a highgrading plot, which then shifts and we get about 5 min. of time wasting Spanish dancers and strange slapstick when Bob, in long underwear up over his head, is chased by a posse and encounters a black maid with the expected results. Very bad performances (some of them sounding like they're read off a cue card).

NO MAN'S RANGE ('35 Supreme) Bob arrives in the borderlands at the request of his stepfather to take over half of the ranch left to him by his late mother. To his surprise he discovers Earl Dwire masquerading as Steele's stepdad, while holding the rancher prisoner in his basement until he reveals where he's hidden $35,000. Pretty intricate plot with lots of double dealing and plenty of battle acrobatics you expect in a Steele western.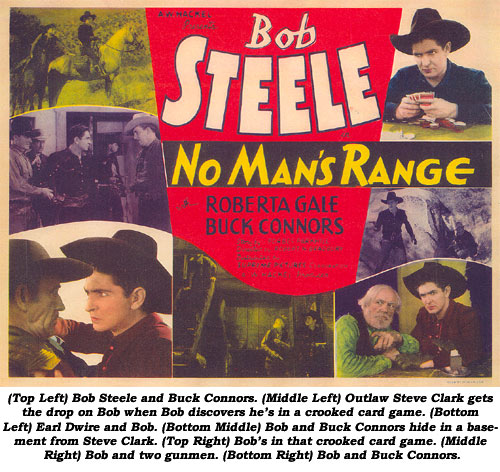 RIDER OF THE LAW ('35 Supreme) State detective Steele arrives in the beleaguered-by-bank-bandits town of Apache disguised as a dude. After he's appointed one of the tough town's two new lawmen, along with comic relief Si Jenks in one of his best roles, he proceeds to round up the embezzling gang. Remade as "Marshal of Heldorado" with Jimmy Ellison and Russell Hayden.

SMOKEY SMITH ('35 Supreme) Steele's parents are attacked and viciously killed by bandits who even shoot off the finger of Bob's father to steal a ring. Bob goes on the revenge trail, eventually getting in with a gang led by George Hayes who only robs so he can send stepdaughter Mary Kornman off to school. Bob finally discovers it was gang member Warner Richmond who killed his parents, but not before Richmond commits another horrendous act of violence by throwing lye in Hayes' face. Remade in 1950 with Jimmy Ellison as "Crooked River".

TOMBSTONE TERROR ('35 Supreme) Ostracized from home for several years, Bob has assumed the blame for a theft committed by his no-good twin brother (Steele in a dual role). Tensions run high when Bob returns to see his bedridden father who believes Bob guilty and his brother tied-in with sleazy saloon owner Earl Dwire in a rustling set-up.

TRAIL OF TERROR ('35 Su-preme) Trying to collect evidence to convict an outlaw gang, Steele pretends to be an escaped con-vict which eventually trips him up when he romances Beth Marion, the sheriff's daughter. And wait til you meet Beth's brother, Frank Lyman Jr. …now there's a gay buckaroo! Story borrows elements from "Randy Rides Alone" and other John Wayne Lone Stars.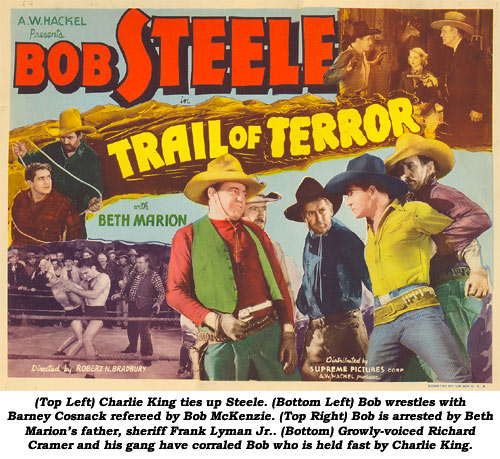 WESTERN JUSTICE ('35 Supreme) Bob's director father, Robert Bradbury, had a penchant for imbuing his westerns with touches of the bizarre. In addition to a cave with a secret tunnel, the film has villain Arthur Loft being skinned alive (off screen) for the murder (and implied rape) of Julian Rivero's daughter. Possibly Bradbury borrowed the idea from Universal's "Black Cat" with Karloff and Lugosi a year prior. After Rivero finds his daughter robbed and left for dead by the evil Loft, he sets off on the vengeance trail. Meanwhile, Loft has robbed a store in another town and killed the owner. Through a set of circumstances, the local sheriff believes Steele guilty and sets out after him. Actually, Steele is trailing Loft. Coincidentally, the three men meet in an eerie deserted cabin, unaware of their mutual involvement with Loft, and form a friendship. Besides Loft's comeuppance, the offbeat finale has Steele blowing up the bad guys in an ambush, releasing a torrent of water from the underground river. "The town wanted water, they're gonna get it," Steele unmercifully exclaims as he blows up the dam. Also noteworthy, Bob plaintively sings "Desert Breeze". Steele had sung before in his films and would again.

KID RANGER ('36 Supreme) A great showcase for William Farnum as a dedicated Sheriff forced to kill his old friend Frank Ball after Ball and accomplice Earl Dwire pull a robbery in order to make a decent life for Ball's three year old daughter. Remorseful at what he's done, Farnum resigns, vows never to carry a gun again, and adopts the young girl. Years later, the girl has grown into a gorgeous woman engaged to Ranger Steele who knows nothing of these past events. Re-enter ruthless Earl Dwire who threatens to expose Farnum's secret if Farnum doesn't help his gang rob the stage. Watch for Steele's real life father, director/screenwriter Robert North Bradbury, early in the film as the head of the citizen's committee to whom Farnum resigns his badge.