SMITH BALLEW
Ratings: Zero to 4 Stars.

WESTERN GOLD ('37 20TH Century Fox)
Producer Sol Lesser had been active in the western field since 1933, primarily in series entries starring George O'Brien and Richard Arlen for release through 20th Century Fox. But now, Lesser was unable to negotiate a loan-out from Columbia for Arlen to complete his contract of six westerns for Lesser. ("Secret Valley" had already been made.) Big band singer Smith Ballew was signed by Lesser to replace Arlen, making five pictures altogether—this was the first, and is a disappointment considering the behind-the-scenes talent familiar with westerns that was involved—director Howard Bretherton, assistant director George Sherman and writer Earle Snell. As it is, the film is quite tame, without hero Ballew even getting in the "final shot". During the Civil War, President Lincoln (Frank McGlynn Sr.) personally assigns Cavalry officer Smith Ballew to root out the gold thieves preventing western gold from reaching the east and the National Gold Reserve. Most of the gold is being looted from Wells Fargo stages run by Howard Hickman and his daughter Heather Angel, whom Ballew, naturally, falls for. Some completely unnecessary "comedy" is injected by Victor Potel and Lew Kelly. A barbershop sequence grinds the film to a screeching halt midway. Texan Smith Ballew had his own big band in college, and later in Chicago. He also sang and recorded at various times with Joe Venuti, Red Nichols, The Dorseys, Benny Goodman and Glenn Miller. Smith sings several songs here, in particular "Tenting Tonight On the Old Campground" and a great rendition of "Camptown Races". However, his screen presence was rather bland and uninspiring and, after completing the aborted Arlen series, he was never a lead again, although he did appear in a few other westerns over the years with Gene Autry, Johnny Mack Brown and Jimmy Ellison.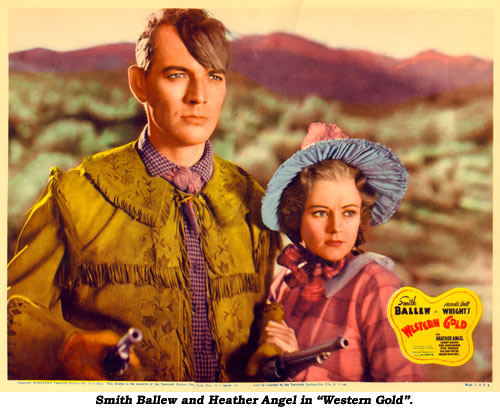 ZERO ROLL ALONG, COWBOY ('37 20TH Century Fox)
Director Gus Meins seems to go out of his way to make this an actionless western as former big band singer Smith Ballew and saddle pal Stanley Fields (a New Yawker out of his league as a sidekick) save the ranch for Ruth Robinson and daughter Cecilia Parker from nefarious rancher Gordon (Bill) Elliott (with a sleazy black mustache). Gives story credit to Zane Grey's "Dude Ranger", an earlier Fox film with George O'Brien, but actually has nothing to do with that story (which wasn't published as a novel til 1951). Obviously, this lackluster film is the reason Meins' only other western was the also deficient "The Californian".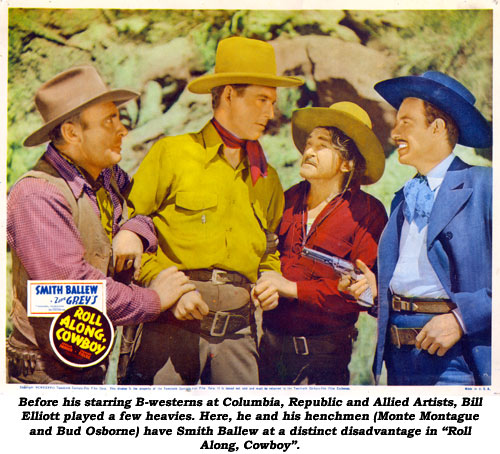 HAWAIIAN BUCKAROO ('38 20TH Century Fox)
Stranded in Hawaii after no-good Harry Woods gyps them on a land deal, Arizona cowboys Smith Ballew and Benny Burt go to work punching cows for Hawaiian cattle rancher Evalyn Knapp who it just so happens is also having trouble with Woods who is doing all he can to delay Knapp's cattle shipment to the States. If she's late she'll lose her contract to Woods. Pat O'Brien (the other one) is Knapp's foreman. Leisurely paced Sol Lesser Principal Production released by Fox, directed by Ray Taylor. Ballew sings three songs.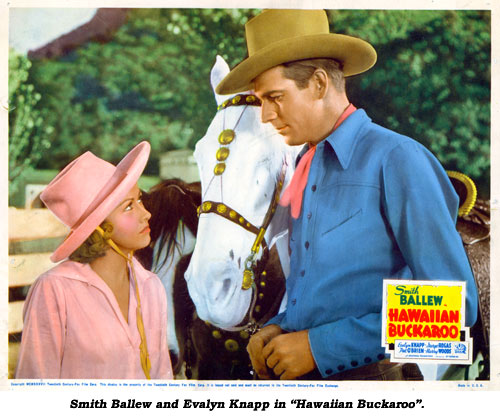 RAWHIDE ('38 20TH Century Fox)
Producer Sol Lesser had initially signed Yankee baseball great Lou Gehrig to play Tarzan but when he saw Gehrig in a leopard skin, Lesser deemed the iron man of baseball's legs unbefitting that of Tarzan. Lesser hired Glenn Morris to be his Tarzan ("Tarzan's Revenge" '38) and co-starred Gehrig with Smith Ballew. For the picture, Gehrig decides to retire from baseball and settle down on a western ranch with his sister Evalyn Knapp. Arriving in Rawhide, Gehrig finds local ranchers being strong-armed by Arthur Loft and his bullies (Dick Curtis, Cecil Kellogg and crooked sheriff Cy Kendall) to join their Ranchers' Protective Association. Idealistic lawyer Smith Ballew, foreman Si Jenks and Gehrig eventually apprehend the wrongdoers. Singer Ballew warbles a couple of tunes, of which "Drifting" is a standout. When Gehrig joins Ballew on a tune he is obviously dubbed by someone as his New Yawk accent is completely gone when vocalizing. Meanwhile, Ray Whitley's Six Bar Cowboys sing "That Old Washboard Band" at a party. Would that all of Ballew's westerns been this good, he might have endured beyond five starrers in the '38-'39 season. Surprisingly, Gehrig also acquits himself quite naturally and it's a loss we didn't see more of him on film.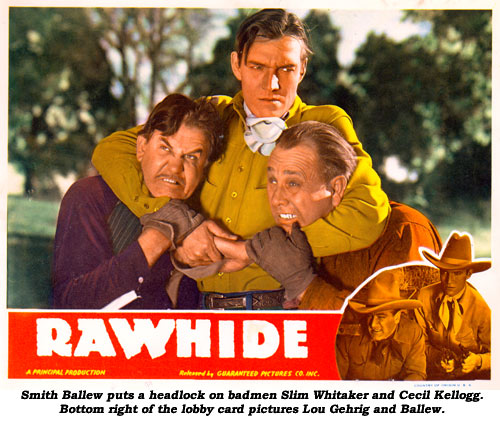 PANAMINT'S BAD MAN ('38 20TH Century Fox)
Marshal Smith Ballew masquerades as outlaw Blackjack Deevers to deal himself in on the dirty doings of Noah Beery Sr. and Harry Woods in silver rich Panamint. He's doing fine until the real Deevers (Stanley Fields) turns up. Fields' "comedy" may be a bit much for some western purists. Altho he was in a-plenty of westerns in the '30s, including the Academy Award winning "Cimarron", "Destry Rides Again" and Buck Jones' "Rocky Rhodes" among others, he seems more at home in "Little Caesar" or "Hell's Kitchen". He died of a heart attack in '41.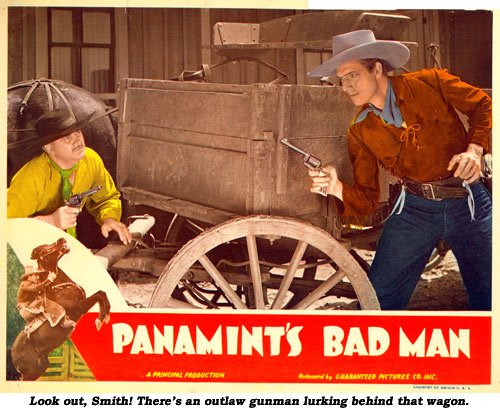 Fox just didn't put their full efforts into making B-westerns as did other major studios like Columbia, RKO, Paramount and Universal. Ballew's screen presence was rather bland and uninspiring and, afrter completing the aborted Arlen series, he was never a lead again, although he did appear in a few other westerns over the years with Gene Autry ("Gaucho Serenade", '40 Republic); Johnny Mack Brown ("Drifting Along", "Under Arizona Skies", both '46 Monogram); Robert Kellard ("Tex Granger" serial, '48 Columbia); Jimmy Ellison ("I Killed Geronimo", '50 Eagle Lion). His one chance at stardom again was the uncompleted/never released filmed-in-Oklahoma "Osage" in '50, a Bob Gilbert production directed by Oliver Drake.