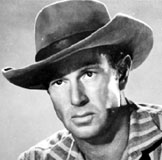 STERLING HAYDEN
Ratings: Zero to 4 Stars.
Tall and leathery, the rugged take-no-prisoners attitude of Sterling Hayden made for a dozen B-plus westerns in the '50s. Probably more recognized in Hollywood for his excellent work in "The Killing", "Suddenly", "Asphalt Jungle" and "Dr. Strangelove", he often stated he made westerns to earn money to sail his boat in the South Seas. Nevertheless, his consummate acting skills gave us at least one classic western and several other memorable and impressive ones that shouldn't be forgotten.

FLAMING FEATHER ('51 Paramount) Rustling and raiding, mysterious outlaw The Sidewinder, terrorizes Arizona and eludes capture until small rancher Sterling Hayden, burned out by The Sidewinder, Victor Jory, takes up the task of ferreting out the outlaw chief. He's aided by Cavalry officer Forrest Tucker and Sergeant Edgar Buchanan as well as saloon singer Arleen Whelan trying to exact revenge on The Sidewinder for old wrongs done to her. Showing the evil promise he delivered in "High Noon", Ian MacDonald is cold and calculating as a gunslinger set up by Jory to kill Hayden and take the fall as The Sidewinder. Spectacular in Technicolor mountaintop all-out action windup filmed at Montezuma Castle National Monument (cliff dwellings) near Sedona, AZ.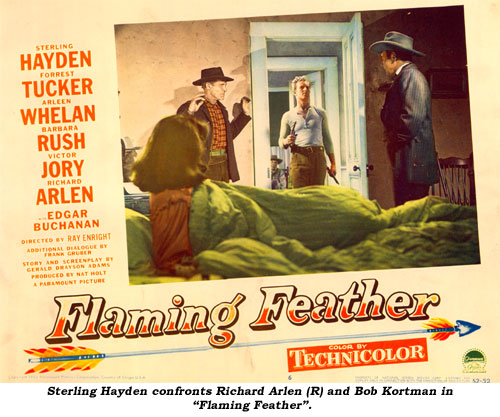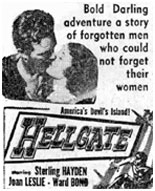 HELLGATE ('52 Lippert) Stern, brutal adult western, definitely in the foreground of the changing western landscape away from Hoppy, Gene and Roy. Hayden is a veterinarian wrongly accused of being part of southern guerrilla marauders in the wake of the Civil War. Sent to New Mexico's devilish Hellgate prison, Hayden clashes with stern warden Ward Bond who holds a grudge against guerrillas because his family was wiped out by them. Bond and sadistic guard Bob Wilke put Hayden through numerous cruelties to force him and fellow prisoners to escape so they can kill them.

KANSAS PACIFIC ('53 Allied Artists) Some Southern groups led by Reed Hadley take violent steps to see that the Kansas Pacific railroad does not reach completion but engineer Sterling Hayden sees it through. Cinecolor.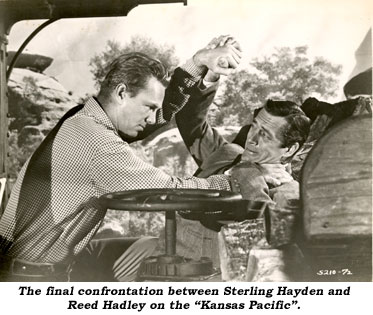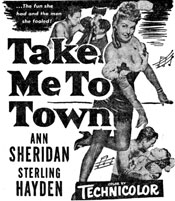 TAKE ME TO TOWN ('53 Universal) A hybrid outdoor adventure/musical comedy/soap opera as widowed logger/preacher Hayden and his three kids (including "Rin Tin Tin"'s Lee Aaker) take in saloon singer Ann Sheridan who is on the run from the feds on trumped-up charges. Not worth seeking out.

ARROW IN THE DUST ('54 Allied Artists) Hard bitten Army deserter Hayden is compelled by conscience to masquerade as a dead Cavalry Major and assume leadership over young Lt. Keith Larsen to lead a wagon train through deadly Indian territory. Naturally, there's also romance on the trail as Hayden falls for beautiful Coleen Gray. Jimmy Wakely not only sings "Weary Stranger" but has a minor role as a trooper. Technicolor.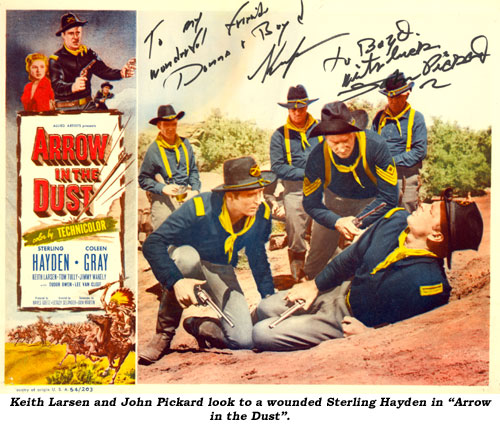 JOHNNY GUITAR ('54 Republic) An often absurd western transformed by Phillip Yordan's melodramatic yet trance-like Freudian-fantasy dialogue into a near masterpiece. There's great suspense, plentiful action, powerful performances and a measure of genuine artistry from all concerned guided by director Nicholas Ray even though the story is quite implausible and often fraught with overblown symbolism and B-clichés. Joan Crawford is a tough dance hall lady, usually dressed in the traditional black garb of the bad guy, whose newly opened saloon draws in a host of flamboyant characters including Sterling Hayden, a hardboiled drifter who is weary of battle and longs to settle down. As Crawford's saloon prospers on land wanted by the railroad, neighboring citizens become openly antagonistic, including Mercedes McCambridge as a neurotic cattle queen bitch who feels Crawford's outlaw lover, Scott Brady, is responsible for her brother's death. McCambridge and Ward Bond stir up the townspeople against Crawford, eventually burning down her saloon. As Crawford's ex-lover, Hayden does his best to protect her, but it finally boils down to a strange gun duel between Crawford and McCambridge. Love it or leave it but its mesmerizing to watch and has become a cult film. Crawford reportedly hated McCambridge's over-the-top histrionics—which I must say matched her own. Director Ray prudently shot as many of McCambridge's scenes early in the morning as he could but when Crawford learned of this "special treatment" she raced into McCambridge's dressing room and slashed all her costumes to pieces. The real life tension between the two women only fuels the on screen dynamics. Trucolor.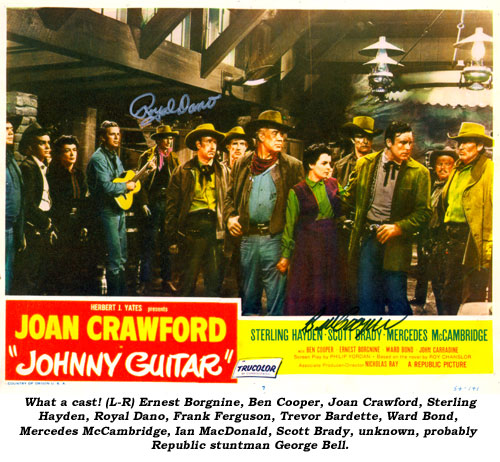 TIMBERJACK ('55 Republic) Lumberman Sterling Hayden seeks revenge against David Brian who killed his father and aligns himself with Vera Ralston who tries to talk Hayden out of his vengeance…at least until Brian kills Ralston's own father (Adolphe Menjou). An excellent supporting cast and Trucolor northwoods photography can't save this trite effort. Republic stockholders tried to sue company president Herbert J. Yates because of the outrageous salary Yates had to lay out in order to persuade Hayden to co-star with Ralston.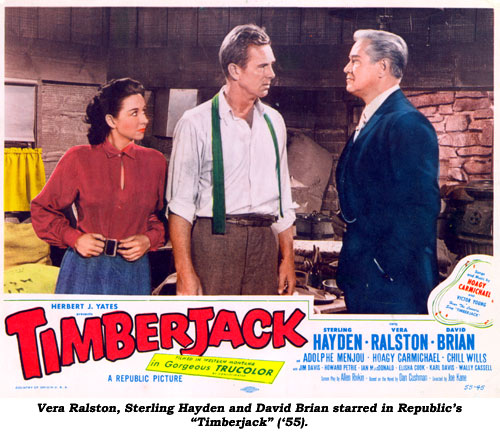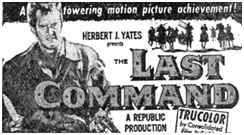 LAST COMMAND ('55 Republic) Knife-wielding Jim Bowie (Sterling Hayden) joins the heroic defenders of the Alamo. Filmed on Texas locations in Trucolor, this covers the same ground as John Wayne's "The Alamo" ('60) but on more of a B-level. Nevertheless director Frank Lloyd injects a taut, lusty spirit and elicits superior performances from J. Carroll Naish (as Santa Ana), Arthur Hunnicutt (as Davy Crockett), Richard Carlson (as William Travis), Ernest Borgnine, John Russell, Jim Davis, Ben Cooper and Eduard Franz.

TOP GUN ('55 United Artists) Gunman Sterling Hayden returns to his former home town to warn them John Dehner's vicious raiders are coming to loot the town. The town council wants nothing to do with the gunman and imprisons him on false charges. Watch for a very young Rod Taylor who is anxious to make a name for himself by gunning Hayden. Certainly inspired by the success of "High Noon" this is the best version of Steve Fisher's story which was remade twice—in '60 as "Noose for a Gunman" with Jim Davis and in '64 as "Quick Gun" with Audie Murphy.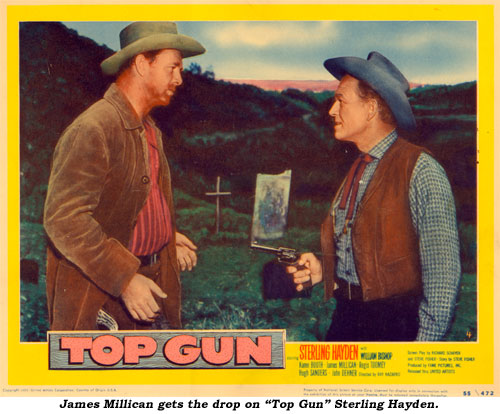 SHOTGUN ('55 Allied Artists) Rory Calhoun wrote the screenplay for "Shotgun", planning to star in it himself. However, it ended up top-lining Hayden as a deputy with a shotgun on the vengeance trail of killer Guy Prescott who blew Hayden's marshal friend in half with his shotgun. Hayden is joined on the trail by bounty hunter Zachary Scott, also after the outlaws, and Yvonne De Carlo, a dance hall girl he saves from Prescott's partner, Bob Wilke, all being chased by a band of marauding Apaches. Ends with an exciting shotgun duel between Hayden and Prescott.

IRON SHERIFF ('57 United Artists) Suspenseful, extremely well written (by Seelig Lester), overlooked western with lawman Hayden tracking down the clues to clear his son (Darryl Hickman) accused of robbery and murder after it was Hayden himself who gave the evidence that convicted Hickman and sentenced him to hang. Should have received more attention over the years than it has. Well directed by Sidney Salkow.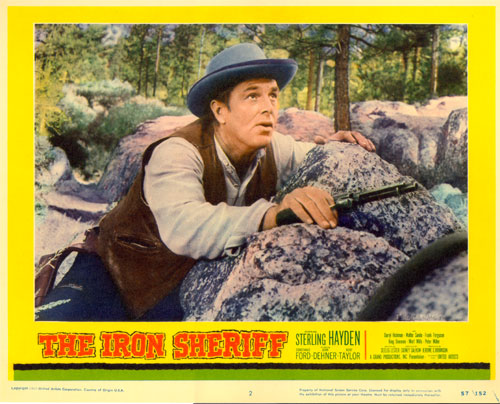 GUN BATTLE AT MONTEREY ('57 Allied Artists) Vile Ted De Corsia double-crosses partner Hayden after a bank robbery, shooting him in the back and leaving him for dead. With the stolen loot De Corsia opens a saloon miles away, hiring Lee Van Cleef as his gunhand and Mary Beth Hughes as a dealer. Hayden is found by Pamela Duncan and nursed back to health with a promise to her he won't seek out and kill De Corsia. Hayden's dilemma is how to avenge himself and still not lose the love of Duncan. His unique version of vengeance brings an unusual conclusion with some unpredictable plot twists.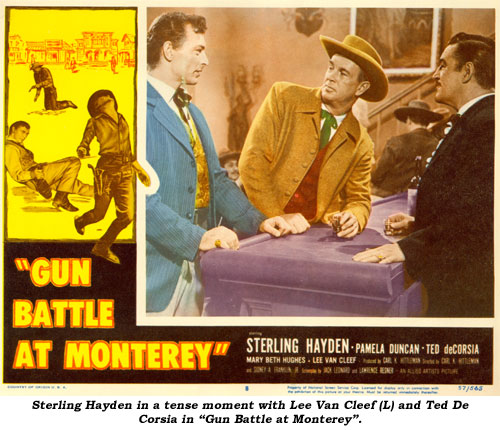 TERROR IN A TEXAS TOWN ('58 United Artists) A somber, mesmerizing, offbeat western which casts Hayden as a Swede who returns home after many years at sea to find his farmer father has been brutally gunned down by gunman Ned Young upon orders from overstuffed, chortling, land-grabber Sebastian Cabot. In the final showdown, Hayden dispatches Young with a harpoon! Beautifully and articulately directed by Joseph H. Lewis.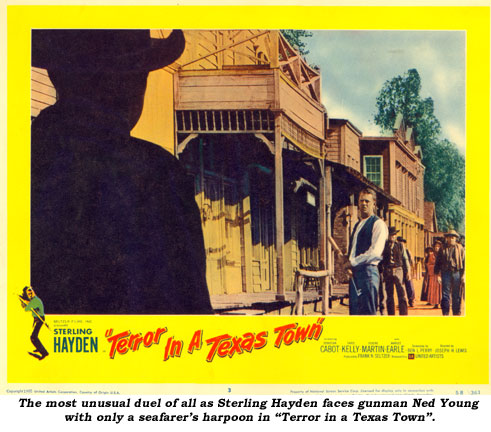 Additionally, there were other westerns in which Hayden turned in good work as a heavy, "Denver and Rio Grande" ('52), "Valerie" ('57) and "El Paso" ('49).