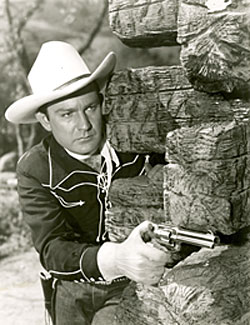 TEX WILLIAMS
Ratings: Zero to 4 Stars.
Having cut his teeth as a musician, often with Spade Cooley's aggregation, in B-Westerns with James Newill and Dave O'Brien, Buster Crabbe, Tex Ritter and Charles Starrett, Western singer/bandleader Tex Williams was given the lead by Universal-International late in the B-Western era for a series of seventeen 25 minute featurettes. Nate Watt directed the first couple then Will Cowan took over and saved even more money on the rest by re-working Johnny Mack Brown, Bob Baker, Rod Cameron and Kirby Grant scripts and incorporating stock footage from their films. Williams' singing and personality carried the films and made a nice addition to the faltering B-Western era.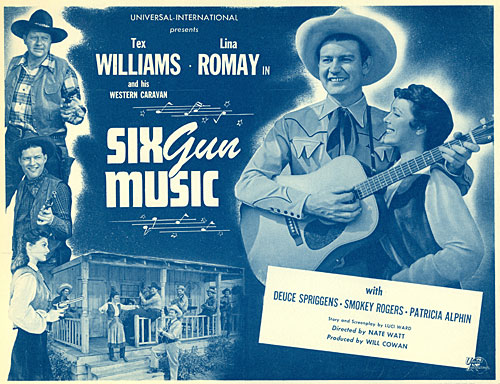 SIX GUN MUSIC ('49 Universal-International) While Tex Williams and singing-cowboy pals Deuce Spriggens and Smokey Rogers are on a cattle drive for two weeks, an Eastern lady veterinarian, Lina Romay, and her friend Patricia Alphin, move onto Tex's Six Bar Ranch (6-) believing it to be the Bar 9 (-9) which is actually a broken-down place they've bought sight unseen. You see, the wind tipped the ranch sign topsy-turvy. Not a remake like most of Williams' vestpocket 25 minute westerns, but an original from Luci Ward who scripted loads of B-westerns for Dick Foran, Three Mesquiteers, Gene Autry, Bill Elliott, Charles Starrett and Randolph Scott. No outstanding music and no action make it the tamest of Williams' 17 short-B's.

CHEYENNE COWBOY ('49 U-I) Cheyenne (Williams) gets a job on the Blue River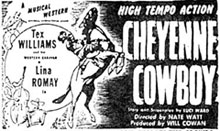 Ranch being managed by Stanley Andrews and daughter Lina Romay. Actually, Tex is owner of the Blue River having inherited the ranch from his father. He's now come west incognito to discover who is rustling cattle on the spread—turns out to be top hand Riley Hill. More music than thrills with four songs by Tex, Smokey Rogers and Deuce Spriggens. I might point out Deuce's last name is spelled Spriggins with an "i" and Spriggens with an "e" at various times. It seems to be "e" with these Tex Williams posters and "i" elsewhere.


WEST OF LARAMIE ('49 Universal-International) Sheriff Williams helps honest homesteaders when crooked Terry Frost tries to stir up a range war to grab off all the land for himself, all in 25 min-utes. Nate Watt directed the first two Williams vestpocket musical Westerns, now producer Will Cowan has taken over to save money on all the rest.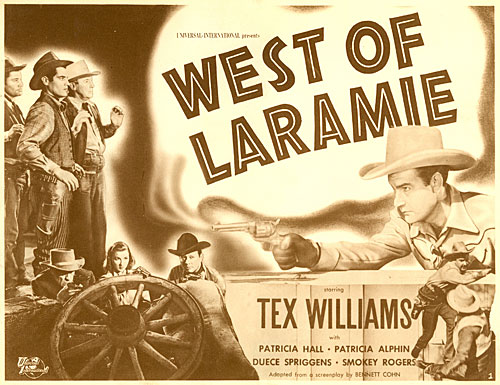 SILVER BUTTE ('49 Universal-International) The White Mask leads an outlaw

gang plaguing Barbara Payton and her silver mine co-owner Joe Grandy by highjacking their bullion shipments. Tex and pal Smokey Rogers, along with Payton's mine accountant Deuce Spriggens, take a hand and decoy the gang into a trap. Surprise, surprise—mine foreman Lane Bradford turns out to be the White Mask. 25 minute reworking of Johnny Mack Brown's "Masked Rider" ('41) with Williams and Rogers dressed to match quite obvious stock footage of Brown and Fuzzy Knight. This was luscious Barbara Payton's first screen work. Her career was meteoric and brief. James Cagney selected her to co-star with him in "Kiss Tomorrow Goodbye" ('50 WB) but by '51 she was embroiled in a headline grabbing lover's tryst with Tom Neal and Franchot Tone from which her career and private life never recovered.



NEVADA TRAIL ('49 Universal-International) Ace Western in compact 25 min. form. A remake of "Riders of the Santa Fe" ('44) with Tex, Smokey Rogers, Donna Martell, Norman Jolley, Marshall Reed and Eddie Parker replacing Rod Cameron, Fuzzy Knight, Jennifer Holt, Eddie Dew, George Douglas and Lane Chandler. Four songs. Although Donna Martell could sing, she tells me her voice was dubbed in these short westerns she did with Tex.



PECOS PISTOL ('49 Universal-International) When Williams' brother is killed, Tex resigns from the Texas Rangers and turns outlaw to find the murderer. The gang is led by Terry Frost and hench-man George Lloyd. One of Tex's best with very little stock footage. Barbara Payton certainly dresses up the scenery.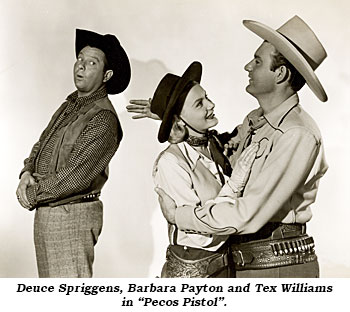 COYOTE CANYON ('49 Universal-International) Tex and pal Smokey Rogers try to clear their names when Tex is mistaken for outlaw Judd Holdren. Severely truncated remake of Bob Baker's "Border Wolves" ('38) written by Norton S. Parker…rescripted by Joseph O'Donnell. Incorporates much Baker stock footage. Donna Martell is the girl. Some nice music including "Waltz of the West" and "High Tailin' Along to Glory".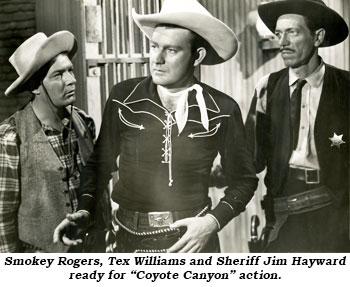 GIRL FROM GUNSIGHT (49 Universal-International) N/A


SOUTH OF SANTA FE ('49 Universal-International) Hang on—the action comes lightning fast as "South of Santa Fe" incorporates and boils down the elaborate plot of Bob Baker's "Courage of the West" into 30 minutes. Adopted by Free Ranger Captain William Tannen, Tex grows to manhood never knowing he was outlaw Kenneth MacDonald's son. 16 years later MacDonald returns as part of Ethan Laidlaw's rustler bunch, setting up a confrontation between Tannen and MacDonald. Smokey Rogers gets to sing the opening tune by himself while Tex and Donna Martell duet on a campfire ditty.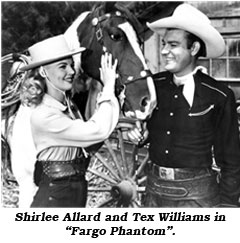 FARGO PHANTOM ('50 Universal-International) "Fargo Phantom" is a remake of Bob Baker's "Phantom Stage" ('39). Tex and pals, Smokey Rogers and Deuce Spriggens save Shirlee Allard's stageline from bankruptcy when crooked Forrest Taylor robs the gold shipments by placing a small man inside a specially designed trunk on top of the stage, stealing the gold while the stage is enroute. When the stage arrives, Taylor and his men remove the trunk—and the gold. Couple of good tunes from Tex and the boys.


GOLD STRIKE ('50 Universal-International) Williams 30min. remake of Bob Baker's "Ghost Town Riders" with liberal uses of stock footage from that '38 Universal oater. The main thing new in these 30 minute featurettes was the songs from Tex and pals Deuce Spriggins and Smokey Rogers.
RUSTLER'S RANSOM ('50 Universal-International) N/A.
THUNDERING RAILS ('50 Universal-International) N/A.
CACTUS CARAVAN ('50 Universal-International) N/A.
READY TO RIDE ('50 Universal-International) N/A.



PRAIRIE PIRATES ('50 Universal-International) Banker Steve Darrell and gunman William Haade plot to disrupt Patricia Hall's freight line business so they can grab off a lucrative telegraph hauling contract. Tex and his pals foil their plans. Remake of Johnny Mack Brown's "Arizona Cyclone" ('41).


WESTERN COURAGE ('50 Universal-International) Ex-Marshal Tex comes to town with pals Smokey Rogers and Deuce Spriggens, rounds up a gang of rustlers (Lane Bradford, Judd Holdren, Kenne Duncan), sings three songs and wins the heart of Donna Martell—all in a swift 25 minute remake of Kirby Grant's "Rustler's Roundup" ('46).
To further maximize profits on his 17 shorts, producer/director Will Cowan strung eight of these Williams streamliners together to make four "features" (two shorts apiece) called "Tales of the West".
TALES OF THE WEST (#1) (July '50) "South of Santa Fe"/"Cactus Caravan".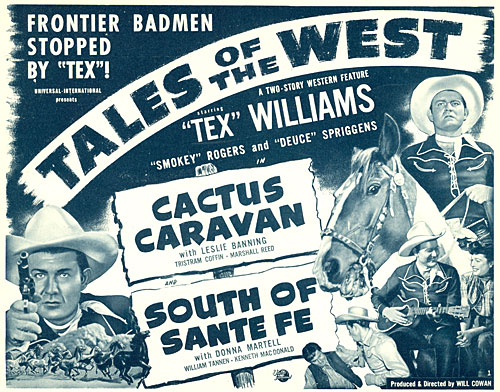 TALES OF THE WEST (#2) (August '50) "Coyote Canyon"/"Fargo Phantom".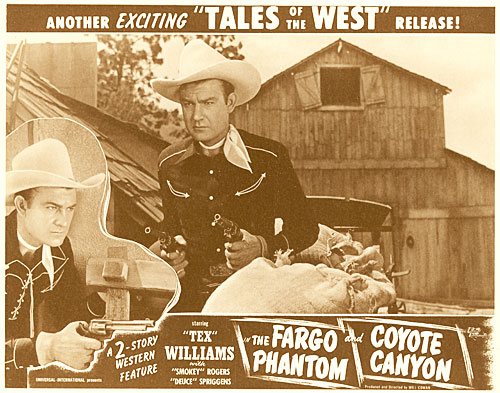 TALES OF THE WEST (#3) (October '50) "Rustler's Ransom"/"Gold Strike".
TALES OF THE WEST (#4) (January '51) "Western Courage"/"Ready to Ride".