JIMMY WAKELY
Ratings: Zero to 4 Stars.

SONG OF THE RANGE ('44 Monogram) Prolific screenwriter Betty Burbridge dusted off her old 3 Mes-quiteers "Pals of the Saddle" story for Jimmy Wakely's first starring western, subbing Wakely, Dennis Moore and Lee "Lasses" White for John Wayne, Crash Corrigan and Max Terhune. The main difference is, this one has nine songs! Denny is accused of murder but is rescued by Jimmy and Lasses who wind up on the trail of bullion smugglers. An excellent mixture of song and action in Wakely's first, although Moore really seems to take the lead. Apparently, Moore felt usurped by "singing cowboy" Wakely after he'd worked for years to get his own series. Moore and Wakely only made one more before the "saddle pals" had a row one dark night and Moore was replaced by John James.

SPRINGTIME IN TEXAS ('45 Monogram) Saddle pals Wakely, Moore and White run afoul of saloon keeper Rex Lease, crooked sheriff I. Stanford Jolley and their gunslicks when the boys aid newspaper lady Marie Harmon to oppose a crooked mayoral election. Nine songs again.

SADDLE SERENADE ('45 Monogram) When a staged holdup for the benefit of Nancy Brinkman's dude ranch customers turns into the murder of an undercover Marshal, Wakely and his Saddle Pals (White and John James—replacing Dennis Moore) hit the trail to trap a gang of diamond smugglers operating a secret hideout in a dude ranch icehouse. Nine songs including western favorite "Cool Water" by Jimmy and Foy Willing's Riders of the Purple Sage.

RIDERS OF THE DAWN ('45 Monogram) The music is what shines in this otherwise mediocre Jimmy Wakely opus which is a rewrite of the Rough Riders' "Gunman from Bodie" Nine songs including Spade Cooley's "Shame on You" and Wakely's "I'll Never Let You Go Little Darlin'". Thin plot on which to hang all this music involves Jimmy, Lasses and James trying to protect a baby from a murderous doctor who has discovered oil on the property owned by the baby's parents.

LONESOME TRAIL ('45 Monogram) Through odd circumstances Jimmy and his saddle pals become partners with four con men in a ghost town which soon becomes a prosperous boom town via a phony gold strike perpetuated by the con artists. Midway through, everything comes to a halt for a 10 min. "politically incorrect" blackface minstrel show—but who cares, it's highly entertaining. Plot is swiped from Universal's 1943 Brown/Ritter "Cheyenne Roundup".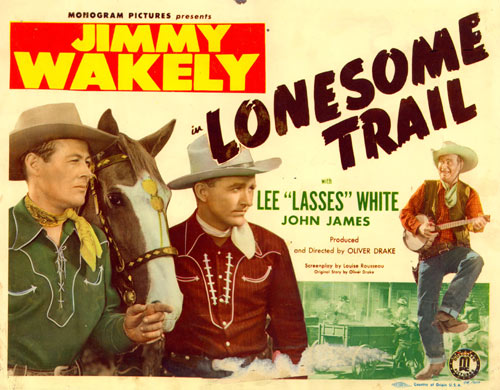 MOON OVER MONTANA ('46 Monogram) Writer/producer/director Oliver Drake mimics Gene Autry westerns as best he can here: Jimmy wears a copycat Gene Autry shirt; the "taming of the shrew" plot is very typical of Autry; sidekick "Lasses" White sings a comic song, as Smiley Burnette would; the save-the-small-ranchers-from-the-big-rancher story is Autry plot #101 and there's plenty of songs from Jimmy. Drake delivers everything but Gene and Smiley. Complex plot has railroad office manager Jack Ingram and his son Brad Slaven to freeze out Jimmy and the small ranchers from shipping their stock to market. Jennifer Holt is the girl.

WEST OF THE ALAMO ('46 Monogram) Some of the actors are low-rent thespians but there's a neat mystery angle that's not been seen before, making this one of Wakely's better early period B-westerns. Texas Rangers Wakely and Lasses, investigating bank robberies, find saloon owner Iris Clive is behind the stick-ups. Eventually, it begins to look like the banker himself, Jack Ingram, with his teller are behind the plot. But there's more to go, and we won't spoil the surprises.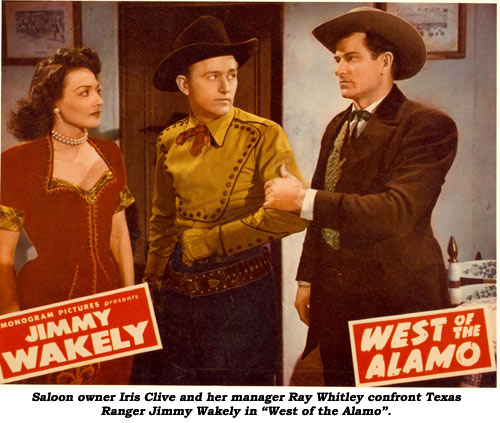 TRAIL TO MEXICO ('46 Monogram) Beleaguered by gold bandits, Mexican mine owner Julian Rivero has "Lasses" White, send for pal Wakely to take charge of the ore shipments. On the way, outlaw Brad Slaven slugs Jimmy and steals his clothes and ID to pass himself off as Wakely to Rivero in order to help his bosses, saloon owner Terry Frost and greedy mine superintendent Forest Mathews (the stiffest, dullest, driest non-actor ever in westerns), grab off the gold. Plenty of music with the oft sung "Cielito Lindo" never sounding finer.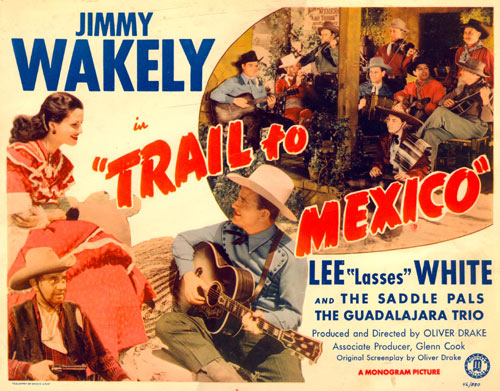 SONG OF THE SIERRAS ('46 Monogram) Horsetraders Wakely and Wesley Tuttle try to help a rancher and his daughter who are beset by a gang who wants to grab up more grazing ground for Army remounts. Wes, Jimmy and the group sing Wes' new Capitol hit "Detour", Wes' signature song ever after.

RAINBOW OVER THE ROCKIES ('47 Monogram) Old man Jack Baxley and his son Dennis Moore have proved up on free range and the stubborn old man won't let anyone's cattle go through any longer, not even old friend Wakely, his hotheaded uncle and saddle pal White. Chicanery from Bob Duncan, who works for Baxley, and Zon Murray, who works for Wakely, as they plot to start up a range war and rustle from both ranchers.

SIX GUN SERENADE ('47 Monogram) Stale Wakely programmer as he and saddlepal White save a ranch from banker Steve Clark's land grab plot. Off day for all concerned.

SONG OF THE WASTELAND ('47 Monogram) Texas Rangers Jimmy and Holly Bane investigate the underhanded dealings of vigilantes falsely accusing ranchers of rustling in order to drive them out so they can grab the land. Working undercover, Jimmy ties up with Lasses's medicine show. Routine affair with one of the weakest windups in all of Wakely's westerns with no action at all. Jimmy and the Saddle Pals (Johnny Bond, Dick Reinhart, Rivers Lewis) do a sweet version of Bond's "Cimarron".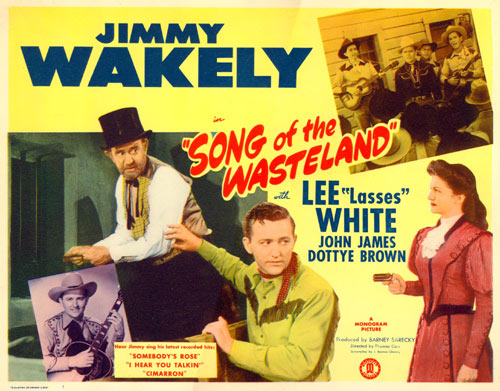 RIDIN' DOWN THE TRAIL ('47 Monogram) Monogram made a major change in the Wakely films with this entry. Gone was "Lasses" White, much of the music, and Jimmy's fancier clothes; replaced by buffoonish Dub "Cannonball" Taylor, fewer songs, and more workmanlike cowboy duds. With the change, Monogram upped the film-count per year to 9 in '48, 6 in '49 from the four Jimmy had been used to. Big boss Douglas Fowley, head of the local Cattle and Land Company has his hireling impersonate a Ranger they killed in their plot to take control of a rich area. Jimmy Wakely the real Ranger before he dies, learning of the imposter and that the Ranger's sister is due by stage the next day. Fowley also learns of her existence and, knowing she can expose his plot, sends his minions out to kill the girl. Remake of Charles Starrett's "South of Arizona" ('38). In addition, while working on the Republic Sunset Carson series, screenwriter Bennett Cohen utilized the same ending device in "Cherokee Flash" ('45) that he used in the Starrett and Wakely films.

SONG OF THE DRIFTER ('48 Monogram) When Jimmy's pal "Cannonball" Taylor plans to get married, Jimmy goes along to keep him out of trouble. They find Dub's intended being plagued by polluted water in her ranch with crooked land developers trying to force her off her property.

OKLAHOMA BLUES ('48 Monogram) One of the more pleasing Wakely westerns as he impersonates singing killer, the Melody Kid, a fabrication of Jimmy's "handicap", Dub Taylor. Plot is the oft-used fight over the county seat.

RANGERS RIDE ('48 Monogram) Marshall Reed's corrupt state police place the blame for the wave of lawlessness on Wakely and his band of ex-Texas Rangers.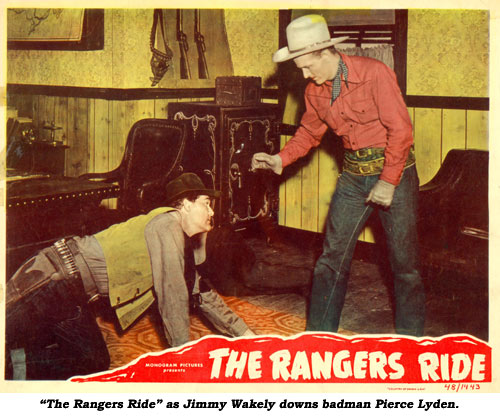 RANGE RENEGADES ('48 Monogram) Young Riley Hill is madly in love with Jennifer Holt (understandable!) but is inadvertently tipping off Jennifer, whom he doesn't suspect is the head of an outlaw gang, to when ore shipments from various mines will be coming through. A good plan, but they didn't reckon on Jimmy and "Cannonball" Plenty of action and a female bandit give this one an edge over some other Wakelys.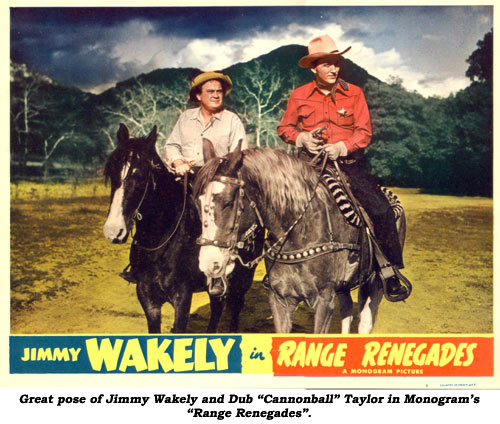 COWBOY CAVALIER ('48 Monogram) Thanks to Warner Archives' Monogram Cowboy Collection Vol. 1 on DVD, "Cowboy Cavalier" is no longer a "lost" Jimmy Wakely western. Devious Douglas Evans blackmails stageline owner Claire Whitney and obtains a job with her in order to obtain inside information on silver and money shipments so his boys (William Ruhl, Bob Woodward) can know when to hold up the stages. As Whitney's foreman, Jimmy Wakely and pal Dub "Cannonball" Taylor get wise to Evans and expose his crooked dealings.

PARTNERS OF THE SUNSET ('48 Monogram) Jimmy and "Cannonball" break up a scheme by Christine Larson and her "brother", Leonard Penn, to marry and cheat rancher Steve Darrell out of his holdings. Darrell's son, Jay Kirby, rebels when he meets his new stepmother, so Larson and Penn frame Kirby for his father's murder.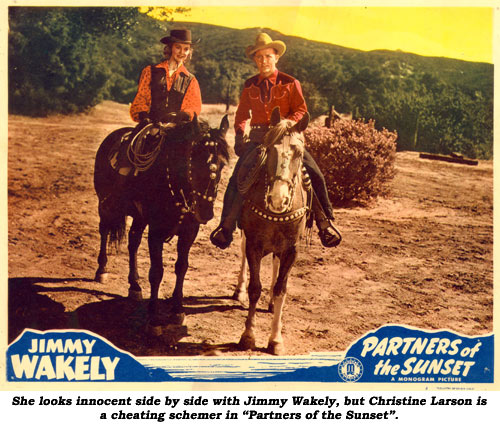 SILVER TRAILS ('48 Monogram) Monogram introduced Whip Wilson to B-western audiences in this average Wakely adventure. In yet another variation on the tried-and-true land grab plot, county surveyor George Meeker and his henchies stir up trouble between a Spanish Don and a rancher. Jimmy and "Cannonball" run smak-dab into the plot, even to finding pal Whip Wilson working as the Spaniard's foreman. There's some good action but a lackluster ending relegates this to just an average Wakely—with the real interest being Wilson's Monogram debut.

OUTLAW BRAND ('48 Monogram) Jimmy's a horse gentler (forerunner of a 'horse whisperer' I reckon) who, along with his pal "Cannonball", track down and tame Midnight, an outlaw stallion interfering with local herds. One of Wakely's best. Listen for what became one of California's most popular country songs, Doye O'Dell's "Dear Oakie". John James, who'd been Jimmy's saddle pal in three films in '45, was now playing heavies. He and Wakely have a walloping good saloon brawl.

COURTIN' TROUBLE ('48 Monogram) Routine, mediocre Wakely as he and his pal, peddler Dub Taylor, bring saloon boss Leonard Penn and his range rats to justice after they frame a rancher for a murder.

GUN RUNNER ('49 Monogram) A little better plot than usual raises this Wakely to above average. General mercantile owner Mae Clark and Kenne Duncan (in one of his best roles) secretly smuggle guns to Indians. When Sheriff Steve Clark is wounded he asks Jimmy to look after his "daughter", Noel Neill, revealing she is actually gun-runner Duncan's daughter. Due to past circumstances, neither Duncan nor Neill are aware of this fact. Sheriff Clark also asks Jimmy and pal Cannonball to bring in the gun-runners. In a showdown, with Neill's life in danger, Duncan learns of their relationship and sides with Jimmy against the crooked Mae Clark's gang. Mortally wounded, Duncan makes Jimmy promise Neill will never learn the truth about her outlaw father.

GUN LAW JUSTICE ('49 Monogram) One of the best of the Wakely westerns with the part of a lifetime for Lee Phelps as a paroled ex-outlaw returning to the town he looted 15 years earlier, now determined to go straight. Coincidentally, his release coincides with the 25th anniversary of the gang's raid on the town—which the town oddly celebrates with a re-enactment of the robbery. Phelps is also adamant about seeing that his wayward son, John James, doesn't follow in his outlaw footsteps, but, James is already riding with I. Stanford Jolley and his bandits who have plans to lay a real robbery blame on Phelps during the re-enactment. Watch for Ray Whitley in a musical number at the very start. Whitley was, at the time, Jimmy's manager.

ACROSS THE RIO GRANDE ('49 Monogram) A better than average story elevates this Wakely slightly above the norm as outlaw Dennis Moore moves cheap gold ore into Kenne Duncan's Mexican end of his mine, smuggles it through and sells it for a bonus on the U.S. side. The script contains many elements of a locked room murder mystery. Noteworthy as the first film for singer Polly Bergen (Burgin) who sings Ray Whitley's "Along the Rio Grande" (written for a 1941 Tim Holt film of that title).

BRAND OF FEAR ('49 Monogram) A really engaging story, two sensational Bob Nolan/Tim Spencer songs, more action than usual and an above average cast add up to Wakely's best western. Basil Dickey's story installs amiable but tough Tom London as a gunfighting town marshal welcoming to town his guardian, Gail Davis, as the new schoolmarm. London has not seen Davis in years since he sent her back east for her education ostensibly after her "parents" died. Arriving concurrently and coincidentally are border outlaw William Ruhl and his hardcase right-hand man, Holly Bane who plan to muscle in on crooked blacksmith Marshall Reed's territory—his outfit steers clear of London's town but works the outlying district. Not desiring a "partner", Reed informs London notorious outlaw Ruhl is in town, hoping London will drive him off. Surprise—London knows Ruhl from the old days when they once rode the owlhoot trail together. Matter of fact, back in Texas there's still a 20 year old outstanding warrant for London on a murder charge…a murder both Ruhl and London know Ruhl committed but London can't prove it. On top of that, London is actually Davis' father, not her guardian, but he's hidden his outlaw past and true relationship from her all these years. Ruhl spills the beans to Marshall Reed about London's outlaw past who then blackmails London into looking the other way as he and his gang begin to expand their outlawry. Jimmy and an unknown group perform Tim Spencer's "There's a Rainbow Over the Range" (using the dubbed in off-screen voice of Ray Whitley—and the tune never sounded better!) and Bob Nolan's "Cool Water" (also with off-screen Whitley).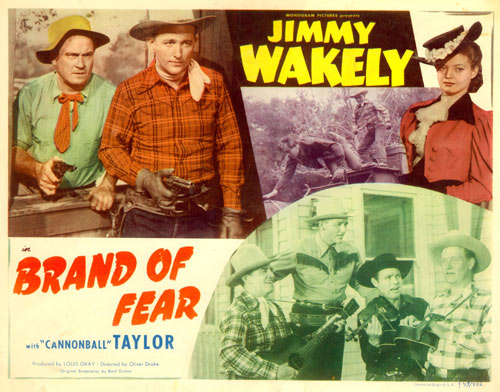 ROARING WESTWARD ('49 Monogram) Tough town-tamer Marshal Jack Ingram kills young Buddy Swan by mistake, believing him to be a claim-jumper. Buddy, a friend of Wakely's, is a student at the newly formed Sheriff's association school for wayward boys. Trouble is, the benefactor left a large trust fund to support the school with the provision if any boy got into trouble within five years after the fund was started, the trust would be revoked. It's up to Jimmy and "Cannonball" to prove Buddy innocent. Trying to help, Marshal Ingram's daughter, pretty blonde Lois Hall interferes and nearly messes up Jimmy's well laid plans. Toward the end of the trail, there's not a song in earshot.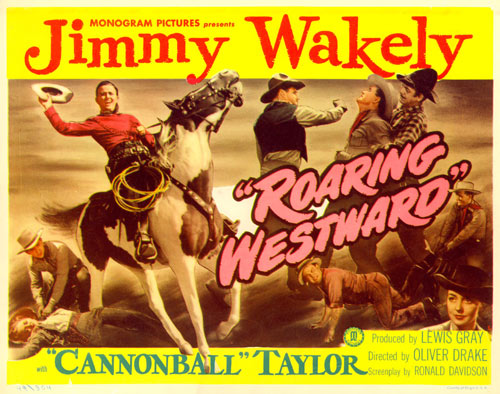 LAWLESS CODE ('49 Monogram) Crooked ex-judge Tris Coffin tricks rancher Steve Clark out of his land then kills Clark and frames his wild and reckless nephew Riley Hill. Jimmy and "Cannonball" straighten things out. Jimmy puts his horse Sunny through his trick paces. This average Wakely, with only one song, closed out his starring days at Monogram after 28 films over a five year period.