KERMIT MAYNARD
Ratings: Zero to 4 Stars.

"FIGHTING TROOPER" ('34 Ambassador) Mountie Kermit Maynard and his pal (former silent star) Charles Delaney are after LeRoy Mason and his sister Barbara Worth who've reportedly been raiding stores and robbing trappers. After some slow-going out of uniform investigation, it's discovered Robert Frazer's gang are the real culprits. Unlike many others in this series, this weak entry fails to connect on the drama, action or stunt level. This is the first of 18 mountie or western B's Kermit made for Maurice Conn's

Ambassador Pictures between '34-'37. All of Conn's productions had a classier look than most independent product of the '30s. Conn (1906-1973) was later an associate producer at Grand National ("Frontier Scout") and a producer for Tim McCoy and Jack Randall films at Monogram. Still later, he was an indie producer of non-westerns at various studios.

"NORTHERN FRONTIER" ('35 Ambassador) Hard riding Mountie Kermit Maynard goes undercover to ferret out counterfeiters holding Eleanor Hunt's engraver father prisoner to work on their phony plates. Kermit thrills us with some of his fancy horse tricks at the start, otherwise it's a bit ponderous with the bulk of the action saved til the final reel. Features a young Walter Brennan as a stuttering cook. It's odd to see usual heavy Charlie King as a Mountie battling fur thief Dick Curtis.

"WILDERNESS MAIL" ('35 Ambassador) Kermit Maynard's entry into the dual-role field has him portraying a Mountie killed by the brutally cold-blooded Fred Kohler, then as his own revenge-bent brother, a dog-team wilderness mail carrier. You'll not soon forget Kohler's ruthlessness as he ties the wounded Mountie to a tree in the middle of nowhere and leaves him for the timber wolves. Main problem with the film is, taking Kermit away from horseflesh and putting him on a dogsled is tantamount to taking Costello away from Abbott.
ZERO "RED BLOOD OF COURAGE" ('35 Ambassador) Undercover Mountie Kermit Maynard does some of his fabulous fancy trick riding and foils Northwoods bandits. Ann Sheridan, on loan-out from Paramount, is the only bright spot here.

"CODE OF THE MOUNTED" ('35 Ambassador) Although it starts off well with Maynard performing a lengthy exhibition of his trick riding abilities, the rest of the picture just lopes along til it's finally over. Somehow, even the action sequences have no verve. Mounties Maynard and Syd Saylor are after a gang of fur thieves bossed by their lady-leader, Lillian Miles, who falls for Maynard and eventually saves his life causing the Mountie to let her escape at the end to find redemption and a place to settle down. Athlete Jim Thorpe is billed third—but is shot and killed in a scene lasting less than two minutes allowing him to utter one line!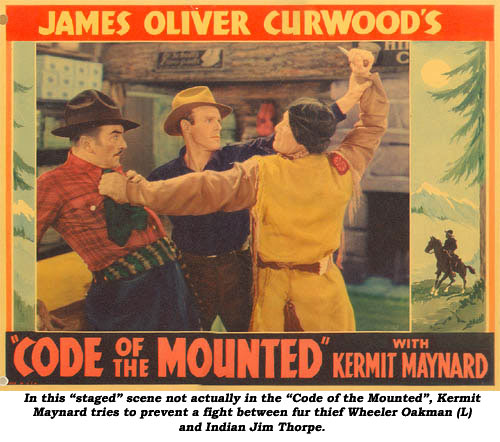 "TRAILS OF THE WILD" ('35 Ambassador) McKenna of the Mounted (Kermit) and his fellow officer, Fuzzy Knight, are trailing the kidnappers of mining engineer John Elliott. Also searching for Elliott in the labyrinth of caves in Ghost Mountain is his daughter, pert Billie Seward. Although a bit slow with only a few bursts of the robust action you expect in a Kermit Maynard picture, Joseph O'Donnell's script provides a few surprises and includes a direct steal from the conclusion of the Lambert Hillyer screenplay for Buck Jones' "Sundown Rider" (which O'Donnell also reused for "Lone Rider in Ghost Town" in '41). O'Donnell's screenplay throws several characters into scenes without being properly introduced to the viewer which proves confusing at times. Look out—Robert Frazer uses the totally inappropriate phrase, "There's a nigger in the woodpile somewhere"—a phrase (thankfully) never heard in any other B-western!

"HIS FIGHTING BLOOD" ('35 Ambassador) This, and several other Kermit B's, are the first films directed by former editor John English. While the talent is recognizable, it's also apparent English has yet a way to go. Some of the close-up riding/chase scenes are hilariously dreadful; Kermit's display of horsemanship midway is very forced and the whole film craves a shock of verve. Kermit's worthless brother, Paul Fix, helps commit a jewel robbery. When Fix is nearly caught, Kermit takes the blame for him, even going to the penitentiary in his stead. Later, when the truth comes out, Kermit is pardoned and becomes a Mountie. Meanwhile, his no-good brother has learned nothing from all this, forcing Kermit to bring him to justice. The girl, who might as well have stayed at home for all she has to do, is Polly Ann Young (Loretta's sister). Featured in a break are the Singing Constables—Kermit with Jack Kirk, Glenn Strange, Chuck Baldra—obviously included to fit in with the new "singing cowboy" trend.

"TIMBER WAR" ('35 Ambassador) When the lumber mill owned by Lucille Lund in the redwood forests of northern California runs into trouble under the management of Wheeler Oakman, who has been paid by a rival company to sabotage the mill, Lucille contacts her co-owner, Lawrence Gray, whom she hasn't seen since childhood. Gray, living well back East by checks forwarded to him, has become pretty much of a drunken playboy. Gray's friend, Maynard, tries to shape Gray up, accompanying him out West, but when they arrive everyone mistakes Kermit for the lackadaisical partner. Plenty of real logging footage filmed at a lumber camp in Scotia, CA, near the California/Oregon border. Exciting finish as Kermit battles badmen aboard a train as it heads for a burning trestle.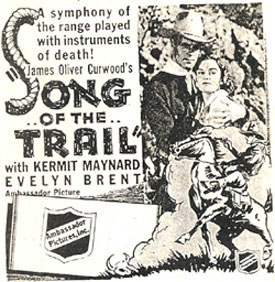 "SONG OF THE TRAIL" ('36 Ambassador) For the '36-'37 season, producer Maurice Conn and Maynard switched to a straight western format, of which this was the first. (But before the second western, two more Mountie films were released, most likely filmed earlier.) Getting the film off to a running start, rodeo rider Kermit and his horse Rocky go through their whole range of tricks. To help his girlfriend save her father (inveterate gambler George Hayes) from the combined clutches of crooked gambler Wheeler Oakman and his gang, Maynard (and pal Fuzzy Knight) must sequester the old man away long enough to give Oakman and his cohorts ample opportunity to quarrel among themselves over the spoils. Producer Conn opened up the budget for this initial entry in Kermit's pure western series with a better than average cast, great stuntwork (besides the display of horsemanship, there's a terrific barroom fight scene with Kermit swinging from chandeliers and curtains, leaping over stairwells and up walls like a western Doug Fairbanks), plenty of extras and a full 61 minute running time. In a pretense to art, actor Russell Hopton (in his only directorial effort for whatever reason) plays out several scenes over a pendulum-clock ticking away the time. (Hopton had done duty as a heavy in one of Kermit's earlier Mountie films, "Northern Frontier").

"WILDCAT TROOPER" ('36 Ambassador) Plenty of the expert horsemanship you expect from Canadian Mountie Maynard as he and his G-Man of the North sidekick, Fuzzy Knight, get on the trail of a gang of fur thieves masterminded by a kindly physician. No spoiler, old timer Hobart Bosworth is a mystery boss any avid viewer of B-westerns will have no trouble spotting right away. Kermit captures outlaw Yakima Canutt and infiltrates the gang posing as him. Screenwriter Joseph O'Donnell reworked his story for "Border Feud" w/Lash LaRue in '47.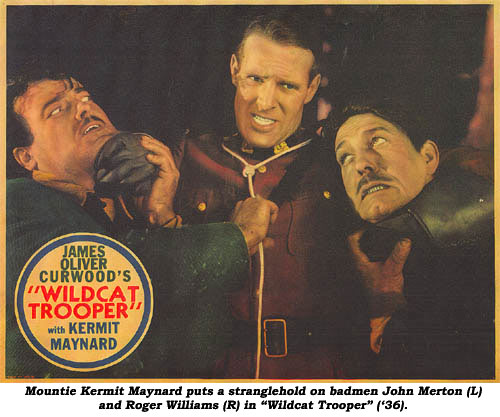 "PHANTOM PATROL" ('36 Ambassador) In order to avoid a nationwide manhunt, notorious killer Harry Worth escapes to the Canadian northwoods where novelist Stephen Norris (Worth in a dual role), who looks identical to Worth, is on retreat. Worth captures his look-alike and poses as the author to avoid capture. It takes Mountie Maynard to unravel Worth's plans when the fake is revealed by his plagiarism of Guy de Maupassant. The plot-heavy story is simply not up to par for Kermit in the stunt and action content. Odd, as it's directed by onetime silent stunt-star Charles Hutchison. Of passing note from the 'For What It's Worth' Department: This film contains the one and only Mountie pillow fight ever filmed!

"WILD HORSE ROUND-UP" ('36 Ambassador) Producer Conn's idea to turn Kermit and his pals into singing cowboys with an obviously dubbed-in chorale group was a truly bad idea and a ridiculous sight. Swindler John Merton knows the railroad is coming and wants pretty Beth Marion's land. (Billed as Betty Lloyd, Beth told me she didn't know the producers had done that til years later. She had no explanation as to why.) Beth and her kid brother, Dickie Jones, need to roundup their horses, mixed in with a wild herd, by the 16th or lose her ranch to Merton. Naturally, we get to see that pinto/black wild horse fight one more time—taken from "Devil Horse", a '26 silent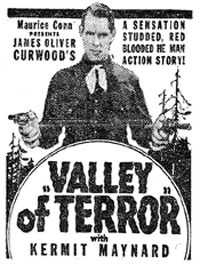 starring Yakima Canutt.

"VALLEY OF TERROR" ('37 Ambassador) Plenty of wide awake action and thrills when Kermit foils John Merton's plan to swindle cute Harlene Wood out of her ranch because it's loaded with…not oil, gold or silver, something I've never seen in a B-western before! Jack Ingram is Kermit's near half-wit pal, Spud. However, playing a sidekick is not quite Ingram's forté, he's better suited to heavies. One spectacular 10 foot or more leap Kermit makes over a rail fence onto his horse, Rocky, is worth the price of admission!

"WHISTLING BULLETS" ('37 Ambassador) Texas Ranger Kermit takes a tough assignment as he goes to prison so he can break out hardcase Maston Williams, a lone wolf bandit who got away with a quarter million in stolen bonds before they nabbed him. There's a coupla minutes at the start of the film displaying Kermit and his horse Rocky's best riding stunts. Cute, blond Harlene (Harley) Wood (aka Jill Martin) only hung around Hollywood for three years, but managed seven westerns as well as the leading lady role in Republic's "Hawk of the Wilderness" serial ('38).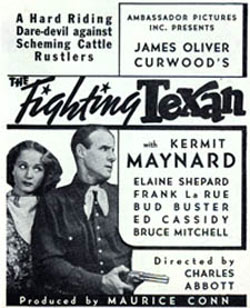 "THE FIGHTING TEXAN" ('37 Ambassador) Kermit Maynard rounds up horse thief and murderer Ed Cassidy in a terrific western murder mystery. Exciting riding/chase sequences all over Vasquez Rocks, an intelligent script, a stirring score, swift and expert direction and solid camera work with several interesting transitions show what a little care can do with a medium budget B-western. Interestingly, the competence behind the success of "The Fighting Texan" is obviously cinematographer Jack Greenhalgh, as this is the only film (other than the awful "Adventures of the Masked Phantom") Charles Abbott ever directed! Meanwhile, Greenhalgh began a very successful 20 year career in '35 filming dozens of B-westerns and other B-flicks such as "Reefer Madness", "Beasts of Berlin", Mantan Moreland's all black comedy "Mr. Washington Goes to Town", "Mad Monster", "Dead Men Walk", "Gas House Kids" and "Lost Continent". The girl is beautiful Elaine Shepard whose only other western is "Law of the Ranger" with Bob Allen. (She's also a showgirl in Autry's "Singing Vagabond".) Signed for a while to RKO, she went on to write two books (one based on her firsthand observations as a war correspondent in Vietnam) and formed a production company intending to bring her books to the screen. Well known for her statement, "The powers that be in Hollywood have a complete lack of faith in the professionalism of women when it comes to movie production."

"GALLOPING DYNAMITE" ('37 Ambassador) Director Harry Fraser's finest western. As writer Mike Nevins wrote in WESTERN CLIPPINGS #61, "Considering the routine stuff Fraser had been grinding out since the dawn of talkies, this film is a small miracle, with excellent visuals, an off-trail plot (Kermit avenges his murdered kid brother, ace stuntman Dave Sharpe, by tricking the killers into killing each other), wild action, powerful background music and neat twists on old scenes including the funniest jailbreak I've ever seen in a western." Apparently, producer Maurice Conn sang in the film as the fourth member of a barbershop quartet after one of the vocalists could not be located. Also—Kermit plunks a git-fiddle! The "girl" of the piece is Ariane Allen, known as "America's Most Photographed Girl," making her screen debut in "Galloping Dynamite". It was also her film exit. The pretty blonde married NEW YORKER magazine founder Harold Ross in '40. Some of screenwriters Sherman L. Lowe and Charles R. Condon's plot ideas were revisited in Joseph O'Donnell's script for "The Lone Rider Fights Back" ('41).

"ROUGH RIDING RHYTHM" ('37 Ambassador) Bandit Olin Francis pulls a stagecoach robbery, then hides the loot in his house. When Francis' wife, Betty Mack, says she is leaving him with their young baby because of his banditry, the beefy, abusive Francis beats and kills her, then escapes, abandoning the baby. Kermit and his saddle pal, Ralph Peters, Mack's brother, come to visit and find Mack dead and the baby in need of care. Neighboring rancher Beryl Wallace helps the cowboys care for the baby while they search for the vile Francis. You're in for a "treat" at the start, as Kermit and Peters "sing" while riding the trail.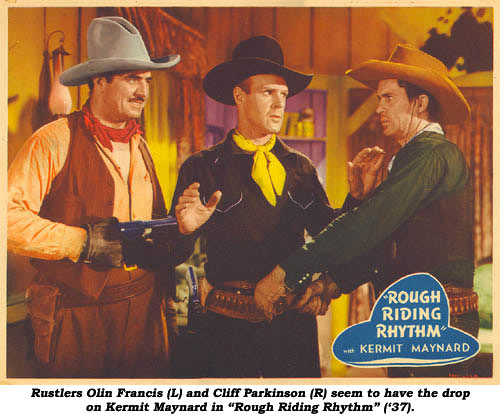 "ROARING SIX GUNS" ('37 Ambassador) Young rancher Kermit is in love with cute Mary Hayes, but her uncle, one of Kermit's bitterest enemies, is bent on Mary wedding his conniving partner, John Merton, with whom he is trying to finagle away Kermit's grazing land. Failing legally, they resort to force hiring professional gunman Earle Hodgins (as Sundown) in a truly offbeat role for him.