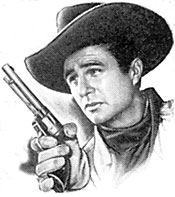 JIM DAVIS
Ratings: Zero to 4 Stars.
With an easygoing manner and southern drawl, tall, rangy Jim Davis, born in Missouri, was well suited for Westerns. His early film career was interrupted by WWII, but when he returned from service he found a home in Westerns, mainly at Republic, in second-lead or heavy roles opposite Bill Elliott ("Fabulous Texan", "Hellfire", "Savage Horde", "Showdown"), Rod Cameron ("Brimstone", "Oh! Susanna", "Cavalry Scout", "Woman of the North Country", "Ride the Man Down") and others—Randolph Scott, Forrest Tucker, Gene Autry, Jack Beutel, Kirk Douglas, John Derek, Bill Williams, Keith Larsen, Sterling Hayden—before Republic starred him in his own TV series "Stories of the Century" which ran for 39 episodes in '54-'55 and later in syndication. Several other secondary Western roles followed before he was finally top-billed…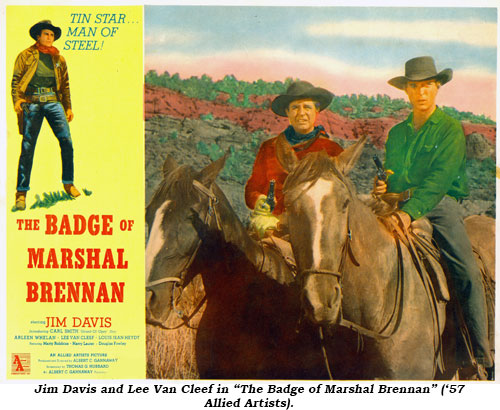 BADGE OF MARSHAL BRENNAN, THE ('57 Allied Artists) This was the first of seven independent westerns produced and directed by Albert C. Gannaway, the country music entrepreneur whose Flamingo Films Company in '54 secured the cooperation of the Grand Ole Opry to film country music stars performing on stage. The success of that operation led to an additional 92 half hour TV shows lensed in color featuring more than 1,000 performances by Opry stars. These were packaged, packaged again and repackaged for sale to TV on into the '80s. Even several movies were cut from the footage, "Country Music Caravan", "Country Music Jubilee "and "Country Music Jamboree". The stars, Jim Reeves, Marty Robbins, Ernest Tubb, Minnie Pearl, Faron Young, Little Jimmy Dickens, Webb Pierce, Carl Smith, etc., complained long and vociferously that they were never paid for the multiple use of their talents—if they were paid at all! In '57, probably with money earned from the country music programs, Gannaway entered film production with "The Badge of Marshal Brennan" starring Jim Davis and featuring Carl Smith as the Sheriff and Marty Robbins as a Mexican!?! Oddly, neither are given an opportunity to sing while the title song, "Man On the Run", is manhandled by Ramez Idriss. It's a terrible song to begin with…maybe Marty and Carl said, "No way!" It's a stinker of a movie with far too much philosophical talk about duty ("Don't ever try to run away from your shadow.") and need. Gannaway must have been quite a con-man to coerce not only Davis, Robbins and Smith into this low budgeter, but also Arleen Whalen, Douglas Fowley, Harry Lauter, Louis Jean Heydt, Larry Dobkin, Rick Vallin and Lee Van Cleef. The single guitar background score was obviously cheap and is, at times, also inappropriate. Gannaway fancied himself a director—no doubt to save a salary—but his direction is too laid back and meandering. He went on to produce and/or direct "Daniel Boone Trailblazer", "Raiders of Old California" (with Davis as the heavy opposite Faron Young), "Hidden Guns", "Man or Gun", "Plunderers of Painted Flats" and "Buffalo Gun"—several of which were distributed by an on-its-last-legs-Republic. Gannaway's films often used the same actors—Bruce Bennett, Faron Young, Marty Robbins, Tom Hubbard (who also wrote four of them including this one), Jim Davis, Lee Van Cleef and stuntmen Bill Ward (who owned the Lone Ranger's horse Silver and was Clayton Moore's double on "The Lone Ranger" for several years), Bill Coontz (aka Foster) and Whitey Hughes. As a matter of fact, "Raiders of Old California" was probably shot simultaneously with "Badge of Marshal Brennan" as the casts are virtually identical. Even one of both film's lobbycards display the same scene of Jim Davis and Lee Van Cleef! Now that's cheap! Unfortunately, Gannaway's direction didn't get any better as he went along. He was a true '50s throwback to Robert J. Horner, J. P. McGowan, Victor Adamson, B. B. Ray and other cheapjack directors and producers of the '30s. The TV print was distributed by Max and Arthur Alexander's M&A Alexander Prod. who still had their hand in after all those years.

LAST STAGECOACH WEST ('57 Republic) Ruined by the railroad, vindictive former stage line owner Victor Jory and his boys (Lee Van Cleef, Roy Barcroft, Kelo Henderson, Joe Yrigoyen) stage a series of raids on the railroad. Railroad detective Jim Davis is sent to investigate. When he ferrets out Jory as the gang leader, it leaves Jory's heartbroken daughter, Mary Castle, to be consoled by Davis' loving arms. Barry Shipman's packed-with-action plot is simple, but Joe Kane's skillful direction of a talented cast helps it rise above mediocrity. Davis and Castle had worked together in similar material on Republic's syndicated TV series "Stories of The Century" ('54-'55). One of the badmen, Kelo Henderson, was making his first film. He'd later star on TV's "26 Men" with Tris Coffin, who also has a small role in this film. Cowboy cancer alert: Davis smokes cigars.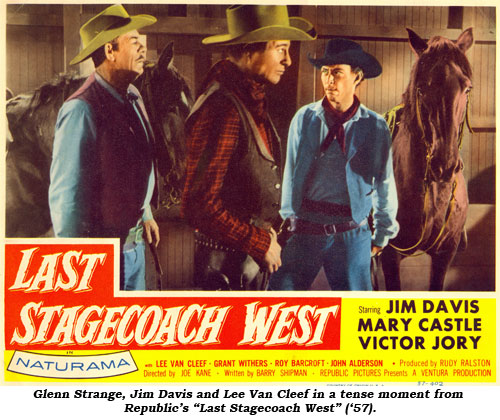 LUST TO KILL ('57 Productions Associates) Directed by B-vet Oliver Drake this seldom seen independently made in '57 western finally saw limited release in '59 by Barjul Int'l/Emerson. It's nothing to write home about but offers good performances by Jim Davis and Don Megowan and was filmed around Pioneertown and on Drake's ramshackle ranch. Pursued by Sheriff Davis and Deputy Tom Hubbard, outlaw Megowan's kid brother is killed when his partner, Gerald Milton, abandons them. Megowan is jailed but escapes with the help of girlfriend Allison Hayes and swears vengeance on Milton. After a battle with all concerned in a dingy saloon the film orates some religious overtones and comes to an abrupt end—almost like Drake ran out of money or film. Worth viewing—once.
Throughout the '50s Davis continued to accept secondary roles in westerns and TV series, and starred in a non-Western TV series, "Rescue 8" for 73 episodes from '58-'60. Then a few more starring roles came his way.

NOOSE FOR A GUNMAN ('60 Premium/U.A.) Remake of Steve Fisher's "Top Gun" ('55) with Sterling Hayden, which was made one more time in '64 with Audie Murphy as "Quick Gun". Banished from his hometown, gunslinger Davis returns to meet the stage with his fiancée Lyn Thomas. In so doing, he encounters evil cattle baron Barton MacLane (and his gunmen Leo Gordon, John Hart) who has murdered Davis' brother. MacLane twists things, accusing Davis of killing his sons and is in league with outlaw raider Ted DeCorsia and his gang who plan to raid the town. Note that DeCorsia played the same outlaw gang leader in the '64 Audie Murphy version, and that actor William Tannen is in all three versions. This was one-time star Kermit Maynard's last big screen western, appearing here as townsman Carter. Make an evening of it and watch all 3 versions back to back. What's interesting is to see how Hayden, Davis and Murphy, three very different actors, approach the same role.

FRONTIER UPRISING ('61 Zenith/United Artists) Early California epic has frontier scout Davis battling an evil allegiance between Mexican Colonel John Marshall and Indian Chief Herman Rudin. Davis and a Cavalry Lieutenant aid a wagon train headed for California bearing Mexican beauty Nancy Hadley—and vie for her affections. Some good action sequences (with liberal doses of stock footage swiped from "Kit Carson") spice up an otherwise weak narrative.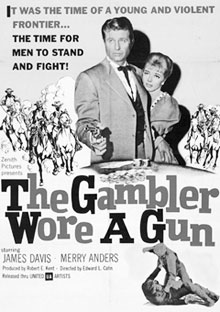 THE GAMBLER WORE A GUN ('61 Zenith/United Artists) Remake of George Montgomery's "Lone Gun" ('54) makes the gambler role primary with Davis rather than secondary as it was with Frank Faylen in the earlier film. Otherwise, same basic plot as gambler Davis comes to town to take charge of the Diamond D ranch he bought through the mail. He finds the seller murdered and his children, Don Dorrell (later star of TV's short-lived "Pony Express") and pretty Merry Anders unaware of the sale. Worse than that, they're unaware three rustler brothers are hiding stolen cattle on the Diamond D. When Dorrell discovers their dirty tricks, and threatens to expose the rustlers, he is killed and the blame thrown on Davis.
With no more starring offers coming his way, Davis turned to TV guest star roles, working on "Whispering Smith", "Tales of Wells Fargo", "Wagon Train", "Laramie", "Have Gun Will Travel", "Branded", "Rawhide", "Hondo", "Bonanza", "Gunsmoke" (11 eps.), "Virginian", and many more, as well as securing supporting roles in "El Dorado", "Rio Lobo" and "Big Jake" w/John Wayne, "Monte Walsh" w/Lee Marvin and "Fort Utah" w/John Ireland. Unfortunately, his next TV series "The Cowboys" w/Davis as Marshal Bill Winter never gained an audience and was cancelled after only 12 episodes in '74. Davis kept on working, including a good role in "Comes A Horseman" in '78 and later that year finally gained long overdue security and notoriety as Jock Ewing in 77 episodes of "Dallas" from '78 to '81. At only 71 he died during the series on April 26, 1981. The writers of "Dallas" decided not to write his death into the storyline right away. They initially thought about replacing him with another actor, but out of respect decided that only Davis should play Jock Ewing. Jock was kept alive on the show (he was down in South America drilling for oil) until early '82 when it was learned he died in a plane crash.